On many railways around the world its apparently quite okay to walk upon or by a railway line even though the operating authorities would really rather people didn't do it. In a few countries it isn't even an any sort of okay and Britain is one of those where trespassing's a definite no-no. Despite the penalties for undertaking such acts that have existed almost since the birth of the railways (such as 'transportation'), until perhaps the start of the final quarter of the 20th Century trespassing on Britain's railways was a sort of 'done thing' even if it wasn't technically legal – especially when it came to special trains, final trains of all time, highly venerated locomotives etc. That all changed with modernisation however because the determination to trespass was something totally against the highly procured health and safety culture that was becoming the norm. And it alarmed the authorities. In fact its a reason why many steam specials do not publish their runs these days too far in advance, thus ensuring that people have far less opportunity to do something they should not be doing.
Conversely these days its often a different sort of person that trespass the railways and these are thrill seekers. Its been said a result of the Coronavirus pandemic (and its subsequent lockdowns) has resulted in a huge increase in railway trespass. There was more than a twenty five percent increase in trespass during the first lockdown, and during the summer of 2020, where restrictions were relaxed but still in force, there was an even greater increase in the activity. As this RailAdvent article tells us, by September 2020 the numbers of incidences had increased enormously. I don't know why that is and certainly explanations are not being given at the present time, but it may possibly be that people are determined to undertake more risky, more 'exciting', activities at a time when many restrictions are placed upon people's lives.
There are also locations where increased activity on the tracks have been seen and this sort of activity is nothing to do with the current crisis but a general increase in trespass due to how railway lines become a matter of convenience – eg a short cut. For a good while people have been using the railway at Sleights in the north east of England as a convenient route as it saves a long walk. The tweet shown below shows as well as the problem at Sleights, that rail trespass has increased considerably during 2020.
Due to the increases in trespass Network Rail have had no choice but to put up additional warning signs, barriers, and cameras which record offenders. Network rail explains its actions in this recent news item. Of course its not this sort of thing, its also abuse of level crossings and taking short cuts across the tracks instead of using a footbridge to pass between different platforms.
I was doing some research recently and was reminded by how regularly in the earlier days of the twentieth century when due to railway closures (the inevitable final train), one off railtours, people would stand on the tracks to record these events. There's examples on YouTube and in photographs around the Internet and one occasion I covered recently indeed had lots of mass trespass (that's the Cwm Prysor line closure where people were on the tracks, the signal gantries etc!) One surprise that came up several times in my research however was the Winston Churchill funeral train of 1965 which, from a modern day viewpoint, must undoubtedly be the worst case of mass trespass ever on Britain's railways – if it can be called that.
I do clearly remember this long procession being broadcast live, the entire procession from Westminster through London's streets to St. Paul's, up the Thames to Waterloo and then by train to Handborough (also spelt as Hanborough), the nearest station to Churchill's final resting place at Bladon (spelt Blaydon in those days) near Blenheim in Oxfordshire.
Plaque at Handborough station to commemorate the 50th anniversary of the funeral train. Source: Geograph
As I remember, well before the train even made its way and arrived at any of the stations en route, the television people were broadcasting the different important stations and locations en route where the train could best be seen as well as live cameras and commentaries at the final stop. Thus people were given a good preview in advance of what would happen via television before the train actually made its way from London to Oxfordshire.
Little known to most, this processional commemoration for Churchill would in fact be the last ever funeral train to be seen on Britain's railways. It was not the end of mass trespass however as that continued throughout the sixties, the reason for that being steam was in its final days and enthusiasts were out in force to capture whatever they could before it had disappeared for good.
The Churchill funeral station as it was in those days – Handborough for Blenheim. Source: Jaggers Heritage
Live broadcasts in those days were still a rarity. There were live broadcasts for sports, and the occasional Royal occasion but not a combination of both a ceremonial route within London and then a railway line stretching for some eighty five miles across the southern part of England. It could possibly be this mass exposure that prompted a lot of people to try to see the Winston Churchill funeral train – and in turn see if they were spotted on television by friends or relatives who would be watching the screen at home! Its surprising so many people ventured onto the railway itself at numerous locations on that day in January 1965. People were stood upon the tracks themselves, along the narrow verges at the side of the tracks (having first climbed the fences), walked down into the permanent way from the ends of the platforms, stood near the live third rail on the sections of line through Surrey and Berkshire towards Reading and so on.
Was the mass trespass something the authorities simply accepted that day? It seems simply that far too many people were trespassing on the tracks thus the railway authorities had no choice but ignore it and hope for the best. The act of trying to chase all these people off the tracks – and even possibly into the path of an oncoming express – was something that couldn't be done so the authorities simply held ground in the hope the day would pass of without event. As it turned out there wasn't one incident that day. No-one was killed. I'm sure the railway authorities wiped their foreheads in relief that such a major event and mass trespass had passed without any sort of incidents, injuries, near misses or even fatalities.
I have never seen this discussed and it seems to me its just sort of generally accepted this was part and parcel of the whole day's events – that people should trespass en masse on the railways. Why was it not condoned at the time? That is something for which I have no explanation but of course it may well be that people just didn't want to spoil what had been a very good day indeed. It would of course be very different today!
The only article I can find on this subject is the Railway Magazine in 2015 when it wrote an article to commemorate the 50th anniversary of that occasion. The title of the work was 'The day the people lined the lineside.' (The graphic shown above is the title from that very article.) It shows examples of people standing right besides the railway as the funeral train passed by. The magazine does indeed allude that this was all wrong, but rather indirectly – perhaps out of respect for those who had wished pay their last respects to one of Britain's greatest politicians. This is what the Railway Magazine had to say:
Today it would be thought of as mass trespass, but at the time it was the natural thing to do… to stand as close to the track as possible and pay one's last respects to the man credited with winning the war, Sir Winston Churchill.
I'm not writing this post to say 'oh yes, its wrong, disgusting, its shocking, these people should be absolutely damned for it.' I'm just merely writing about the fact it so easily passed off into history as an event that was celebrated en masse but it wouldn't be so easily condoned today. In fact it was a quirk it even happened, it was unique and in fact due to a special set of circumstances which I doubt we'll ever see again. What people did that day was simply to pay their respects to one of Britain's most noted Prime Minsters.
In a report on a pending Flying Scotsman railtour in 2015 after the locomotive had been through a long period of overhaul, Network Rail issued a warning that people should not trespass on the railways. This was reported in Rail, and one person in fact commented on the Churchill funeral train. Part of that comment is shown below:
I remember Sir Winston Churchill's funeral train running in 1965. Thousands of people stood by the lineside to show their respect. Funny how no trains were delayed and nobody prosecuted.
Was there a sea change in attitudes towards the act of trespass on the railways after that? I don't think so. Its quite possible the huge exposure this procession gained on the television and in the press brought home that trespassing of any sort on Britain's railways was to be frowned upon. After all its what those lineside fences were for! In some countries there's no fencing of any sort so that's a different kettle of fish altogether, but in the UK there's been a need for trackside fencing ever since the first days of the railways and the sides of the tracks in the UK have been populated since those early days with notices warning of penalties for trespass.
In that respect I cant say for sure or not the railway authorities accepted this mass invasion of the tracks on the day of the Churchill funeral train. Maybe they quietly thought about it and decided the best thing was not to spoil the hugely convivial atmosphere generated by the event. Even other instances where people trespassed on the lines (such as the final steam train on British Railways in August 1968) things seemed somehow sort of tolerated. That was the case even in the seventies as this picture shows! (That's from the Cornwall Railway Society website.)
I would think the change came with health and safety, but not only that, centralisation of railway control would have been a factor too. In those older days there were numerous signal boxes thus essentially there were many signalmen who were on duty and able to keep a constant watch on things – and intervene if anything untoward occurred. With the closure of hundreds of signal boxes and the concentration of control at a few locations (power signal boxes or rail operating centres) its clear the rail operators simply could never keep a focus on every bit of the railway. It's why the authorities will put their foot down firmly if anyone tries to even set foot on the tracks (or railway property) without any sort of authorisation.
Other people might have different opinions on how that change came about – but what we can all agree upon is these days its an absolute no-no to even think about it let alone do it.
Here's a gallery of pictures showing that momentous day in 1965 when what should have been a case of mass trespass instead became a case of many hundreds paying their last respects to an iconic British Statesman. Not all the pictures show this trespass however.
Winston Churchill's funeral train 30th January 1965
Battle of Britain Class 34051 Winston Churchill backs onto the funeral train at Waterloo, 5th January 1965. Source: Jock Leonard
The special train passes Clapham Junction. Source: Wikipedia
Huge crowds at Whitton waiting for the train. Some people are very uncomfortably close to the platform edge. Source: Ashwater Press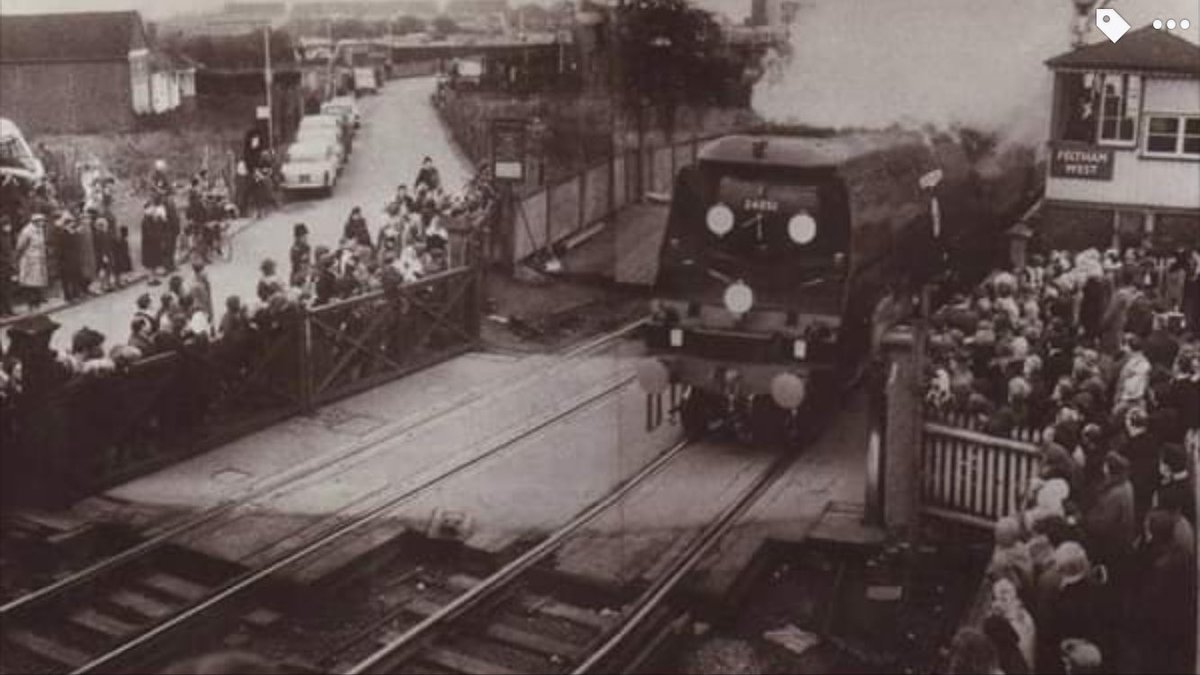 The crossing at Feltham. As far as one can see it seems everyone was well behaved here! Source: Twitter
Near Staines I think. Considerable disregard for railway safety. Source: National Railway Museum
The train passes through Staines just south of the station. How did all these people get here? From the ends of the platforms? Source: National Railway Museum
Beyond the fencing for at least one person possibly somewhere near Virginia Water. Source: National Railway Museum
People near the tracks – and the third rail! Virgina Water/Longcross area. Source: Ertblog
Virginia Water/Longcross area. Did these people just clamber over the fences? Source: Railway Magazine January 2015.
Same location as the previous no doubt! Source: Railway Magazine January 2015.
Not a good picture but at least it appears there's trespass too unless these are rail workers. Near Didcot. Source: Oxford Mail.
The train approaching Oxford. Lots of people lined the tracks through the city. Source: Facebook.
The funeral train at Oxford with large numbers upon the tracks themselves. Source: Phil Peel (Image comes from Pinterest however.)
People stand to attention as the train passes through Oxford Station. Source: Swindon Advertiser
The train at Wolvercote, just before the junction with the Cotswolds Line. Note the people by the lines. Source: Flickr
The train arrives at Handborough. Source: Daily Mail
It is said there wasn't a connection from the down into the up line from the London direction to allow the train to directly access the up siding in order to unload the funeral coffin, thus a few days earlier a track gang was at work laying a special crossover at the east end of the station to allow the necessary train moves to take place!
The small country station building is decorated specially for the occasion with the stationmaster Mr Norman James present. Source: Daily Mail
Although the station was decorated for the occasion it is said this was actually because the building was in a somewhat state of disrepair thus it was decided to cover it completely in this fabric to make it look extremely smart for the funeral.
The train returned to Paddington behind a smartly presented Class 52, seen here at Handborough just before the journey. This was D1015 'Western Champion' driven by Old Oak's Jackie Brown, with crew members secondman Les Eltringham and traction inspector Bill Andress. The hearse seen in the picture is that which was used to carry Churchill. Source: RMWeb.
Addendum
The station at Handborough was once the centre of worldwide attention but these days it is essentially a country halt on a single line section of the Oxford to Worcester Cotswolds Line. The tracks were singled in 1971, just six years after the Churchill funeral. The bi-hourly Paddington-Oxford-Worcester express trains were replaced by local trains between Oxford and Worcester with just a handful of through trains, this largely to ensure the newly rationalised layout could cope.
The station so soon after its prestigious use! Handborough station in the late sixties or early seventies.
The Oxford, Worcester and Wolverhampton Railway was designed by Brunel. However in line with the country's protocols for the wholesale decimation of its railway system, the line (nicknamed the Old, Worse and Worser Railway) was largely singled (save for a length of double track between Ascot-under-Wychwood and Moreton in Marsh.) Clearly the line had got even worser! Handborough was practically razed to the ground making it just a basic country halt. These days it is a little more elaborate, sporting a couple of shelters at least. Ten years ago Network Rail doubled the track to Charlbury as well as from Moreton-in-Marsh to Evesham. Charlbury to Wolvercote and Evesham to Norton Junction however remain singled.
The carriage that carried Churchill's coffin can be seen at the National railway Museum. Southern Railway luggage van No 2464 was restored a few years ago. It had spent forty years in the USA as an exhibit.
Southern Railway luggage van No 2464. Source: Twitter.