The recent decommissioning of the London Bridge power box on 24th July 2020 was in many ways a missed occasion despite the fact it was the final change over of control of this part of the Southern network to Three Bridges control. Even though the power box hung on a couple more months due to the pandemic, an important anniversary was in fact missed by several weeks. This was the 70th anniversary of the London Bridge to East Croydon colour light signalling scheme! Both this earlier scheme and the later London Bridge scheme of 1974 were leaders in the widespread introduction of 1950s/1970s analogue technology! Not only that its quite bizarre that a 21st century signalling system indeed still relies on that earlier 1950s infrastructure – and that is what this post is really all about!
And its exactly seventy years ago – on the first of October 1950 – that this new signalling scheme was inaugurated. But first – the really old stuff that was used to control the very busy suburban lines out of London Bridge station towards both Croydon and Lewisham. The London Bridge power box of 1974, despite its vastly modern appearance, creaked at the seams with this patently ancient analogue technology!
Not that there was anything wrong with analogue! It did a sterling job and enabled many things to be done that otherwise couldn't be done. It was this analogue technology which even enabled humans to land on the moon for the first time. But the technology at the time was actually pushed to extreme limits – and it just about managed. Nevertheless when we look at what was actually inside that 1974 power signal box at London Bridge, well its right old stuff now isn't it? When one thinks about it there's a fair number of locations on Britain's railway network that still relies on this stuff including London's underground system. Surprisingly even the earlier parts dating back to 1983 at Three Bridges ASC has a good bit of analogue technology still in use, working alongside the most modern computer control systems to be found there!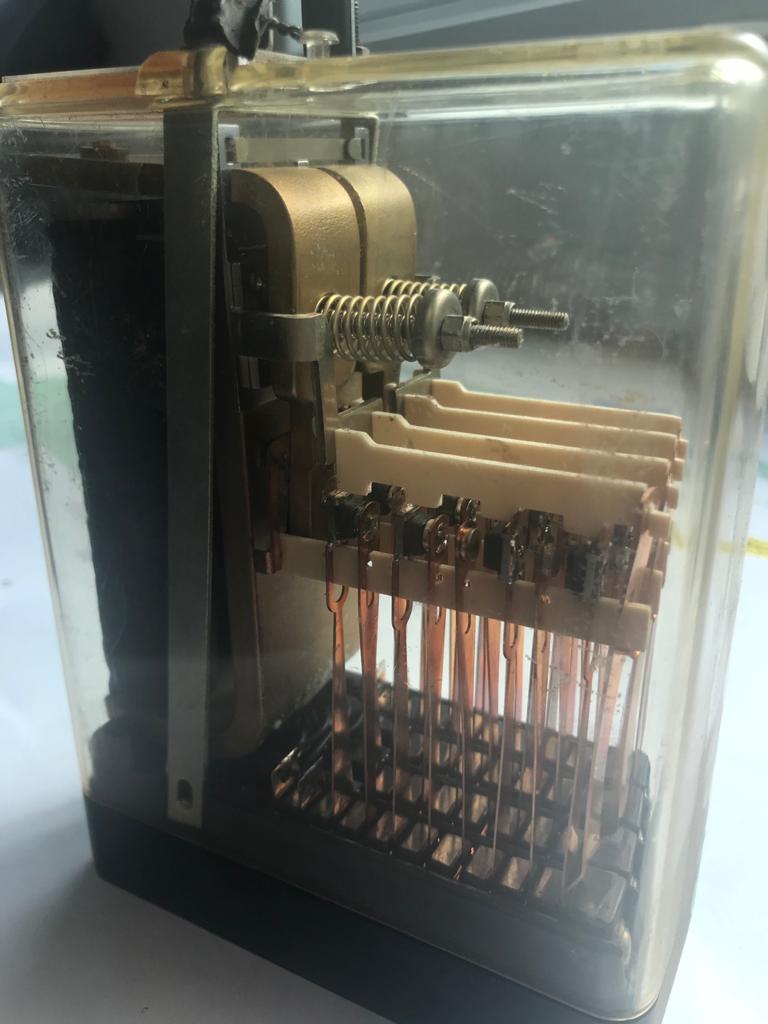 Analogue technology galore in the redundant London Bridge signalling centre! Source: Twitter
Row upon row of analogue technology in the London Bridge power box! So old isn't it? Source: Twitter
Okay! Let's get to the point of this whole article. This being despite several iterations of signal box that has come and gone in these last seventy years (including the London Bridge power box itself and the colour light signals that were introduced in the fifties too) there is in fact signalling infrastructure – which was designed in the late forties and introduced for the first time in the 1950s still at work today. Just think about it. This really old stuff is still doing the job today! And its doing its job waay better than that old analogue equipment!
On October 1st 1950 the first stage of the London Bridge to East Croydon resignalling scheme was implemented, using full colour light signals for the first time instead of semaphore signals. What is amazing is the signal gantries, introduced as part of that 1950s scheme and now seventy years or more of age, continue to do work with modern high visibility colour light (LED) signals controlled by computers!
Many of these signal gantries were populated with four aspect signals, which too was a unique Southern characteristic. It may not be thought of as such, however when one considers the Southern Railway's commuter routes were some of the busiest in the world, electrification was brought in very early but not only that, colour light signalling was too. In fact when the Southern railway considered use of colour light signals for the first time, the three aspects signals that were currently in use elsewhere on Britain's railways were not thought to be sufficient for the Southern's intensive frequencies, thus the company's signal engineer, Mr. W. Thorrowgood, devised an extra aspect (the double yellow.) That's how Britain's railways got its four aspect system. The first of these new four aspect signals were installed between Holborn Viaduct and the Elephant & Castle in 1926 and thereafter every single new upgrade of the line's suburban network included four aspect signals.
The Southern's four aspect colour light signalling scheme before it came into use in the summer of 1926. The 'antique' styling of the new four aspect signals was very soon changed! (Author's collection)
These four aspect colour light signals for the Central Section's 1950s scheme had elements that harked back to the Southern railway's first use of colour light signals. These included the ubiquitous SL.17 filament lamp (an archaic type of lamp that suffered a somewhat higher incidence of failures than other types) and three aspect (instead of five aspect) junction indicators. These unusual curved concrete signal gantries, carrying mostly four aspect signals, officially came into use as part of stage one of the Central Section Colourlight signalling scheme on 1st October 1950. This scheme would ultimately stretch from Bricklayers Arms and Pouparts Junction to Coulsdon North – with a handful of locations outside the area too being replaced by these concrete gantries. The idea of this scheme was not to cater for increased traffic (if any) but to enable services to be run better with fewer delays. Even though none of these gantries now carry any original 1950s signals, amazingly they have survived several iterations of signal boxes that have been introduced in the period since 1950 – including as we well know now – the huge London Bridge power box!
The plans for this new system were announced almost immediately after World War Two had ended, which means it was the Southern Railway itself that had thought up the designs and not British Railways, and its likely these gantries were mass produced in the intervening years to 1950. There is some curiosity as to why BR's southern region chose to have specialist concrete signal gantries instead of steel ones – after all the latter were really not so much of a problem by the 1950s. Since the new signal boxes had a certain amount of curvature in their structures too, why not signal gantries as well? Surely that would be reason enough?
In fact it wasn't some sudden desire for any sort of elaborate design that led to these gantries being built – but rather it was the post war years that was the problem. Anything that was made of steel was requisitioned for the war effort and if it couldn't be used to transport soldiers or equipment (such as ships, trains) it would often be melted down to create new battle ships, new fighter planes, anti air-craft cannon and so on. It in fact created a shortage of steel which ensued for a number of years after the war had ended – and this must certainly be what the Southern's signal engineers had in mind. The gantries themselves would no doubt be a very expensive part of any new signalling scheme. First lots of steel would need to be sourced. And it would be very expensive. Thus the next best thing the Southern decreed was to build these gantries in concrete instead.
Clearly it was the Southern Railway who drew up the designs (probably even initiated the modes of producing these elaborate signal gantries) and what British Railways did was simply take up the challenge and continued the scheme in the way the Southern Railway had wanted it. After all BR's southern region often upheld the tradition that was first begun by the Southern Railway – itself when entire stations, platforms, station name boards, lamp posts, fencing and footbridges were built of standarised pre-formed concrete sections known as 'Southern Noveau.'
I assume at some point the specs were in in fact changed and steel gantries were produced instead – especially after steel had became more widely available. This is why we see the later elements of that scheme use hardly any concrete gantries. They were all steel instead and the best thing was steel gantries could be used in almost any situation and in any size or shape – whereas the concrete ones couldn't – not without creating a number of different sizes or shapes. And that would have been quite problematic. Its why only two types of concrete gantry were produced.
This isnt London of course, its Devon! This is the surviving down distant signal at Slade, just outside Ilfracombe and its clear its a SR concrete signal post. Source: Facebook.
Whilst we are discussing concrete signal posts, some will probably point out other railway companies too dabbled with concrete signal posts such as the GWR whilst there are too those on the tube which date from the late 1920s onward are still in use. That is of course correct – however it must be remembered these examples were single concrete posts and nothing like those elaborate ones the Southern Railway/BR Southern Region were intent on using!
This lovely picture of Lord Nelson no. 855 Robert Blake near Knockholt with a Dover boat train in 1936 takes up a full double page in one of my Southern railway books. What is important however is the concrete signal post on the right – one of several such examples between Knockholt and Sevenoaks. There's other examples besides this but not to any widespread extent. (Author's collection)
Thumbing through a number of my books on the Southern Railway, I find there were a number of these concrete posts of the single type along the main line south of Orpington to Sevenoaks and in the latter station itself. Even stations further south such as Cranbrook on the Hawkhurst branch had concrete signal posts. Quite why this part of the Southern's network was chosen for these I do not know! There wasn't really a particular style of concrete signal post employed by the Southern despite mass standardisation under its 'noveau' programme. Thus the 1950s resignalling scheme was likely the first ever considerable effort (and the last too no doubt) to provide a standardised type of signal gantry made out of concrete. And all because the scheme was originally devised by the Southern Railway!
Little known to most there's other quirks regarding these concrete signal gantries besides those points discussed above. One other quirk is the Three Bridges ASC which opened in 1983 saw the first of these old signal gantries south of Norwood Junction placed under command of the new control centre. Although there is no longer any examples of these under Three Bridges ASC's control, the other quirk or irony more likely, is the much older examples of this type of gantry south of Bricklayers Arms Junction to Anerley are now under the far more modern element of Three Bridges – which is the ROC – the computerised part of the control centre. Instead of large displays upon the walls populated with push buttons and switches the signals on these gantries are instead controlled by computer monitors, keyboards and mouses! This work was undertaken as part of the Thameslink upgrade programme and the switch-over was made in January 2015. Thus the gantries that were put to work in October 1950 now have some of the most modern signals to be found on Britain's railway system!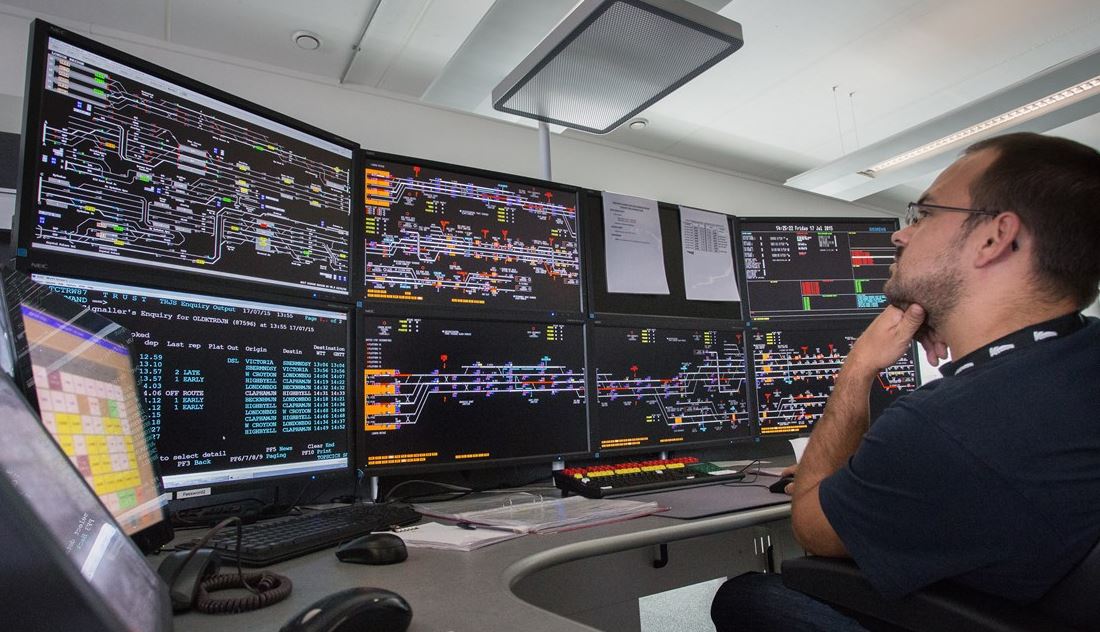 The London Bridge to Norwood Junction section (implemented in 2015) is controlled by Three Bridges ROC. The system used here is Siemens WestCAD. Source: Twitter.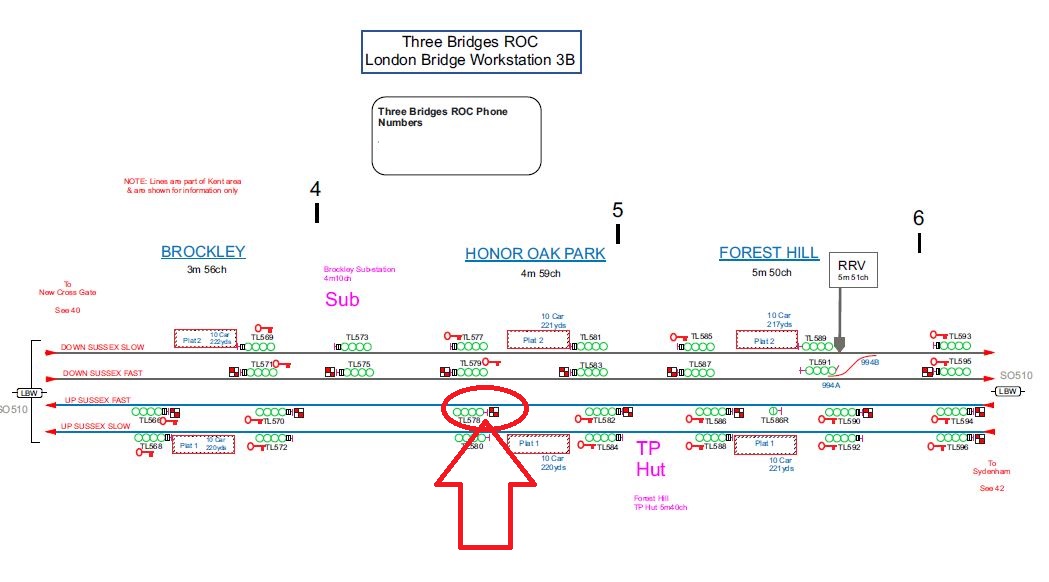 The London-Croydon line is operated by Three Bridges ROC and this section Brockley to Forest Hill is covered by the ROC's London Bridge workstation 3B. Several of the signals on this diagram (around eleven in total including the one single aspect at Forest Hill down fast) will no doubt be sitting on those late 1940s/early 1950s signal gantries! (The arrowed signal isn't one of those by the way!) Source: Twitter.
The concrete gantry at Clapham Junction can be seen in this photograph of a train that has come from the West London Line during the seventies. (Author's collection)
Most of the concrete signal gantries still in existence are to be found on the line between New Cross and Windmill Bridge Junction – surprising because these examples were the earliest to be brought into use. However there's still a couple in existence on the Victoria route – one just south of Battersea Park station and the other at the north end of Balham station. East Croydon had several, both on the platforms and on the trackside whilst Clapham Junction had a couple too (one is even featured in a Terence Cuneo painting) however I think these were removed in the 1980s. That near Battersea Park was introduced as part of stage two of the Central Section's colourlight signalling scheme during 1952.
Terence Cuneo painting of Norwood Junction. This is actually a composite I created from various sources in order to make the image clearer and text properly readable.
The near completion of the project prompted British Railways to produce a specially commissioned artwork entitled 'Signal Success' (shown above) in 1955 and this is one of Terence Cuneo's earliest 'modern image' paintings. It shows the southern end of Norwood Junction station and the various colour light signals then in use. No concrete gantries can be seen in this image because this bit of the railway was upgraded at a later stage compared to the adjacent section northward to Bricklayers Arms Junction. It doesnt however explain how there came to be one sited nearby south of Tennison Road bridge as the pictures below show.
Norwood Junction scene in 1958 showing one of the Southern Region's concrete signal gantries at left. The view is from Tennison Road bridge. Source: Wikipedia.
A better view of the same gantry – now with more modern signalling elements including a route indicator. The locomotive is 47508 with a coal train seen in the days before the flyovers were built at Windmill Junction. The Croydon skyline is very evident in the distance. Its surprising how much the track has been rationalised these days! The same gantry still exists to this day – in a derelict condition as we will see in the second part of this article. (Author's collection.)
One of the concrete signal gantries was sited upon the East Croydon platforms! Source: RMWeb.
There were two types of concrete gantry for the 1950s scheme – a long span and a short span. One of the short span versions can be seen at East Croydon station in the summer of 1963 featuring this splendid view of Black Five no.44766 (with double chimney) on a special excursion from the Midlands as it tops up its water en route to the South Coast. (Author's collection)
It seems the furthest south these concrete gantries could be found was just outside East Croydon station. One image from Flickr shows a redundant gantry on the up fast line, whilst the other, shown below, depicts a pair of gantries seen during the change-over from traditional to colour light in the 1950s.
The pair of concrete gantries seen just south of the old East Croydon station bridge. Both the long and short span versions can be seen. Note the old signal box, which was demolished soon after this picture was taken. (Author's collection)
One of the gantries at Bricklayers Arms Junction. Where there was once four other tracks (two at left and two at right going to Bricklayers Arms) there's now just one! The feather – clearly of the three aspect type – was for the crossover to the down slow tracks. I don't think the new signal was yet in use as the semaphores are clearly still operational. Compare with picture below… Source: WBSFrame.
Pretty much the same location today! The perspective is different because this is taken from the driver's cab. The pair of tracks from the right were removed temporarily as part of the Bermondsey dive-under scheme (and in due course reinstated as a single track.) The pair on the right led down to Bricklayers Arms and now form a footpath behind the Millwall football ground. Source: You Tube.
WBSFrame has a number of features on the various signal boxes between London Bridge and East Croydon which were opened in the 1950s (and some of that information relates to that particular resignalling scheme too.) Its pages are listed below:
Balham
Bricklayers Arms Junction
Clapham Junction B
East Croydon
Forest Hill
Gloucester Road Junction
Norwood Junction
Streatham Junction
Continued in Part Two.