Sir Roundlington is a name you've probably never heard of. He was supposed to be a new TfL mascot, but he didn't make the cut. Other examples of short-lived mascots include Wilfred the bunny, who failed to make the cut in the 1920s. Sir Roundlington is probably the least well-known, and after being deposed from the TfL mascot throne, he struggled on for a little while longer before announcing financial difficulties. That was the last time anyone heard from TfL's mascot. I'm sure TfL was relieved to see him go, as would a large number of tube passengers! So, what has been going on? Now that the lockdown has ended (or nearly so), people have been able to travel further afield, including tube staff.And guess what it means? Four years after his disappearance, Sir Roundlington was re-discovered by tube staff hiding at the bottom of an escalator shaft!
I don't know what the tube staff actually thought of that discovery, but never mind, the good news is he's back! And what's more, there's a freebie that comes with this post – its your very own Sir Roundlington poster! Download it, print it out, hang it on your bedroom wall or in your front living room window. You never know one day TfL might even let Sir Roundlington become an official part of London Underground's history – and the Sir Roundlington escalator posters shall become part of the London Transport museum collection!
You might think this is some sort of joke. I can assure you that it isn't! Sir Roundlington was a genuine, but brief, attempt to introduce a new London Underground mascot. In all honesty, it was most likely a genuine attempt to teach tube passengers how to properly use escalators. It didn't work because people thought it was staged snobbery – in fact, they were offended by the mascot's presence. Even I thought it was a bit stuck up, bossy, and sneering, if you know what I mean. I quickly saw the irony, and the post I wrote about him in 2017 was meant to mock the idea that anything resembling 'Sir Roundlington' could ever be a tube mascot.
Some say he looked like the Pringles Guy, others insisted it was Zebezee (from the Magic Roundabout.) Either way very few will even remember Roundlington's presence. His endeavours at warning passengers (or should that be customers?) to hold onto escalator handrails was short-lived. His presence graced the subterranean caverns at Oxford Circus tube station for all of two months before being junked. It seems no-one liked him. The following tweets show the general feeling the public had towards him:
One of the earliest tweets on Sir Roundlington. As this tweet illustrates a number of people thought they were seeing things…. some took to confirm, quite rudely, that Sir Roundlington was indeed real enough – though a number of those tweets have now been deleted.
'He is unfortunately very real.'
Another early tweet on Sir Roundlington. Source: Twitter (This is an archived screencap.)
There were a number of very rude tweets about Sir Roundlington, and that below is perhaps the sole surviving example. (BTW I never realised someone had stuck a pair of funny plastic eyes over Sir Roundlington's own! Take a look at the picture in close up on the tweet below!)
Dave Scullion's tweet suggests Sir Roundlington is a 'patronising toff' and a 'giant cartoon bastard.' (Note: The Twitter account has now been deleted however a screencap is used here instead.)
The following tweet tells us he doled out constant bad advice! Perhaps it was his snobbish mannerisms that got the better of him?
One wonders why he wasnt called Roundelington even perhaps Roundelinton? Not aristocratic enough it seems! Naming an aristocrat after London Underground's esteemed roundels is a bit more tricky than one might think! Maybe he should just have been called Sir Roundel!
There's one other thing you should know, and that is Sir Roundlington had his own Twitter timeline!
Sir Roundlington's Twitter! His first ever tweet on 20th November 2017 simply says, 'Hi all, hold onto that handrail!' That's not any sort of proper introduction!
Yep! He even acknowledged on his own timeline that I'd written about him back in November 2017 – a post written under the blog's original name. At least we know from that particular tweet he was still hiding somewhere in the depths of the tube system – hoping for a new renaissance with TfL. Sadly it was not to be.
Last anyone heard of him was he was asking for money. Poor guy! And to learn he was even a product if the PPI initiative, well that's understandable, no wonder he was broke! Had he been begging the streets since 2014? No wonder TfL took pity and employed him for a stint at Oxford Circus. Things must have been dreadful in August 2018, the last time anything was heard of him.
Why was Sir Roundlington conceived?
Naturally, one might wonder why TfL ever thought of hiring such an unpopular aristocrat. I couldn't explain why. But there is one thing I am certain of. Oxford Circus tube station was experimenting with various warning notices at the time to make people aware of the need to hold the handrails, etc. TfL had just launched their new poster campaign – and still ongoing. The first of these asked people to hold the handrail. As one descends from street level into the tube station's ticket hall, they will notice these posters just above the station entrances; these photographs were taken at the same time as those on Sir Roundlington. But first a little thesis on what we can deem to be the problematic nature of having such a mascot for London's underground…
The cartoon character was no doubt originally created for Oxford Circus station, one of the busiest on London's underground and one of those where escalator accidents were frequent. It may not be known to those who had seen the mascot in use, however the colours used for Sir Roundlington were in fact the colours of the tube lines which served Oxford Circus, and in the order the tube lines arrived at the station. Red (the largest of all) for the Central Line. Brown for the Bakerloo of course. And blue for the Victoria Line.
And the hat? Well it could have been a homage to Brunel for all anyone knows! But as a monocle wearing aristocrat it seems a hat quite suited him. For all we know it could also have represented the fact Oxford Circus station had three tube lines under its hat. And two of those lines were built by what can only be aristocrats who wore top hats and coats.
In fact, at the opening of the Central London Railway in 1900, almost everyone wore top hats, including the Prince of Wales, who performed the necessary ceremonies to inaugurate the new line. So, to put it simply, many of our railways (as well as London's underground lines) were instigated and opened by a slew of toffs! Aristocrats who thought they'd make a lot of money!
Of course tube passengers in those days too wore top coats, tails and hats. The women exquisite head wear and very expensive dresses, like that picture shown below on publicity for the Bakerloo Line (aka the Baker Street and Waterloo Railway) in 1907. You see that was the kind of clientele the underground expected. Toffs!
Baker Street and Waterloo Railway publicity 1906. Source: London Transport Museum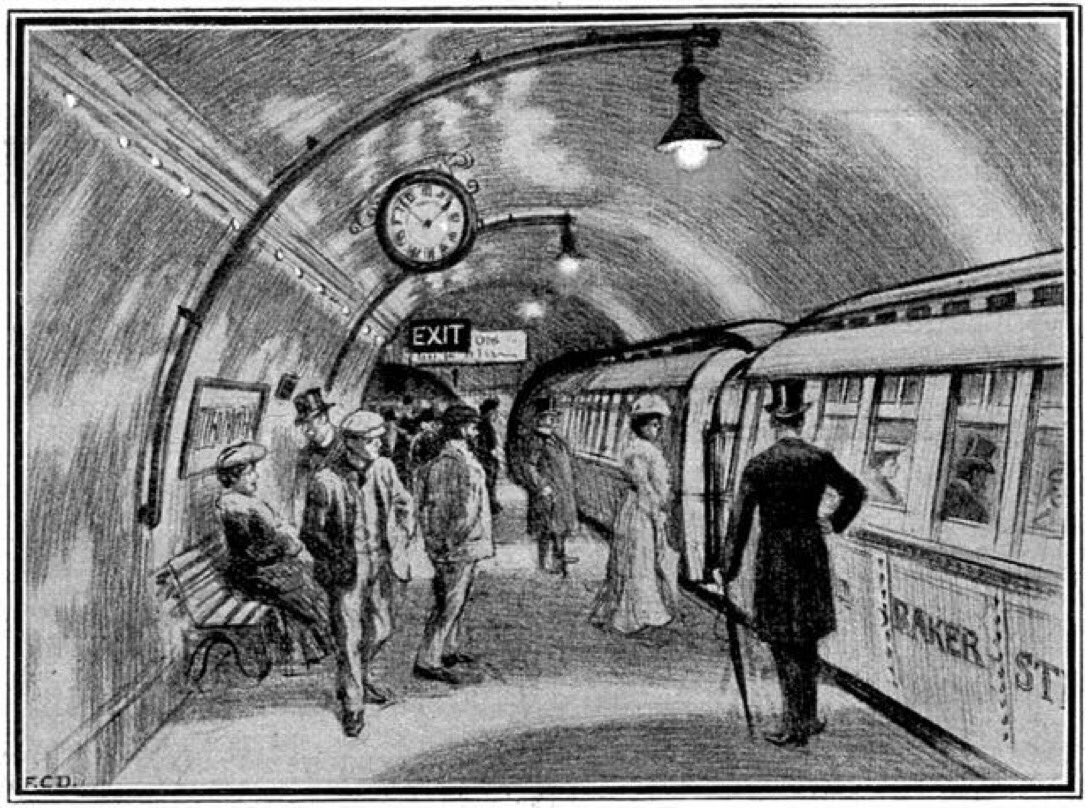 Another contemporary picture showing the aristocratic nature of the tube which was prevalent in its early years. Source: Twitter
What we can deduce from this is that Sir Roundlington, if he existed in those days when the tube was first opened, would have been in his element. Unfortunately, the twenty-first century was not for him! TfL's attempt to create a mascot of this genre was surprising in many ways – and modern tube users were not having it. When one considers satirical images of Tory MPs (such as Jacob Rees Mogg and the rest of the Eton gang) wearing top hats and the like, one can see the problem. Those who wear top hats are essentially arseholes! That explains why no one liked Sir Roundlington!
In any case, Sir Roundlington was created as a result of TfL's desire to create a better poster awareness campaign for safer tube use. Safety notices have never left the organization's mind, whether it was the UERL, which opened several of the first tube lines, the London Passenger Transport Board (which built extensions to most of the tube lines and replaced lifts with escalators at many stations), or TfL, which has been managing London's transport for more than twenty years. Escalators, on the other hand, have always been a special case, owing to the fact that they can be dangerous if used incorrectly. In any case, the safest way to travel is to hold onto the handrails, and this is an awareness campaign you will see on the tube today, tomorrow, next year, and far into the future.
Back in October 2017, when the Sir Roundlington posters first appeared, Oxford Circus station had a variety of different posters all about safety, as my photographs demonstrate. In addition to the poster campaign that began in the summer of 2017 (and is still in use today due to its success), the station used some other experimental styles of safety poster campaigns, including those featuring Sir Roundlington.
The current poster campaign which began in the summer of 2017 with some of the earlier examples seen here at the entrance to Oxford Circus station in November 2017. There's not only these – there were smaller notices too – one of these can be seen at the bottom right hand corner! Its a small yellow rectangle sticker which simply says 'Hold the handrail.'
Coming down the stairs one would have then seen this other type of poster – a rare variation on the original.
Take extra care when its been raining… this poster was at the bottom of the steps into Oxford Circus ticket hall itself. November 2017.
That wasn't the only variation. Here's another! Again seen in November 2017!
Coming up from the southbound Bakerloo/Victoria platforms one was faced with this plain type of poster at the bottom of the escalators.
And then there was Sir Roundlington. That was a development from the plain poster shown above. The Roundlington posters could only be seen at the top of the escalators leading down from the ticket hall to the intermediate level hall (where the route to the Central Line splits off.)
Sir Roundlington at the top of the escalators immediately off the Oxford Circus ticket hall.
The other Sir Roundlington location was at the bottom of the escalators from the Central Line.
In fact there were only two Sir Roundlington specific locations at Oxford Circus station. Top of the escalators going down and bottom of the escalators coming up from the Central Line.
This is about as much as we can deduct on the matter. Sir Roundlington was quite possibly an initiative that was quickly drawn up and which didn't prove popular.
Pic I took of the very same escalators in May 2021. The only difference from four years ago happens to be Sir Roundlington's absence! Evidently that campaign was largely ineffective and one rarely sees this sort of thing happen now.
TfL gets a FOI on Sir Roundlington!
Amazingly someone attempted a FOI to TfL asking about the origins and creation of the Roundlington clan… TfL did in fact confirm they had information on Sir Roundlington!
'Please could you release any documents and images relating to the creation or implementation of "Sir Roundlington". I have attached a photo so you can see the mascot character I am referring to. I have so far only seen him on the escalators at Oxford Circus station, if this helps you narrow down the correct department.'
However TfL's reply was that this particular FOI would be too expensive to chase up!
'Thank you for your request received on 24 November 2017 asking for information about Sir Roundlington. Your request has been considered in accordance with the requirements of the Freedom of Information (FOI) Act and TfL's information access policy. I can confirm we hold some of the information you require. Unfortunately, to provide the information you have requested would exceed the 'appropriate limit' of £450 set by the Freedom of Information (Appropriate Limit and Fees) Regulations 2004.'
I expect the expense of this FOI was actually due to the fact they would have had to track down exactly where they had dumped the guy… I mean, they probably just ripped the adverts off the tube's escalators and goodness knows what happened to these – probably screwed up and flung in the nearest wastebin or put through a shredder!
And here's the moment you've been waiting for – a special Sir Roundlington freebie!
Sir Roundlington emailed me a special image file (supposedly retrieved from the annals of TfL's intranet….) its said to be a reduced size from the originals used to print out the posters. I've used that to make a free downloadable Sir Roundlington poster of the one and only original style! Print it off stick it on the wall and admire it! Or maybe use it as a desktop image!
Your very own Sir Roundlington! Click on image & download a larger PDF image of this rare TfL poster!
And finally…
You might be wondering what Sir Roundlington's plans are for the future? None at the moment actually. He's still hoping TfL will take him back into the fold. But he doesn't want to go back to Oxford Circus, he would prefer somewhere maybe like Highgate or Southgate (stations with escalators out of town) where the local population might have a bit more regard for the aristocrat… TBH I don't think he'd get very far at those locations either!
Anyway its 2021, the lockdowns are over and Sir Roundlington is back! Here's a picture (which I created specially for this post) celebrating his return to the fold:
Hip hip hooray! Sir Roundlington lives!