The LUMO train, which will travel between London and Edinburgh, has appointed Harvey Price as a diversity and inclusion ambassador. The position will serve to promote a greater understanding of the issues of rail travel for individuals with disabilities, as well as working with Lumo to build awareness of the new service and encourage genuine discussions about accessibility on trains. Harvey was born with a variety of problems, including ADHD, autism, the genetic disorder Prader-Willi Syndrome, and septo-optic dysplasia, which causes blindness.
Helen Wylde, Lumo's managing director, says 'Harvey's passion for trains is wonderful. We love his energy and enthusiasm. We are also deeply committed to improving the passenger experience for people with disabilities, which is a serious endeavour that requires our industry's attention, too. Introducing a single class throughout our trains was just one way to show that everyone should be able to enjoy the same high-quality experience. But we don't want it to stop there. We will work closely with Harvey to ensure that we are as inclusive as possible in future. I'm sure there is work to be done, but if we succeed, everyone will feel the benefit of Harvey's input when they travel with Lumo.'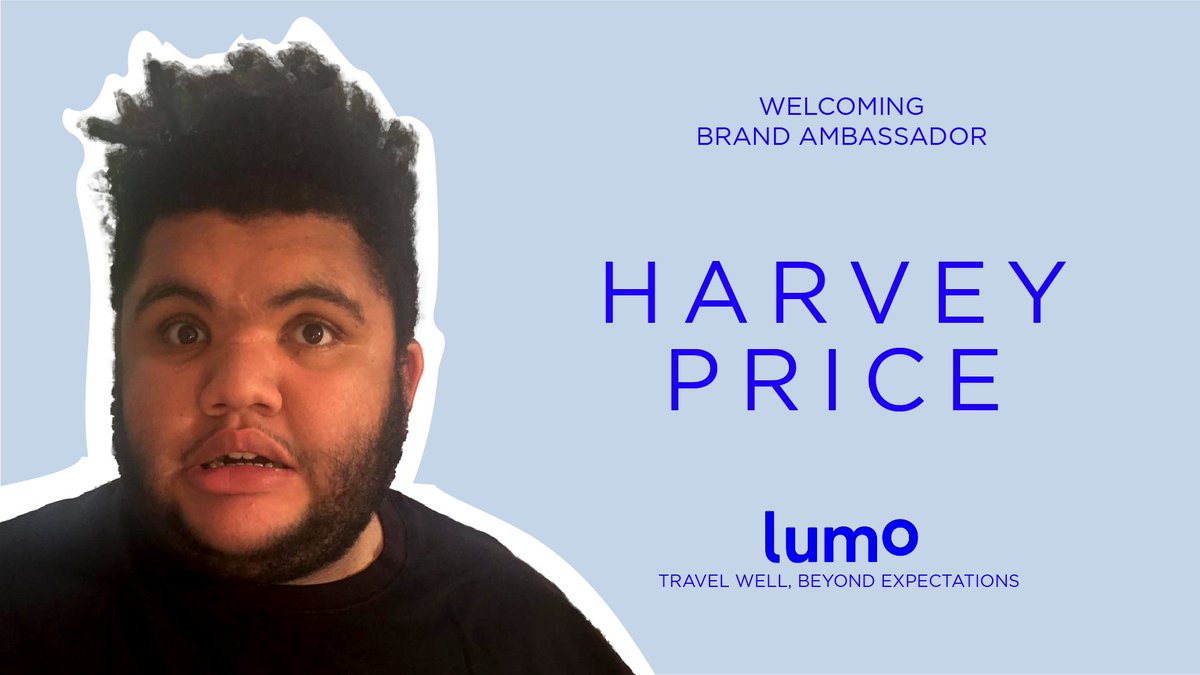 Lumo's announcement on Harvey as their ambassador. 'We're thrilled to announce we have Harvey Price onboard as our Diversity and Inclusion brand ambassador!' Source: Twitter
This is an rare move and I appreciate it wholeheartedly. Indeed, I believe its a first for the UK railways to have an ambassador with a disability, and it is quite radical too, but then again, this is what we are seeing from the Lumo stable – a way to prove itself as a new form of rail travel. For starters, there are excellent affordable tickets, there is the concept of sustainability, the environment, and there's also equality and fairness in terms of the passengers themselves — the old first and second class system has been abandoned, and the train now has only one class.
We have seen disabilities brought to the fore before however Lumo's approach is unique, and I'm hoping it's the start of something new, including a recognition that anyone with a disability can of course be a leading light for any organisation or business.
Harvey enjoys train spotting at Epsom Downs on the Southern network. Source: Youtube.
One can see from the rail media world that the response is indeed quite abated. There's no huge excitement. Trawl through the rail based social media and there's little on it. Even the leading rail media haven't taken to big news as they normally would. Maybe they're wary of Lumo for all I know, but to even ignore news like this, well I think it does sort of show a resistance which still pervades – despite the huge messages from the railways as being all for inclusivity and accessibility.
Nevertheless the fact we have Harvey as Lumo's ambassador will no doubt accelerate the discussion on many aspects of rail accessibility. Yes there's been improvements but the situation is still far from ideal. Fingers crossed and hope this starts off a new era in terms of railways and disabilities.
There might not seem much evidence of Harvey's love of trains, but there's been films on it, including one from the BBC as part of the series Katie Price: Harvey and Me. Harvey's been out train spotting at Braintree and Epsom Downs, as well as the former station at Rayne, now a tourist facility for the Flitch Way Country Park. He was also included in another portion of the BBC documentary on a visit to Waterloo station with his friend Zack, where he had an opportunity to make station announcements!
Main image sourced from Youtube (Harvey's trip to the train station.)