Who needs train pantographs especially when one is south of the River Thames? Exactly! It's the reason for having BIG warning signs at Farringdon pleading that drivers check to see they've retracted their pantographs in order to enjoy the delights of the substantial 3rd rail system – the world's largest such network which is largely peculiar to those counties in the south of England. If the pans aren't down, well that's how a pandemonium begins! Thameslink had one on the 4th of April 2022 when train 5V55 the 16.10 ex Smithfield opted for a trip southward with its pans up!
One would think well, at least there's plenty of opportunity for drivers to be prepared for this mysterious phenomenon of trains losing their pans. Besides the huge notice at Farringdon, if all fails as fate would have it, there's one other chance to make amends at City Thameslink. One must simply drop the trains' pans and enable shoes down operation there and no further – otherwise its unchartered waters for the trains' AC operation!
Pic I took in February 2022 of the 'pans down' warning at Farringdon.
In terms of the pans having to be down, well that's what happened on 4th April 2022! A train took its pantographs for a spin in the fresh air south of City Thameslink. One can easily guess what happened!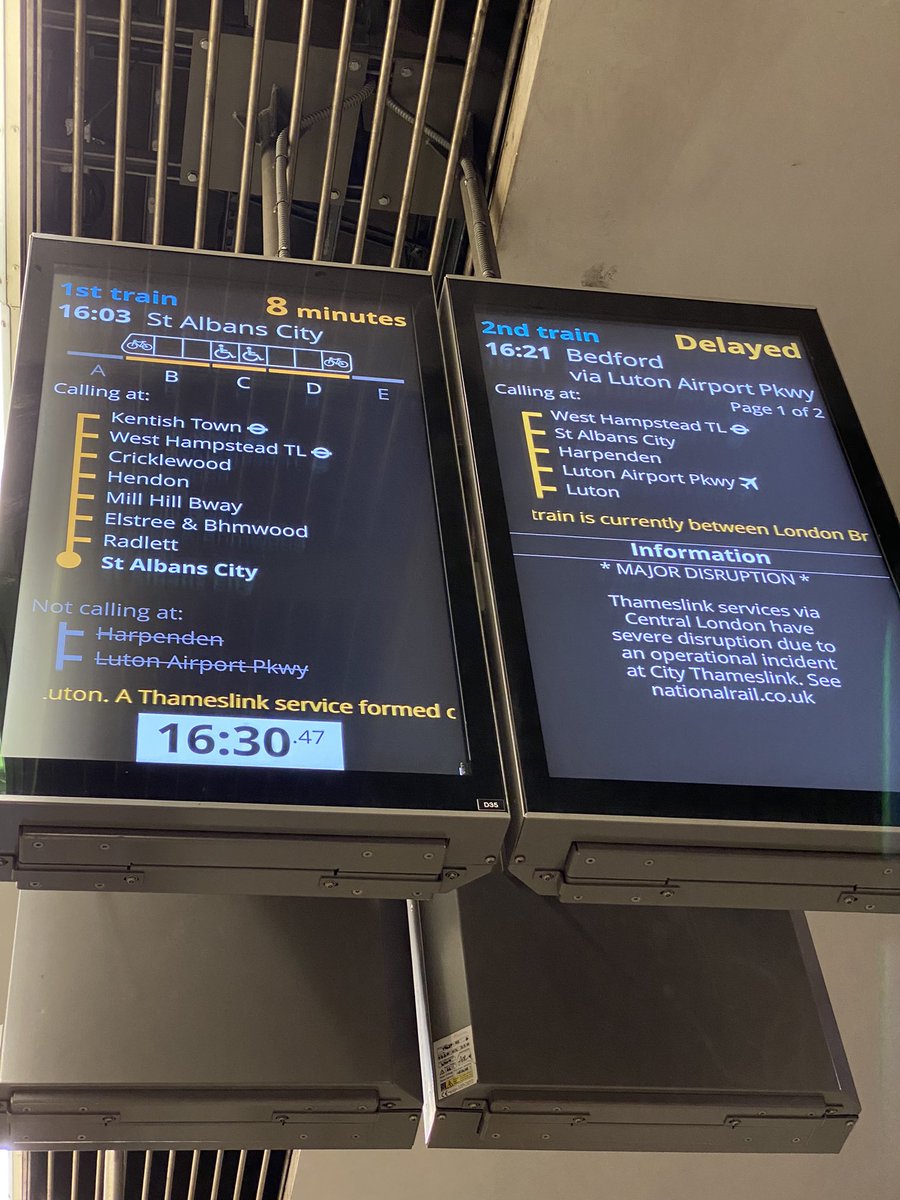 St. Pancras Thameslink showing problems and denoting 'an operational incident' has occurred at City Thameslink. Source: Twitter.
The next two pictures were taken from the viewpoint that forms a link between Apothecary and Waithman Streets. This viewpoint can be seen on Google Streets.
As has happened on a number of occasions before, drivers taking their trains south towards Blackfriars with their train pantographs up will surely run out of luck. Its an absolute must. There might be fresh air as the trains emerge from the tunnels and their pantographs spring for joy but that is in fact the problem – because there isn't enough air space for the pans to swing freely for joy!!
People ask why the pans were not dropped at Farringdon, its supposed to be automated anyway when trains stop at that station. The truth is this train was never at Farringdon but had originated at Smithfield sidings, so it should have dropped its pans at City Thameslink. Though there doesn't seem to be any explanation why the third rail wasn't used in its entirety rather than employ a very short bit of OHLE!
There are apparently other problems with the switchover procedure too. If a train runs through Farringdon non stop (an empty stock working for example) the switch must be done manually. Also its said if a eight car train stops at the station's 12 car mark within the station platforms (or not stopping at any correctly designated points) the pans wont lower automatically either.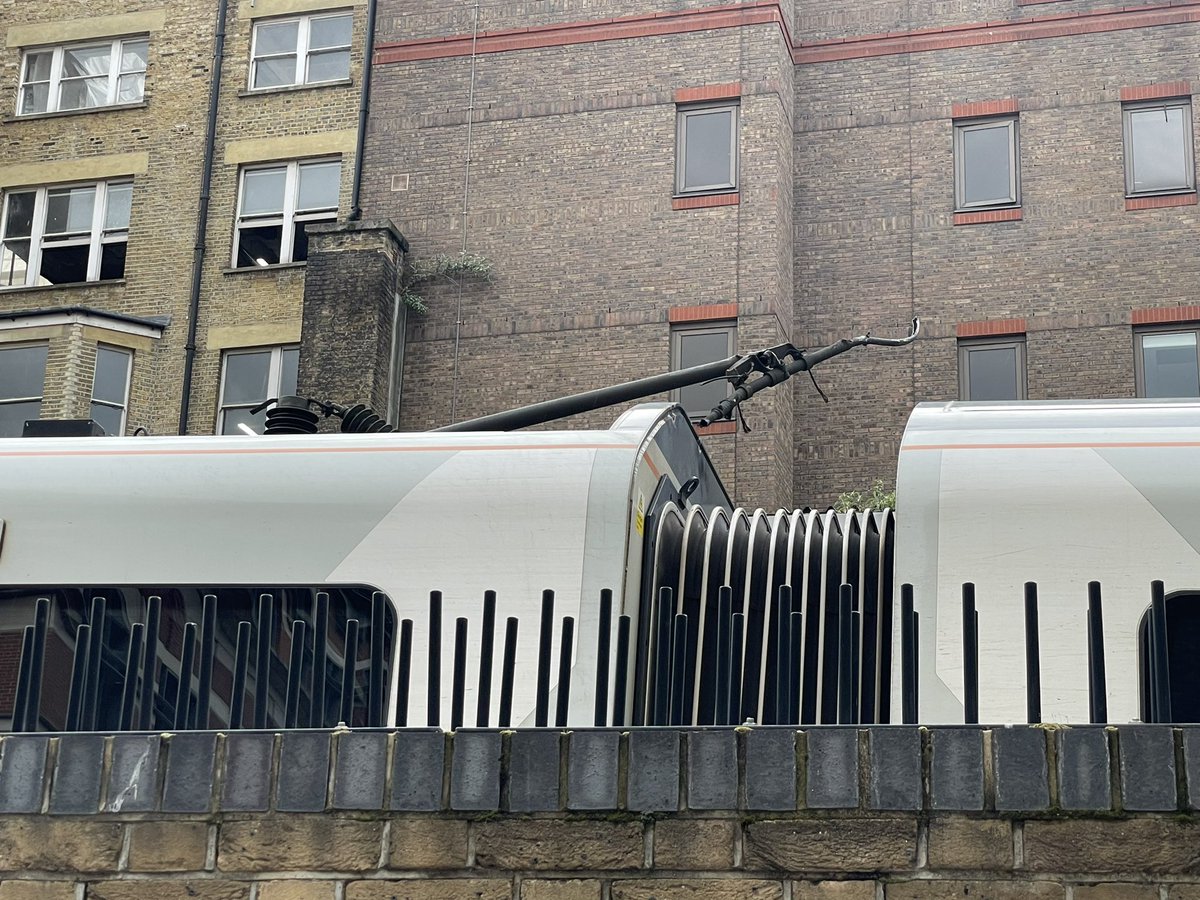 A pretty useless pantograph! This picture was taken from Black Friars Lane which gives a good view of Thameslink's trains climbing the steep gradient from City Thameslink to Blackfriars. Source: Twitter.
These pantographs are not any sort of cheap disposable item, despite costing somewhere about £6-£8 for an N gauge version or £25-£28 for an OO gauge version – neither of which ain't going to fit! As rail company audits show, genuine full sized examples of pantograph cost about £13,000 each! The carbon shoes that fit on the tops of the bows, they're about £8,000 for a set covering a small number of pantographs! Sobering! These prices are for normal train pantographs and not high speed ones which cost twice as much!
As indicated earlier this is not the first time an incident of this sort has happened on the Thameslink core section. A similar incident happened last year while one more occurred in 2014. There have been others too but these cited are the most notable.
The current train in question smashed its pans as it emerged from City Thameslink. The reason for that is trains leaving the Smithfield sidings need to travel southward along the northbound platform track and then use the crossover at the southern end of the station. This crossover is third rail only.
Its why trains terminating at City Thameslink can do this move only from the south. Those coming from Smithfield sidings must pass through City Thameslink out of service and begin passenger operation at Blackfriars.
In 2014 a Class 319 managed to reach Blackfriars with its pantographs raised high before smashing these into the building which forms part of the Blackfriars station complex.
The 2014 pantograph strikes the roof at Blackfriars! Source: Internet Archive (where a copy of the Metro article can be seen.)
What should one do to prevent these raised pans then? As it stands pans must be dropped at Farringdon in the southbound direction and raised at City Thameslink in the northbound direction, even though both third rail and wires extend well beyond these points. Its to ensure any drivers forgetting to drop their pans at Farringdon, well its why the wires extend to the bottom end of City Thameslink. Similarly its why the third rail extends into Farringdon station itself, and that simply because if it doesn't get done at City Thameslink, well Farringdon's the next (and last place) to do it.
These techniques are all fall back ones however. The operation is generally done automatically but the caveat here is a train has to be of the right length and stop at the right locations. If its not then the operation, as described earlier, must be done manually.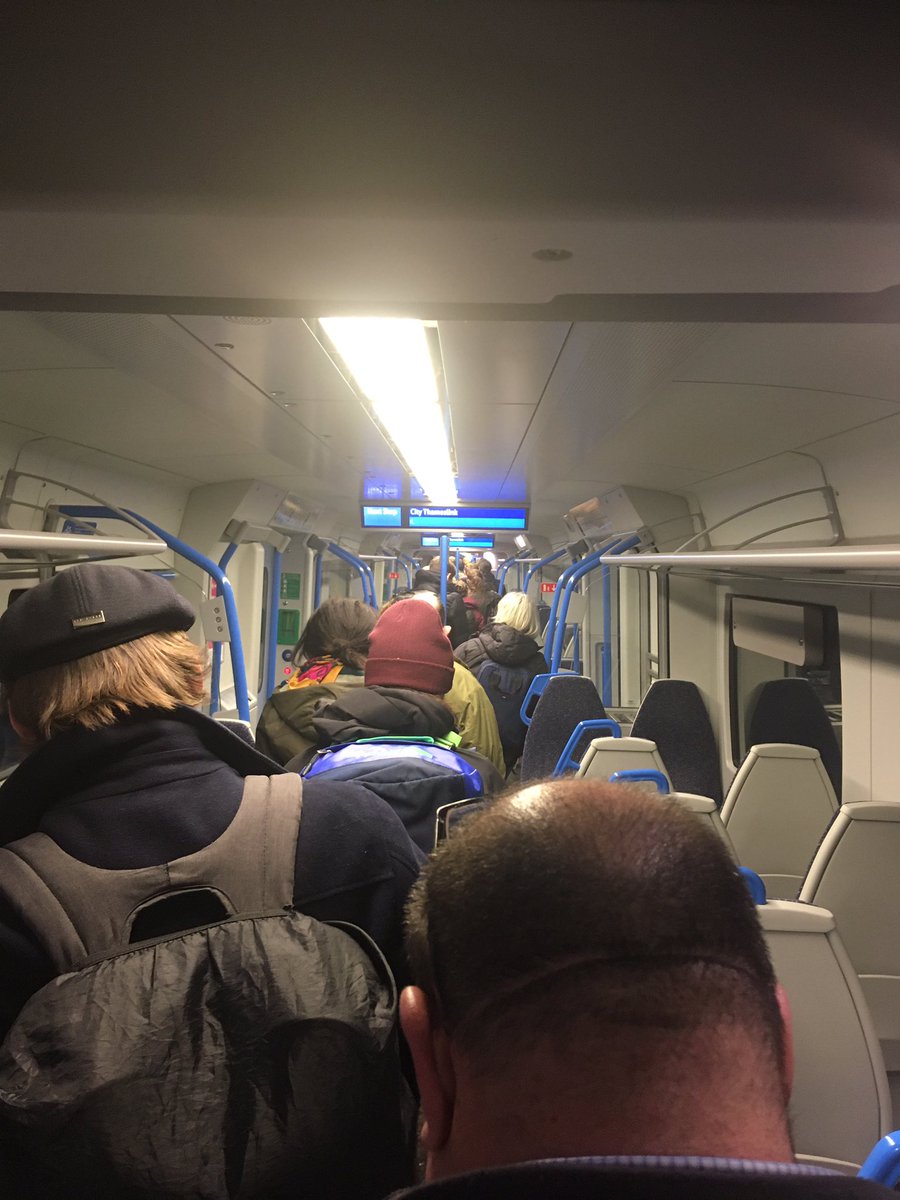 Passengers preparing to alight from a train stuck in the tunnels between Farringdon and City Thameslink on 4th April 2022. This train is without a doubt that mentioned in the tweet below. Source: Twitter.
Numerous people affected. Appointments, flights, sports events missed. A lot of people directed angry tweets at Thameslink. The whole episode was no doubt very costly, not just in terms of lost rail hours, displaced stock and displaced staff, and of course lost revenue as well potential loss of customer base due to negative impressions about the railway – plus many people affected would have also had to incur additional costs as a result of the mishap.
Is this right when its claimed the wires have come down? The OHLE through the Thameslink core consists of fixed conductor rail rather than wires. There were a number of announcements and all invariably mention wires or dewirement, which is hardly the case. Not even a single mention of a train having had its pans unceremoniously thrown into the four foot!
I think the rail company was somehow too embarrassed to mention that one of its drivers had made an error and brought down the whole Thameslink service at a stroke. In other words pantographs or trains' pans hitting rail infrastructure (eg the southern end of the City Thameslink portal.) Its essentially an Achilles Heel in the entire Thameslink operation because it puts the vast network operation (Peterborough-Horsham/Bedford-Brighton/Luton-Sevenoaks-Rainham/St. Albans-Sutton etc) into almost total meltdown.
I think they wanted to avoid any measure of having been seen as incompetent. But it does beg the question, how can this sort of mishap be avoided? So far it seems whilst there's an automated process that occurs should a train be in the right place and the right formation (its activated by means of trackside balises) there isn't this facility when its an out of service working or a train emerging from Smithfield sidings for example to form a Thameslink service (Sevenoaks, Sutton or Rainham) from Blackfriars.
It seems to me there's also a problem in the modus of operating through City Thameslink. Yes the switch to pantographs must be made on a train that is travelling northbound towards Farringdon – but the pans must be down on a train travelling in the reverse direction (eg southbound) on the same exact track from Smithfield sidings. The map below highlights the situation.
Map of the area (adopted from Carte Metro) which shows a single lead track from Smithfield sidings to the southern extremity of City Thameslink where the OHLE ends completely.
One would wonder why this somewhat bizarre arrangement at Smithfield/Snow Hill tunnel exists. Well its legacy. The original Thameslink railway had no need for Smithfield sidings. Those sidings were used solely by Southern trains and these were third rail only. No problem there because it was only third rail services that needed to terminate at City Thameslink (in lieu of Holborn Viaduct.) However when Thameslink expanded and took over a number of Southern (and South Eastern) metro services, some of those trains continued to service City Thameslink (and stable in Smithfield sidings – these being remnants of those services to the long closed Holborn Viaduct station) the problem was the trains were now dual voltage. Thus the likelihood of error (eg the trains' pantographs up in the wrong place) is far greater than before.
Operationally several trains were moved past the blockade (in both directions) via the northbound track. This occurred when the lines had been re-energised just after 7pm as Thameslink says. The affected train itself was cleared at about 9pm and the tracks reopened soon after. Thameslink had said a short while earlier they thought their first through trains (this is discounting other local services eg Luton/St, Albans that may have made it through the section) would be the 21.31 from Bedford and the 21.55 from Brighton. All other trains during the blockade started form either St. Pancras, Blackfriars or London Bridge.
Chaos pictured at St. Pancras as passengers seek alternative ways home either via any available Thameslink trains or even Midland Main Line.
Above and below: Thameslink's tweets denoting its first full through services since the pans up mishap at 16.00hrs.
Last I believe it it happened was in 2021…
That was because the Class 700 train in question travelled from City Thameslink to Blackfriars with its pans up – very much like the 2014 incident.
The stricken Class 700 on the ramp leading from City Thameslink to Blackfriars, 14th August 2021. Source: Internet Archive.