The Chicago, South Shore and South Bend Line (the South Shore) is America's last interurban line – and what is more surprising is it still operates a substantial section of on-street track. The railroad once had other street sections too which have since been diverted – however this in Michigan City, Indiana, is the last remaining section in operation. There has been talk for years of replacing this section with traditional private right of way trackage. Alas previous proposals entailed the demolition of properties and that didn't sit very well with the City's residents. Thus current proposals involve utilising the present alignment but rather separating trains and road vehicles instead.
As 2020 progresses it seems there may well be steps on the way to achieving these changes that have long been sought because of the difficulties of main line trains and road vehicles using the same rights of way and its not something that a tramway would resolve because the South Shore is an important railroad that benefits communities and businesses in both Illinois and Indiana. Very recently a financial package was approved to upgrade sections of the South Shore including the Michigan City streets section.
This work should help to double capacity on the whole line between Chicago and South Bend (the line's eastern terminus) as well as shorten total transit times.
But first we take a quick look at the line's history and how it came to be using street running in the first place. Not that it was any surprise because many American interurban lines once depended on lots of street running too. This one is a quirk however because its survived well beyond expectations!
South Shore unit arriving in Michigan City to pick up waiting passengers. Source: Twitter.
We start with the line's history in brief, its current on-street section through Michigan City (3.08km or nearly two miles in length) and plans for the future of this last remaining street running section. A simple reason for the continued existence of this last remaining section of on street running is because it is actually the company's main line – and despite many debates on other possible routes, these alternatives have posed many issues which are difficult to overcome.
There is a pressing need to expand the line's capacity & transit times but again this is compromised by the section at Michigan City, which does take a fair amount of time, including trains having to stop at the various intersections and wait for the traffic signals to turn green. It means no matter how much one loves the sight of these trains especially when the line's huge double deck units are trundling down these streets, its simply an operating anachronism and one the line's operators can do without.
The original South Bend terminus, 1968. Source: Flickr
The original eastern terminus of the line at South Bend was in the city itself where La Salle Avenue and Michigan Street intersect. This was reached by an on-street section of line. That closed in 1970 and the terminus relocated at West Washington Street.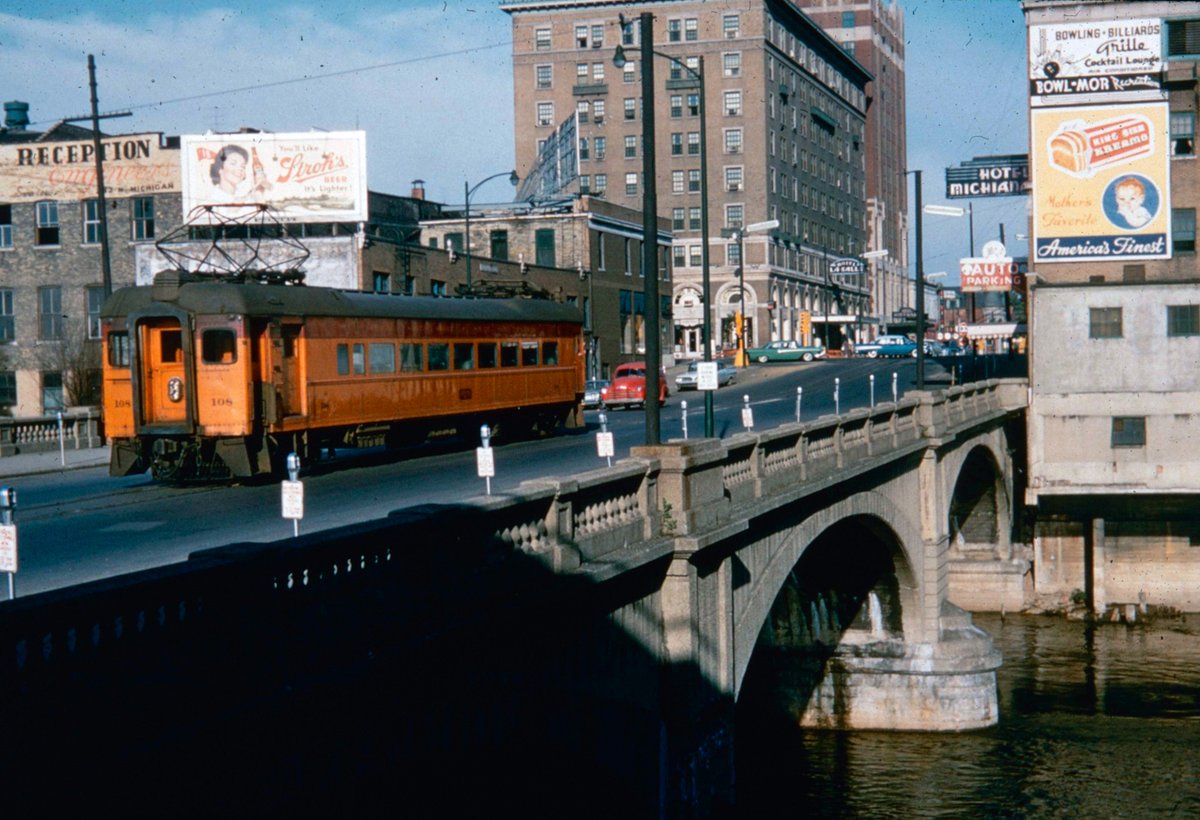 South Shore on the river bridge near the original terminus at South Bend. That was where La Salle Avenue and Michigan Street intersect. This on-street section of line closed in 1970 and the terminus was relocated at West Washington Street. Source: Twitter.
The line had modest beginnings, being initially built in 1901-03 with a total length of four miles and two suburban cars serving the east side of Chicago. It soon expanded to include the centre of Chicago itself and opened to South Bend in 1908. Despite the growth of motor traffic (which succumbed many US interurban lines including the famous Pacific Electric routes) the South Shore buckled that trend by expanding its routes greatly. Despite its ups and downs (including loss of its freight services in the 1970s and 1980s as well as near bankruptcy) the South Shore is generally recognised as being the most successful interurban railroad in the US.
The overhead voltage through Michigan City (as on the other street sections was originally 800 volts – some reports say 700 volts – which was imposed from the very beginning on the South Shore's street sections because of safety concerns as opposed to the lines then voltage system of 6,600v AC. This was replaced in 1926 by the current 1500v DC throughout the system. The current power supplies are adequate although trains have to be more gently driven on some sections and trains divided at Carroll Avenue in Michigan City in order to enable the lengthy section from here to South Bend – which has far fewer substations – to cope.
The South Shore's Randolph Street terminus in Chicago, 1973. Source: Chuckman's Chicago Nostalgia
Other on-street sections once included a considerable length in Chicago itself to reach the line's terminus at Randolph Street (now rebuilt and from 2007 known as Millennium Station.) The section along Chicago Avenue (pictured below) was relocated to run along a new five km long trestle some distance away and paralleling a new motorway.
South Shore train in Chicago's streets near Whiteoak Avenue during 1956. This view is from the excellent Trolley Dodger website which covers Chicago's trolleys as well as various other US cities.
Today the South Shore Line is operated by Northern Indiana Commuter Transportation District (NICTD) from Chicago's Millennium Station to South Bend. There have been calls for it to be extended from the line's present eastern terminus, which is seen as somewhat inconvenient, to be nearer to the centre of the city – although that would involve new private right of way track rather than restoration of an on-street section of line. Here's a link to the City of South Bend report upon extending the South Shore to a more centrally located station.
The section through Michigan City
The line runs through East and West 11th Streets as well as West 10th Street in Michigan City. Here are some views (and videos) of that section followed by a brief on what is currently happening in terms of the plans to remove this section of railroad through the streets. (Spoiler: It wont be removed! But see the plans shown at the end of this post.)
Very confusingly there is also another railroad operation (established in 1989) and known as the Chicago South Shore and South Bend Railroad (the Southshore Freight)! This provides passenger and freight services on a different route to that of the South Shore's – but nevertheless some operations require its freight trains to use the on street section in Michigan City as the video below shows…
Video of short freight (one box cab & two locomotives) in Michigan City.
Video from a couple of days ago (29 August) including shots of the line's double deck units at work in the streets section.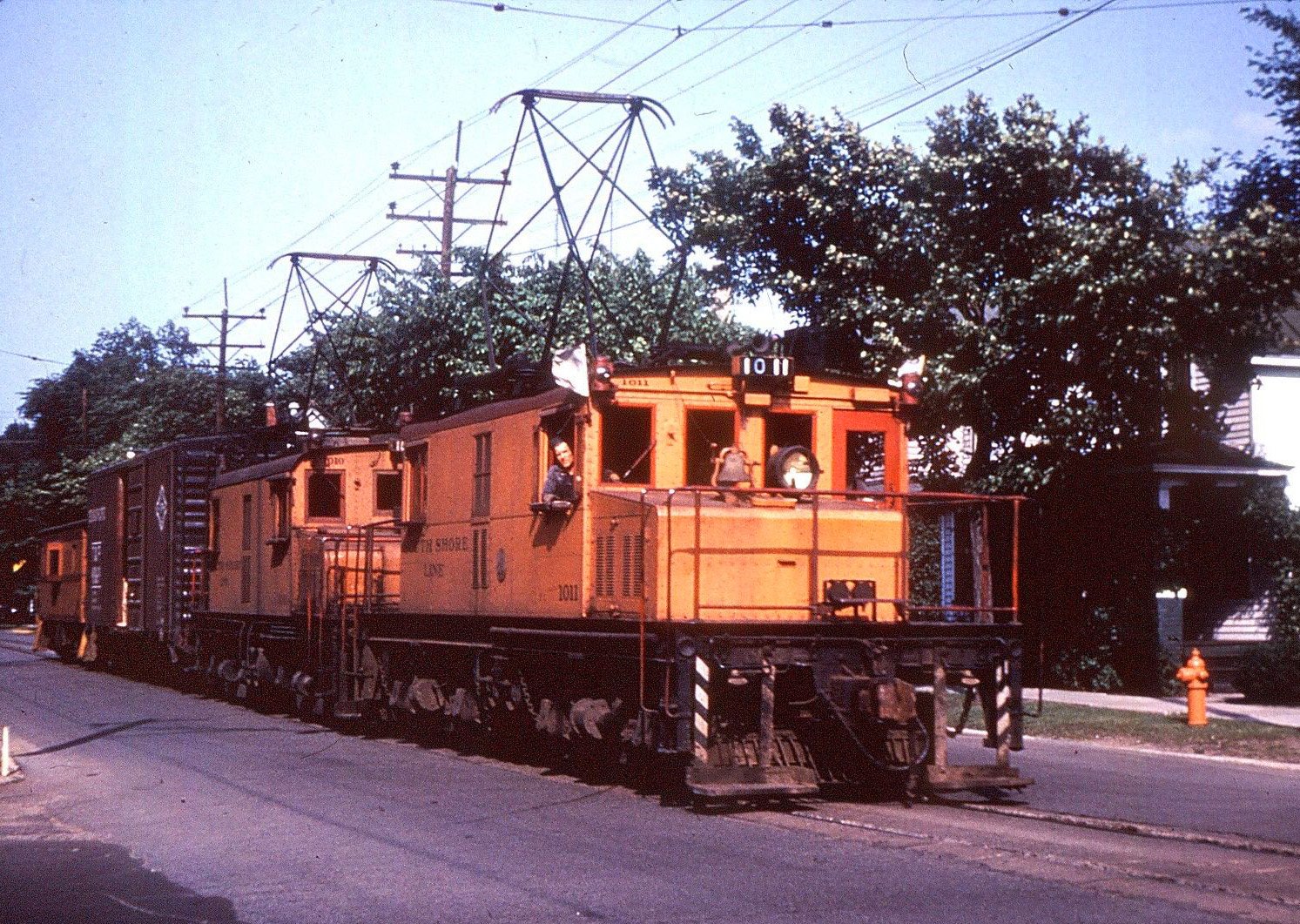 South Shore steeple cabs with a single boxcar. Michigan City 1950s. Source: Twitter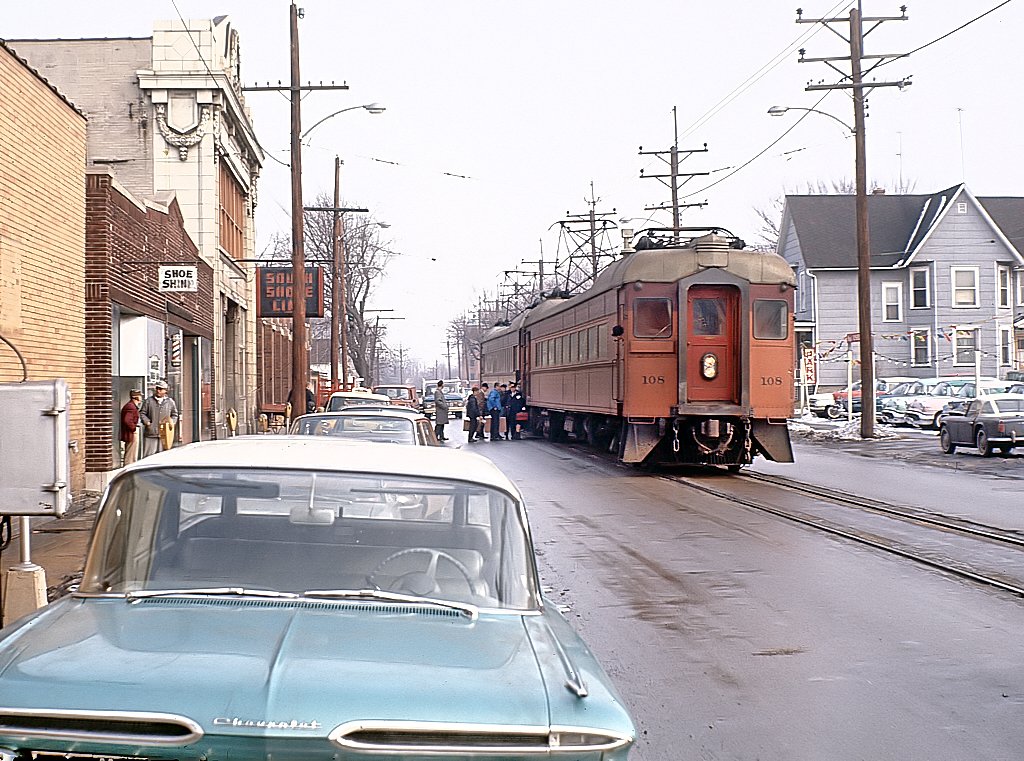 South Shore MU cars at 11th Street, Michigan City. Xmas 1963. (Some sources describe this stop as Lakefront station however its also known as Michigan City station.) Source: Twitter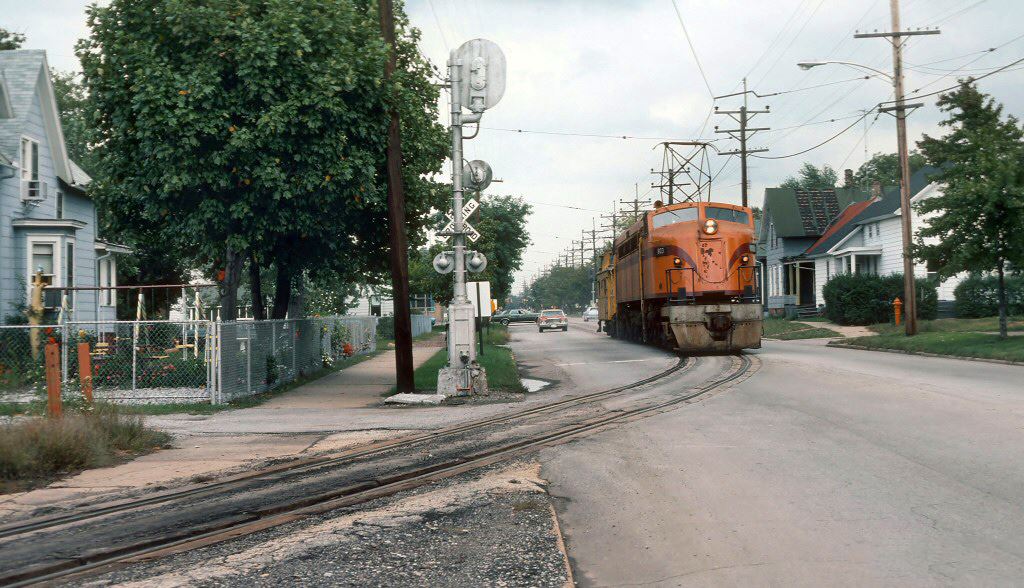 The South Shore's No.803 with a single caboose at Michigan City, 1977. This was a sister loco to the Milwaukee Road's famed 'Little Joes.' Source: Twitter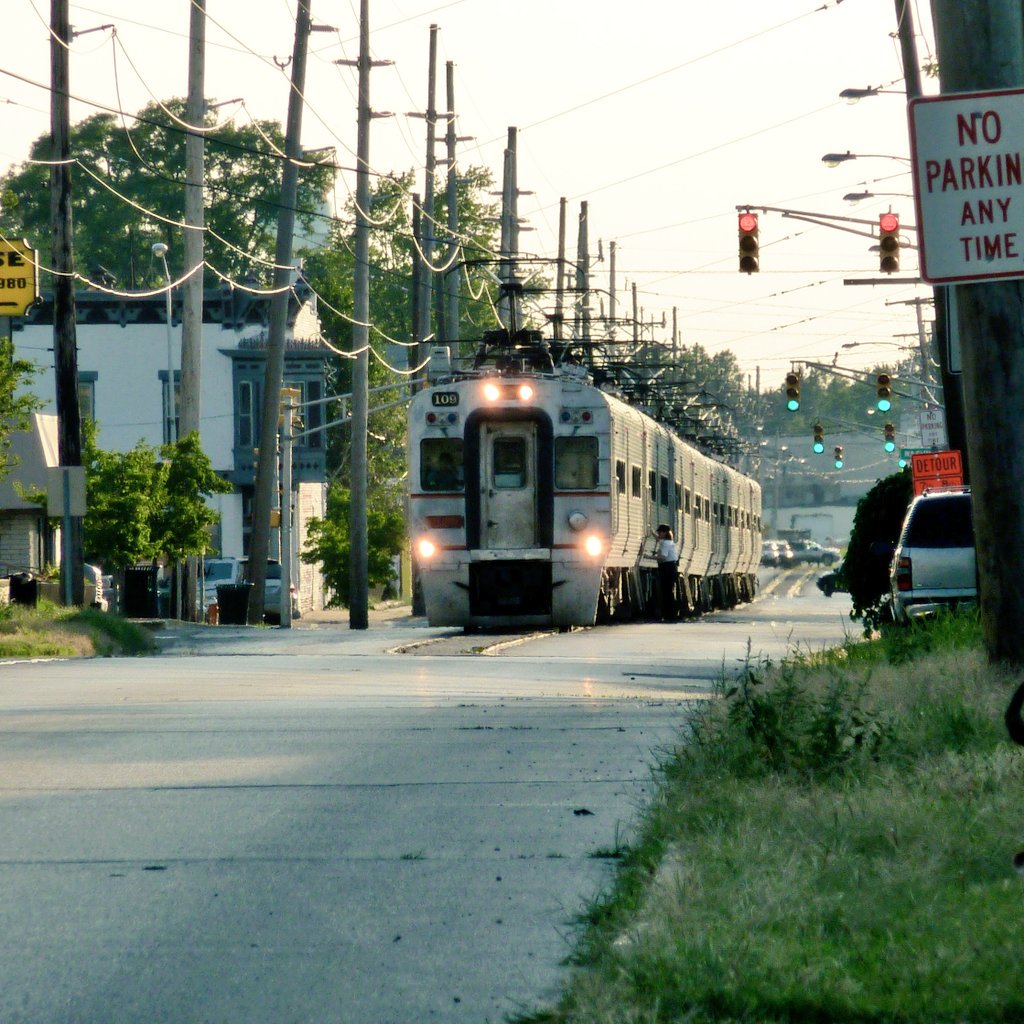 South Shore train at Michigan City in September 2012. Source: Twitter.
Coming over the brow of the hill! East 11th Street and York Streets Michigan City. Source: Trains (Note: The source page appears to have been removed thus an archived image is used here.)
Current plans for removing the section in Michigan City were first mooted around twenty years ago without any definitive plans coming to fruition. In due course some were drawn up but residents objected to the demolition of their homes. However in the last ten years the idea regained substantial momentum and detailed proposals were drawn up that included a scheme which hopefully would answer all objections. The full set of proposals can be seen at Double Track NWI. The plans for upgrading the line between Gary and Michigan City can be seen here.
Map of the South Shore Line showing the extent of the proposed improvement work. Source: Double Track NWI
In February 2020 the federal government approved the plans. Ultimately the transit time from South Bend to Chicago will reduce to 1hr 45 mins. Construction is expected to begin in mid 2021 on an improved section totalling 26 miles from Gary to Michigcan City – including new double track and the removal of the Michigan City bottleneck. It is anticipated the project will be completed in 2023 or even 2024 – which means this sole remaining section of interurban streets section gets to see a few more years use.
The project includes installation of a second mainline track, improvements at five stations, over 1,300 new parking spaces, and 9 new platforms. Significant safety improvements will be made in Michigan City, where the rail will be separated from the roadway and 21 at-grade crossings will be closed. The project is expected to more than double existing South Shore Line ridership and reduce travel times.
At the end of August (link to South Shore Line news item dated 31 August 2020) the Federal transit Association allocated $50 million of funding to boost the project. Although this funding is not available until work does begin, this advancement is meant to give confidence that the project is indeed underway and the changes will be implemented.
How that will work is the present railway alignment will in fact be retained and the track doubled. There will be grade separation between trains and traffic though and a new station provided. The logistics of the project is quite considerable though because it entails a double track railway taking over what is currently a major vehicular thoroughfare and getting people to accept there is to be a major railroad outside their homes instead of a major roadway. Its quite a radical solution in fact because its entails a scope far beyond what has been done before.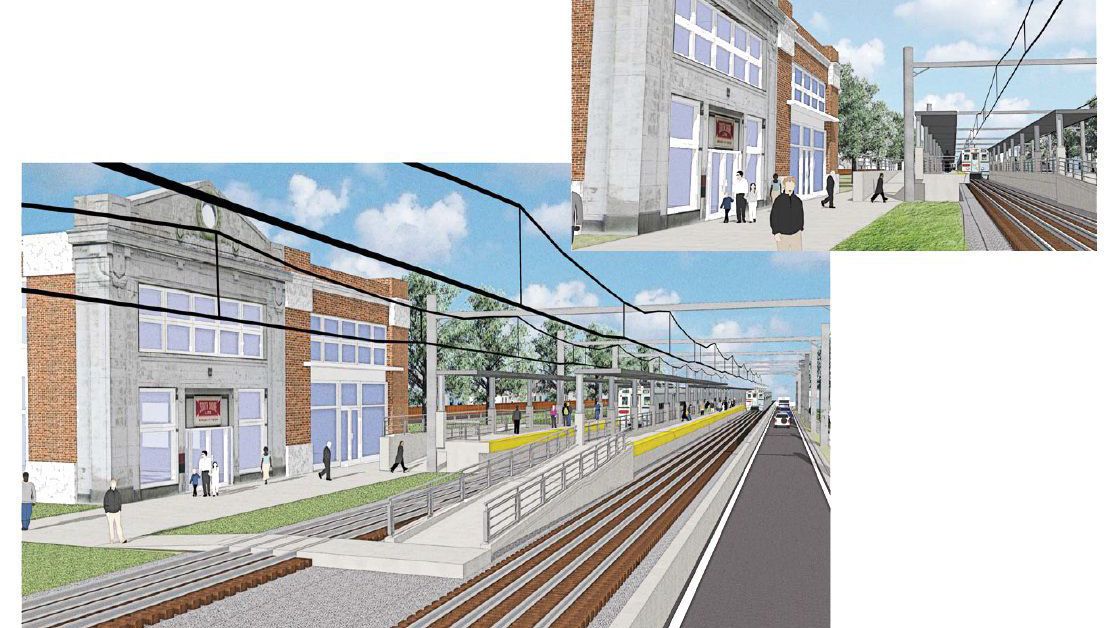 Proposals showing how the new 11th Street station would look. There would be limited space for one way traffic on the south side of the new railroad alignment. Source: Twitter
For comparison see the image below from Google Streets of how the site currently looks at 11th Street station. The historic South Shore Line building is on the left.
The same section of track/road with the South Shore's 11th Street station building as it currently looks. Source: Google Streets
Proposals for the new 11th Street station at Michigan City (currently 60% of the total design) showing how the present roadway would largely become a railroad/station with traffic delegated to a one way lane along the south side. Source: Double Track NWI
In terms of traffic this will be one way along 11th Street whilst the other nearby streets will be employed to facilitate traffic needing to head westbound through Michigan City. Its a huge challenge however, trying to shoehorn a substantial main line railway station into a main street! Its a much bigger job than what a tramway would produce! But this seems the only answer if there is not be no demolition of any properties within the area.
Michigan City residents (and city council officials) still have their doubts this scheme can work. There are many questions as to its suitability and these were raised at a meeting in February 2020. The project's managers did however say residents would be able to learn more about the proposals in due course and understand its effects. I think we will see more of this as 2020 progresses and whether the Michigan City plans get to be fully accepted. On the face of it there's very little alternative to what is being proposed.