This is an exciting time for battery train technology! And that despite the news that HS2 has been all but abandoned. Today trains began serving Headbolt Lane station from Kirby where the present Merseyrail 3rd rail system ends. It was hardly worth the effort to electrify to Headbolt Lane especially when Merseyrail had bought new Class 777 stock – some of which is battery enabled. Merseyrail intends to extend its network where it is possible and Headbolt Lane was the first such instance of this happening. There's also battery technology enabled on the West Midlands Metro system and its trams are able to use battery power on the new Five Ways and Wolverhampton station extensions.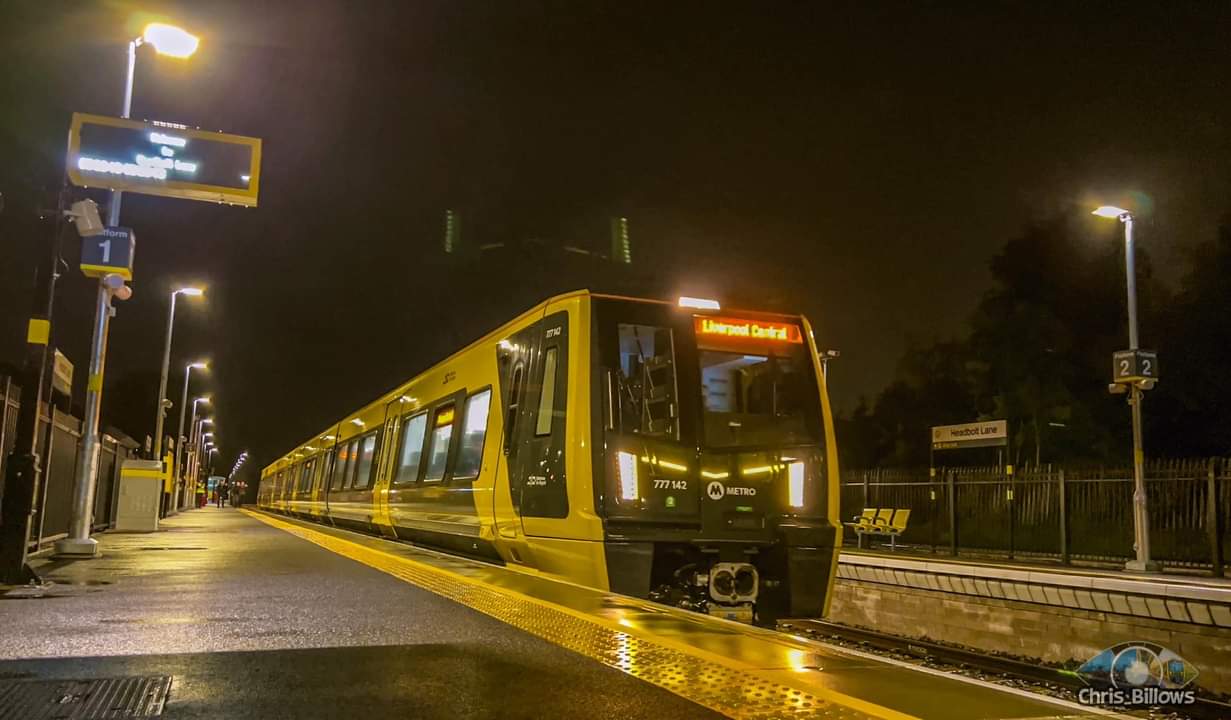 First train from Headbolt Lane this morning at 5.30am! Twitter(X).
This brings us to the main subject of this post – West Ealing and the Greenford branch. In terms of what has happened so far re battery enabled rolling stock in the UK, the two instances reported above use classical power systems (third rail or OHLE) for most of the journey and its just a short run that utilises the battery technology. Greenford will see things go one more step ahead for the branch is to be entirely battery powered. There's no OHLE or third rail on any of the route between West Ealing and Greenford, thus this is where it goes further compared to Merseyrail/West Midlands Metro. The service will be operated by the Class 230 stock which are repurposed former London Transport D78 stock.
The Greenford bay platform at West Ealing has received its new battery rail charging equipment. The new electrical contact rails were put in place towards the end of September 2023 though pictures from that time showed these were merely the contact rails – no wiring or insulation of the contact rails has been done until this last few days. Its been said driver training's also begun though it seems its possibly limited to the one GWR 230 unit currently based at Long Marston. Work is still underway to complete the installation at West Ealing including a DNO substation. This is at least the original intent when the project was being managed by Vivarail – which as many will know, went into administration at the end of 2022 and GWR is continuing that work in good stead.
West Ealing bay platform showing the new fast charge installation equipment set between the rails. The second set of charging rails can be seen nearer to the station itself. LRB.
What is now visible there is essentially the way the bay platform will look from this point onward. Even though the present GWR Greenford shuttle (operated by a Class 165) will continue to run at least for the rest of this year, the bay platform is already in its future configuration awaiting the Class 230 trial. The electrical equipment is sited on the station's former good bay platform – and that part is yet to be completed but it will consist of electrical cabinets and distribution points. The equipment is being installed by staff from both Network Rail and Fuse Rail. The latter are specialists in conductor rail installations, points heating, power supplies, and associated railway safety equipment.
There wont be any equipment at Greenford station in view of the constraints of that site, however the equipment at West Ealing is more than sufficient for the Greenford branch battery train operation. This consists of two charging points (one for each coach of the two car Class 230 unit) and these will enable battery power for quite a few return journeys to Greenford without charge (or a fast trip to or from Reading depot). Further, trickle charging while the train is at West Ealing will ensure the batteries are never anywhere near flat. It is said that one quick charge during the train's few minutes wait at West Ealing will provide more than ample power for just one round trip.
West Ealing bay platform showing the new fast charge installation. The cables lead to the concrete trough which in turn leads to the electrical control equipment sited on the old goods platform area. LRB.
Not too important in the scheme of things however when one looks at the goods platform area it seems quite oddly sited. The reason for this is the station platforms used to be staggered. The up local platform was in fact located on the London side of Argyle Road and this whole area where the Greenford bay and main up local platform are now was once the station's goods yard!
The West Ealing to Greenford trial was originally a Vivarail initiative and GWR was intended as the first beneficiary in terms of ex D78 LT stock rebuilt in battery mode. GWR signed an agreement with Vivarail in February 2022 for the new battery train operation, however Vivarail encountered financial difficulties and in February 2023 GWR bought up the Vivarail rights – which included the remainder of the D78 stock that Vivarail had purchased for its various projects. This move has ensured that the battery mode Class 230 project could continue development. GWR took on some of Vivarail's staff as part of the take-over. These technicians and engineers are now working at Reading depot or Long Marston developing the Class 230 project further (including the necessary infrastructure needed to maintain the Class 230s) and this will ensure that Reading depot is able to accommodate the unit when the Greenford battery operated trial begins sometime in early 2024.
Just a week or so ago trials were undertaken with Class 230 001 (pictured) at Long Marston to ensure the fast charging technology wouldn't interfere with present signalling systems or track circuits – and it was announced that these had been a success. Source: Linkedin.
Class 230 001 is currently the only fast charging battery operated train in existence. GWR has the other units (Bedford-Bletchley nos 230 003-005) that were transferred over from Vivarail however these are diesel operated and so far there's no detail as to what will become of these. The next unit in numerical order is 230 002 however that's currently in Pennsylvania with little prospect of being returned to the UK. Evidently GWR will have to build extra class 230 units if it is to have redundancy built into its Greenford operation. These likely will need to be procured from the other spare D78 stock that is available.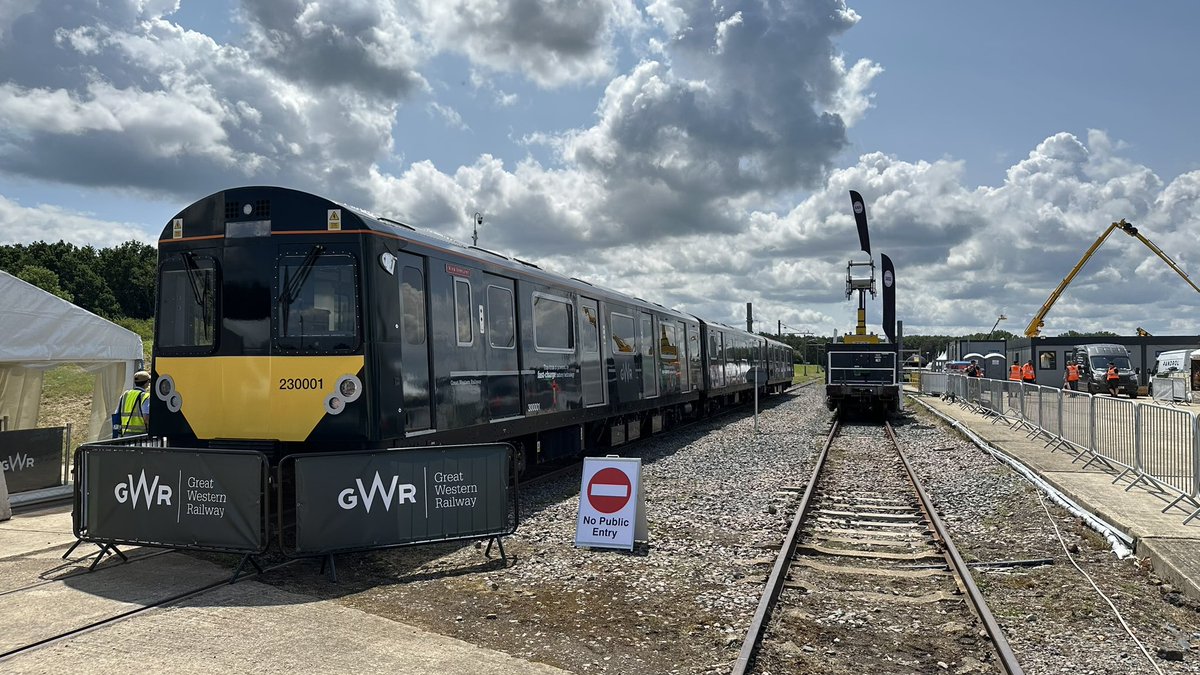 GWR's fast charging battery operated Class 230. Twitter ('X').
As indicated, the Class 230s will be maintained at GWR's Reading depot with overnight stabling at West Ealing EMU sidings. In a curious turn of events the Class 230s will be the second batch of GWR Reading based units whose passenger work is entirely within the Greater London area. The Heathrow Class 387s are of course the other units and these too are maintained at Reading with overnight stabling at West Ealing EMU sidings.
There's been speculation GWR could develop yet more Class 230 units for its other diesel operated branches including Windsor, Marlow and Henley as well as GWR's other branches further west. This is of course dependent on the success of the Greenford scheme. There is no shortage of ex LT D78s stock and evidently there is more than enough to go round if all of GWR's minor branches were to be equipped with battery trains. The only concern is that some of the branches such as Henley would not find the Class 230s conductive to intensive operations – for example when the Henley regatta is under way – especially when the charging apparatus is suitable for just one unit (two carriages) in operation. The requirements for Henley at these busy times are two or more units.
Conductor rails in place at West Ealing September 2023 (Linkedin).