Kennington Road station was an early tube terminus however it didn't last long. It was the penultimate station before the Elephant and Castle and these days is better known as Lambeth North. A strange quirk to this station is that it has retained its full terminus capabilities unlike many other tube stations, including a double crossover which permits trains to arrive and depart from either platform.
All destinations to Lambeth North! Southbound service seen at Charing Cross.
For a few days in June Kennington Road – or that alternatively otherwise named station as it has been known for more than a century – was the Bakerloo's terminus once again. This was due to a fire at the Elephant and Castle. Its not known exactly what caused it, whether it was minor flooding or an overheated insulator pot. It might have been both or that the power failure caused pumps to stop working and the flooding made things worse.
The incident came almost a full year after another railway related calamity hit the area. This was the huge fire that erupted under the arches of the Network Rail station on 28th June 2021. The smoke from this could be seen for miles. City AM has a full report.
Kennington Road shown on a Baker Street & Waterloo map from 1906! After four months it was renamed Westminster Bridge Road and that lasted until 1917. Source: Twitter.
Signalling staff were first aware of the problem just before 9pm on Sunday 12th June when track circuits started to fail, followed by the traction current failing just after 10pm. Smoke billowed into the platforms at the Elephant and Castle and these had to be evacuated – however the Northern line part of the station was apparently unaffected. The entire Bakerloo line between Queen's Park and the Elephant was suspended for the rest of the evening with the fire finally being extinguished around 1.30am. Six fire engines and forty firefighters were in attendance.
'Firefighters investigated smoke coming from a tunnel and determined that it was caused by overheating in an insulating pot. Trains stopped running through the station whilst crews worked to make the scene safe. There were no reports of any injuries.' Source: London World.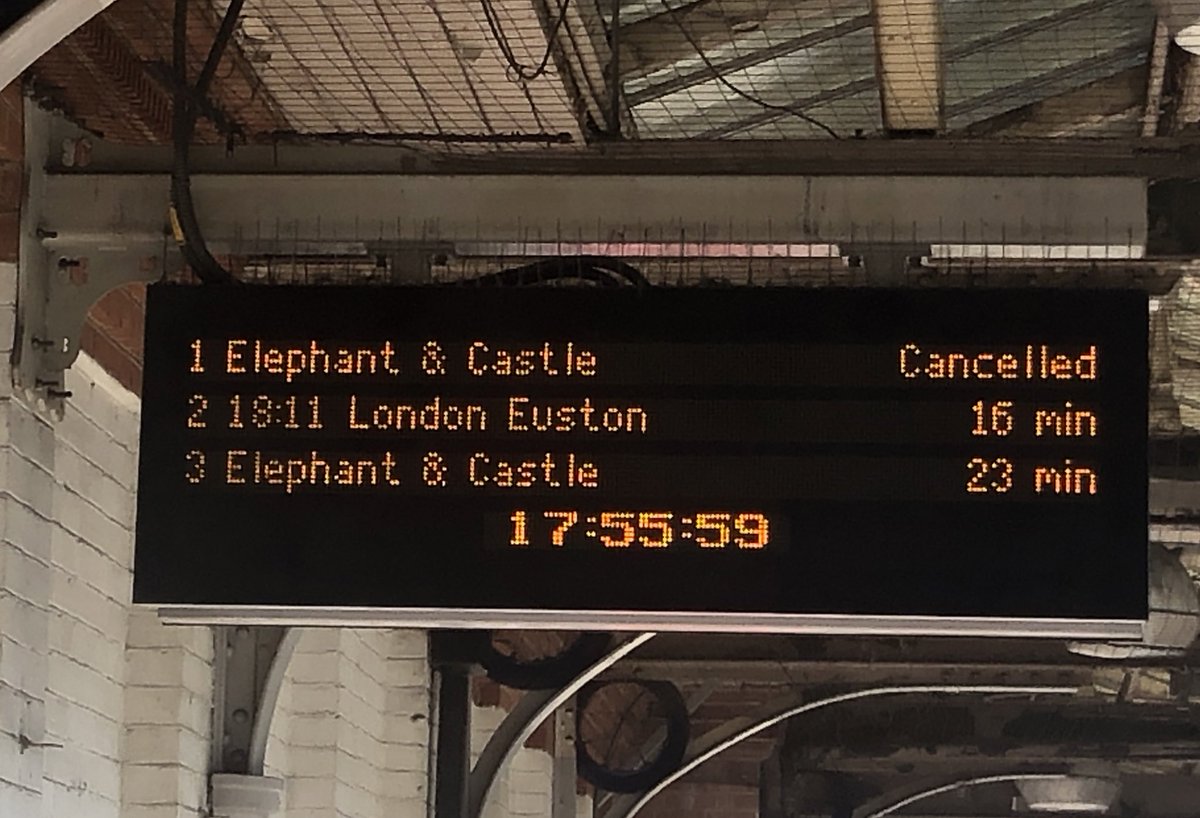 It seems trains were being billed as for the Elephant and then being cancelled as time progressed. Its known the train describers north of Queen's Park have issues showing correct Bakerloo destinations. which is why anything other than the Elephant and a couple of other stations that are shown happens to be a problem because the Bakerloo stations aren't part of the Network Rail interface. What this means is stations such as Waterloo and Lambeth North can't be shown. Source: Twitter.
Before the start of services on Monday, this being around 4am, it was clear the problem was far worse than thought and some specialist work was necessary. A decision was made to employ Kennington Road Lambeth North as the southern terminus in order to keep the Bakerloo services running and this was implemented from the start of services on the Monday.
Tweets such as these (as well as the lack of Harrow services on platform indicators) indicated services north of Queen's Park were largely suspended. It does seem TfL wasn't saying anything on its social media about that except that there was a good service on the rest of the line…. Real train Times however shows Harrow trains were totally cancelled on 13th and 14th June (save for about eight or so services each day). Source: Twitter & Twitter.
It seems services from Queen's Park to Harrow were almost entirely suspended throughout the period in question, this being Monday 13th and Tuesday 14th June. The cause of that was also in part due to some power supply issue at Queen's Park.
Notice at Lambeth North explaining the Bakerloo's problems in brief. Yes one can get a bus but its good to walk too as its not far!
The work to restore tube services to the Elephant continued continued through Tuesday, 14th June. In the early hours of Wednesday 15th June services were cleared to begin once again from the Elephant – but that was a bit premature and Lambeth North continued as the Bakerloo's ad hoc southern terminus for perhaps a further hour and fifteen minutes or so when through services were finally authorised.
The Elephant suddenly seems to have lost popularity as a tube destination!
From about 06.30am services began operating to/from the Elephant. These were suspended totally beyond Piccadilly Circus in almost no time due to a further issue that had been discovered. In the event just a handful of trains managed to make the full trip to the Elephant – including the 05.39 from Harrow (arr Elephant 06.28 and the 05.55 from Stonebridge Park (arr Elephant 06.35am.)
Fortunately it seems engineers were still around to attend to this new problem and by about 07.30am the problem had been partially mitigated and trains once again began running from Piccadilly Circus through to the Elephant. Nevertheless a recurring fault in the signalling system continued to impact train services for the next few hours and a fair number of trains were cancelled because of delays. Later in the morning the situation had improved somewhat and delays were minor with just a handful of cancellations. By around 12.30pm a good service was in operation.
All destinations from Waterloo to Lambeth North are served!
This from District Dave's tells us the first services on the 14th June through to the Elephant were resumed by way of 'train 221 N3557+3243S… 07.34 arrival, 07.39 departure' from the Elephant. These would have been the first services out of the Elephant in lieu of the earlier short lived attempt – and these trains would have formed the 06.41 from Harrow and then a working back to Queen's Park.
Yikes! One doesn't normally see the northbound points at Lambeth North from a southbound train!
One would wonder why Lambeth North (formerly Kennington Road/ Westminster Bridge Road) is being extolled on these pages as a significant underground terminus? That's because its a complete rarity! Not only that, the fact is nowhere on the entire underground system does one find two stations with the same reversing capabilities adjacent to each other.
The only other underground termini that had offered this type of termini capability (eg passenger trains running through scissors crossovers) besides Kennington Road (Lambeth North) were the Elephant and Castle, Baker Street, Marylebone, Edgware Road and Paddington (this being for trains to or from the Queens Park direction only) on the Bakerloo. On other lines it was Finsbury Park (both Piccadilly and Great Northern and City Railways), Moorgate (both City and South London & Great Northern and City Railways), Clapham Common, Stockwell, King William Street (before it was modded to a single platform), Angel, Euston (City and South London), Archway (Hampstead Tube), Shepherd's Bush and Liverpool Street (Central London Railway), Bank (both Central London and Waterloo and City Railways), Bethnal Green (Central line), Brixton, Victoria, and Walthamstow Central (Victoria line.)
The southbound platform at Lambeth North – yet trains were going in the opposite direction!
Most of these are now through stations which means any reversing capability (eg passenger services from BOTH platforms) has been removed, whilst a handful have been replaced with new through stations. This leaves Lambeth North, Elephant and Castle, Brixton, Walthamstow Central and Bank (Waterloo & City) as London's only truly deep level termini. Victoria still does have reversers however this is only for the sidings south of the station thus there's no chance of it being used for passenger operation. The one time scissors crossover which meant passenger trains could depart from either platform at Victoria (the train indicators being the same as those found now historic ones found at Walthamstow) was removed in the 1970s. Moorgate (Great Northern) is now a mainline terminus thus no longer counts as part of the tube system.
Is this train going the wrong way northbound to southbound at Lambeth North? Not really for such a move is permissible when trains originate from London Road depot. Generally they head straight down the northbound tunnel and commence service at Waterloo. However a handful do reverse in the tunnel and then head in the other direction towards the Elephant and similarly the procedure is also done in reverse.
Lambeth North (Kennington Road) station is fortunate that it retains its full crossover and reversing capabilities too. The station is the junction for the short branch that heads south to the London Road depot. In the early days of the Bakerloo Line this was the only depot available and at times its still the only depot to service the line – for example when the Bakerloo is curtailed north of Queen's Park.
I don't recall any previous occasions Lambeth North has been used as a terminus for a considerable length of time this being a few days – the most recent instance I can find of it being used as a terminus was for a few hours on 30th June 2020.
One of the very rare Harrow workings spotted at Lambeth North southbound platform. Yes you guessed – I took this pic at 05.40am!
One possible reason for the dearth of Harrow trains would be the lack of staff facilities at Lambeth North, this being that train staff can't sign off/sign on thus reason enough to limit the Bakerloo's operations far as Queen's Park. It seems the power supply issues at Queen's Park were a further contributing factor. In spite of this a handful of services did operate between Harrow and Wealdstone/Stonebridge Park and Lambeth North at the start and end of the service day – with absolutely nothing at all from about 06.30am to midnight.