Again & again it's been said Crossrail should have a City Airport station. This week the news is City Airport's in discussion with TfL on it. Crossrail actually passes through the site of the old Silvertown station on the North London Line and this was once City Airport's official station! The argument for a new station has been going on for years with City Airport even drawing up proposals and offering to put up a considerable sum of money to get a station built and all three sides (Crossrail, TfL and City Airport) have objected to the idea at various stages.
The old City Airport station – aka Silvertown – on the North London line. View taken in 1985 before electric services began. Source: Twitter (Note: Tweet has been deleted thus an archived image is used.)
The old station nameboard resurrected! As the image shows it was a ten minute walk to City Airport. (Its probably five if one knows the short cuts in the area.) In later years the station name signs did actually have 'City Airport' added to emphasise it was the alighting point for this airport.
The current site which now carries the Elizabeth Line's tracks. The walls are very thick perhaps two feet, with retaining sections every so often for the cantenary masts. This means the walls have to be set out quite a way from the tracks, and this alone is a huge problem in putting anything more than just a basic pair of tracks into this very limited space.
The walls here are mostly perfunctory, forming a barrier and also support for the OHLE. Flood protection here is at best rudimentary and clearly relies on the section further east to mitigate the effects of any floods.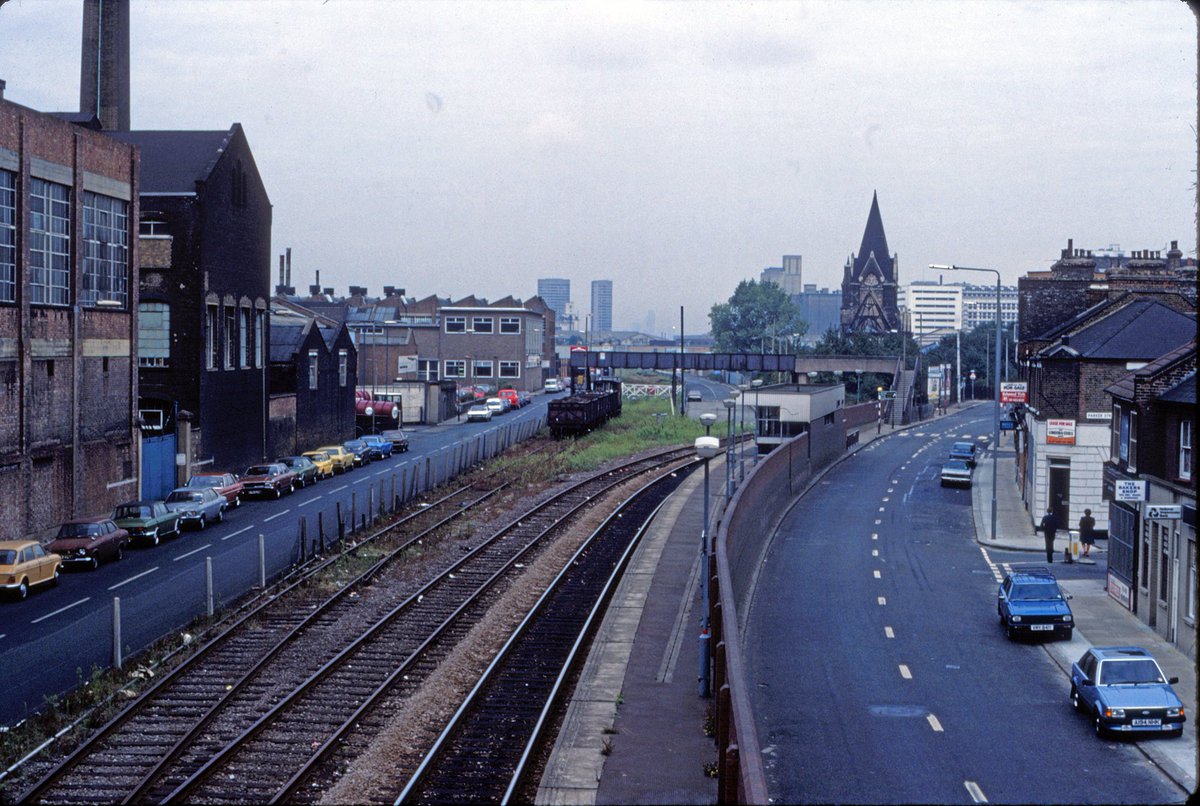 1983 view of the old Silvertown station, clearly showing the very constricted nature of the passenger facilities. Even if two tracks and a pair of platforms or an island platform were used it would likely be a H&S nightmare with very narrow platforms – and where would those legally required accessible lifts and ramps go? Source: Twitter
One of the biggest and most intriguing aspects of this issue is Crossrail actually passes underneath City Airport itself, its tracks pass directly beneath the main runway! From the Woolwich direction the line runs parallel to the airport itself before sweeping in an arc round the west side of the airport's perimeter right beneath a plane parking lot and then directly underneath the western runway approaches.
View from the furthest possible extremity of the station site towards the Connaught tunnel and the Docklands railway viaduct. Crossrail sweeps round to the north to go under the airport itself. The DLR train seen in the picture has just left City Airport station.
That bit under the airport itself is the Connaught (or Silvertown) tunnel – a very old construction dating from mid-Victorian times that has recently been renewed completely in readiness for Crossrail. However the approaches to this tunnel are in the open and the old Silvertown station was right at the start of the slope leading down to the tunnel itself.
Crossrail's at extreme left where its about to dive under the airport by way of Connaught tunnel. On the far side of the road is City Airport's Jet Centre.
Why cannot a station be built here? Its a good question. I'm no engineer so my opinion on this shouldn't really count, its just an analysis based on what I know. But there is one issue and that is Crossrail would actually require more land than the North London line had needed. There were once three tracks along here so there was sufficient space for a pair of Crossrail tracks, associated infrastructure, the huge flood barrier walls, the catenary masts and so on. But there isnt really enough for a big station despite a considerable parcel of land at the western extremity of the site which once formed a junction with the long gone Silvertown tramway.
Plans drawn up in 2014 shows a station at Silvertown would most definitely need a considerable amount of land, far more than is even available. Remember the Crossrail (Elizabeth Line) trains are extremely long (205m) thus lengthy platforms would be needed and when once takes into consideration the widths, the space needed is enormous.
The red area highlights the absolute minimum extent a Crossrail station would need for its 205 metre long trains. Its not enough though because that excludes much of the platforms infrastructure, station buildings and platform over-runs, not forgetting the need for access, subways, stairs, ramps accessible lifts etc. The lighter shaded area denotes the Dockland railway's City Airport station. (Map I created based on Google Streets.)
Its a designer's nightmare to try and fit a station into such a constricted space. If they move the station any further west the tracks begin descending sharply and that is because the railway goes into the cutting leading to the Connaught tunnel itself. Of course there's no space in that brick lined cutting either, not even for a sliver of a platform!
View of the western end of the station site where the tracks immediately descend towards the Connaught tunnel. The DLR's viaduct can just be seen in the top right hand corner. Source: Wikipedia
Update: One of the other issues with any station hereabouts (or further east) is as John pointed out in the comments, any new station must have straight platforms. Nowhere is there any absolutely straight sections and there's even a hump in the tracks further east to create a flood barrier protection. These factors mean it would be very difficult without major re-alignment and levelling plus I assume new flood protection measures if any station was to be built anywhere between the ramps to both the Connaught and Thames tunnels.
How close is Crossrail to the present City Airport station?
The sticking point about all this is the fact Crossrail/Elizabeth Line trains will be passing the airport and people there will be able to see these trains dashing through the vicinity – but frustratingly wont even be able to use those services!
What it means is one would have to take either of two options. One is to go to Canning Town on the DLR and then back to Custom House to get the Elizabeth Line. The other is to get a bus direct to Custom house.
In the earlier photographs I took one could see just how near the Crossrail route is to the Docklands Light Railway's tracks and of course very near the airport itself.
Let's have a quick look at how near the Elizabeth line actually is to City Airport and the Docklands railway station….
From the Docklands' City Airport station one certainly can see Crossrail/Elizabeth line's tracks at the bottom of the adjacent roads. The huge Crossrail wall can be seen at the bottom of Wythes Road.
The distance from the airport terminals to Crossrail/Elizabeth line is approximately 231 metres (760 ft.) From the centre line of the DLR platform its just 217 metres (714 ft.) These distances are almost the same as another controversial Crossrail/Elizabeth line on street interchange – Oxford Circus. From the Crossrail entrance in Hannover Square to the nearest entrance that serves Oxford Circus tube station its just 231 metres (760 ft) walking distance.
If we zoom in, Crossrail's massive flood wall can be seen. The end of this short bit of road (Wythes Road) would be how far away from the airport a new station would be. Note the building with its pointed roof…
The building with the pointed roof again! Its a historic structure but not currently in use. Anyway, down the road (at right) can be seen the present City Airport station, and on the left Crossrail with its wall and cantenary masts clearly visible. This is the site at which most think a new station should be built. Land is a huge problem however as it is anywhere along this section of Crossrail. Evidently one knows what the answer would be. Much of the area would go the same way as that around the Astoria and the top end of Charing Cross Road.
City Airport's 2008 objections to Crossrail:
Before we move on, one of the most surprising aspects on this subject is that City Airport itself objected to Crossrail passing near, within or underneath its property. They asserted Crossrail would interfere with the operation of the airport in numerous ways and it would be injurious to the airport. This can be seen in the form of evidence submitted to Parliament in 2008.
Among a load of various objections in that very document is one where the airport's authorities asserted a new high profile rail link operating beneath the airport's property could be seen as an increased security risk, for example, terrorism etc.
City Airport in fact suggested any new station for the area should be built underneath the Connaught, outside of the airport's area. They asserted this would serve everything in the locality – the airport, the Excel centre, hotels, local communities, etc.
City Airport were worried about a lot of things as the petition shows but at least they gave a suggestion where a station could be located.
Unfortunately the Connaught channel isn't really somewhere a new station could have been built – not without massive disruption to the area, and I must add, huge disruption to the airport itself. So its difficult to see where the airport was actually coming from in regards to this suggestion.
Some milestones in the steps to get a City Airport station built:
2014 – LB Newham and City Airport draw up a report and preliminary surveys for a new Silvertown/City Airport Crossrail station in collaboration with W. S Atkins and Allies and Morrison.
2014 proposals for a Silvertown/City Airport station. View looking west. Note how much extra land is needed.
2015 – The Airports Commission 'expects London City Airport to take advantage' of the opportunities offered by Crossrail.
2015 – City Airport becomes disappointed that LB Newham have not identified (or safguarded) possible additional land needed for a new Crossrail City Airport station. Further TfL says it has no plans to build a Crossrail station here anyway.
2016 – TfL rejects a £50 million plan for a Crossrail station which was to be totally funded by City Airport itself.
2017 – City Airport 'ramping up efforts' to get a Crossrail station built.
2018 – City Airport's CEO says Crossrail not essential to the airport's success.
2018 – City Airport complains Crossrail wont be stopping anywhere near the airport.
2019 – City Airport and TfL discuss a new Crossrail station (see tweet below.)
As time goes on City Airport no doubt realises the huge implications a direct link to, say, Heathrow would have (besides considerable new opportunities for travelling.) It would be a boon in many ways, including additional new inter airport links across London – besides those offered by Thameslink.
However the problem is now Crossrail has been built and the whole thing is fixed, there isn't any spare room to build a station.
In fact what it means is to even build a station here now – they would have to close Crossrail (aka the Elizabeth Line) for months and months in order to demolish much of the infrastructure including flood protection walls for a considerable distance either side of the projected site. Not only that the roads would have to be diverted and many properties demolished too.
That's not what Crossrail (or the Elizabeth Line as it will be) really wants! Its probably much cheaper to have trains by-passing the airport than have years of demolition, alterations, track realignment, new tunnel approaches and so on.
There is however the space in the next year or two to make some major changes to the track and infrastructure in the Silvertown area just to be sort of ready for a station to be built into the site later. This is because the construction delays means Crossrail wont even be open until perhaps 2021. (It finally turned out to be May 2022!) Time to get cracking on this project! Let's exploit this short but available window of opportunity….
What window of opportunity?
Exactly! It wont happen of course! The money isn't even available. They will have to add it on at a later date when the Ebbsfleet proposals do come on stream. Sadly Abbey Wood and Woolwich commuters (and of course all those down to Dartford, Ebbsfleet etc) will have to suffer years of delays and track closures whilst this new station is built. And that's if they do ever want the station built.
Update: I found a report which suggests Crossrail (Elizabeth Line) would have to be closed beyond Canary Wharf for a whole year simply to allow a new station at Silvertown to be built! It was said any new station would cost between £12m and £20million if it was built immediately. No Parliamentary approval is needed for a station here apparently.
The same report says to build a station AFTER Crossrail has opened would cost an enormous amount, £100 million or more.
Crossrail's wall at the possible station site ironically includes a mural of Silvertown's industrial heritage and City Airport itself. Will a station ever be built?
The other problem with an airport station is Crossrail evidently wants both tunnels on this section protected fully from the elements including flooding. These are of course the Connaught (or Silvertown) tunnel – as we already know – but also the much longer Thames tunnel in the Woolwich direction. This additional protection (the much vaunted locally known 'Berlin Wall') takes up land space too and to have a station built here would mean taking away all that protection.
If that protection were to be kept the new airport station would have to be built encased within a wall surrounding it that would form new flood prevention and sound deadening barriers. This means access would be enormously expensive because it would be like a station in a cutting except access was from street level up, and over the walls etc, and then down into the station.
That alone requires an enormous amount of additional land than if it was just a plainly level station. Remember even Custom House station has walls too that extend well beyond the station environs to the tunnels beyond and again that is partially because of flood prevention.
Custom House trackside view showing the large flood protection walls. These extend to the tunnels either side. This station is sited higher than any new station at Silvertown would be! Source: Twitter. (Note: Crossrai has deleted its Twitter acount thus an archived image is used here.)
To get this enormous amount of extra land quite a few buildings in the Silvertown locality would have to be demolished – including many new houses and flats – and the area's road layouts altered enormously. Silvertown has already seen its locality and roads altered beyond recognition. Can it even support another bout of such huge wholesale alteration and demolition?
If it had been planned right from the start its very likely a station with the facilities needed could have been achieved. As an add-on project it is hugely prohibitive. Its not impossible but given the site constraints, they should have done it in the first place when Crossrail was being built.
Another plan for Crossrail's Sivertown City Airport station showing how a connection walkway would look. Source: Global AirRail Alliance.
In 2014 LB Newham put forward proposals for stations at four possible sites including further east and those sites are illustrated below. However one problem with these proposals is in those early days Crossrail wasn't going to have such infinitely long trains – thus the stations are somewhat shorter than they would be compared to any plan drawn up today.
Site locations for possible Crossrail stations drawn up in 2014 by LB Newham.
LB Newham's proposals put forward in 2014 upon four possible Crossrail station sites – and how each would link to the airport itself.
Note 1: The LB Newham proposals for a SIlvertown City Aurport station do not seem to be official. They exist only as a draft document apparently. I have searched for a official publication of this but there is none. There is only the draft which has clearly been taken from a Adobe In Design file somewhere and it can be found here. City Airport submitted the documents and also the draft proposals, so perhaps they have a master copy.
(Note 2: When I previously linked to LB Newham documents on Crossrail the documents referenced to on the council's site were taken down. The Crossrail station report has been removed – see Note 3.)
(Note 3: The 2016 draft statement on a proposed Crossrail station at City Airport can be found here. Its not been available on the Newham portal for quite sometime.)
In retrospect the only other possible option it seems would be a new station towards the North Woolwich portal of the Thames Tunnel, giving access to the east and middle sections of City Airport itself. Both Crossrail/Elizabeth lline and the airport run parallel and within a short distanc of each other all the way from Silvertown to the North Woolwich portal at Winfred Street. At the time of writing this considerable land certainly exists, as yet undeveloped, on the south side of the railway where Factory Road is – although the opportunity to secure any of that land is gradually being lost. This would be somewhat similar to Option 4 discussed by Newham above but a little further east.
One of the biggest problems with having a station further east is the Crossrail tracks are like a switchback. They rise up considerably before falling towards the Thames tunnel. That would pose extra problems with any new station construction because the rise in the trackbed is meant to offer additional flood protection. The next picture shows this problem….
The Crossrail hump between Silvertown and North Woolwich that pretty much limits anywhere a new station could be built. Source: Flickr.
As one can see from this view looking east – taken when the Crossrail formation was under construction – the Newham trackside walls are so high because the trackbed formation rises considerably before descending into the tunnel under the Thames towards Woolwich. This is because it has been shown flooding in the area could easily breach the area at Silvertown, thus the rise in the trackbed offers additional protection for the Thames tunnel.
It seems the 'Custom House' solution is the best answer really, but even so many sacrifices are going to have to be made to be able to squeeze this new station in. Incidentally I measured the width of both the Silvertown site and that at Custom House. The numbers are averages but makes some shocking reading…
Silvertown: By the ramp to Connaught tunnel the track formation (and flood walls) is just 9.50 metres wide. This remains approximate until the footbridge where it then widens to 11.80 metres for a good distance, before narrowing to 10.5 metres and at the easternmost part of the potential site 10.38 metres.
Custom House: The narrowest part anywhere in the station environs is 16.12 metres between the flood walls (and includes the track formation.) The widest part (approximately in the middle of the station itself) is 19.5 metres.
We are looking at an extra width of around five metres minimum in order to even fit a proper station into the Silvertown section. Under the present land arrangements there isnt even much space for anything else let alone new platforms!
Post updated 24th and 27th May 2019 and May 2022.