Its 20 years since Croydon's new trams began service. These, known as Tramlink, began in May 2000. The anniversary is rather muted it seems, its possibly due to the covid pandemic situation – only one or two tweets reminding people of the pending anniversary! Thus I thought a post with some history, a few pictures of the construction as well as some other related items would be in order to commemorate the occasion.
But first some pictures from the excellent (and unofficial) Croydon Tramlink website showing the official opening at New Addington on 10th May 2000.
New Addington with sign announcing the launch and a pair of trams awaiting the VIPs' arrival. Source: Stephen Parascandolo (Unofficial Tramlink Site.)
The official ceremony with the Mayor of Croydon Dr Khan and former London tram driver Fred Roberts. Source: Stephen Parascandolo (Unofficial Tramlink Site.)
Tramlink services began with a day of free travel.
One of the earliest tickets bought on Croydon Tramlink, 10th May 2000. Source: Flickr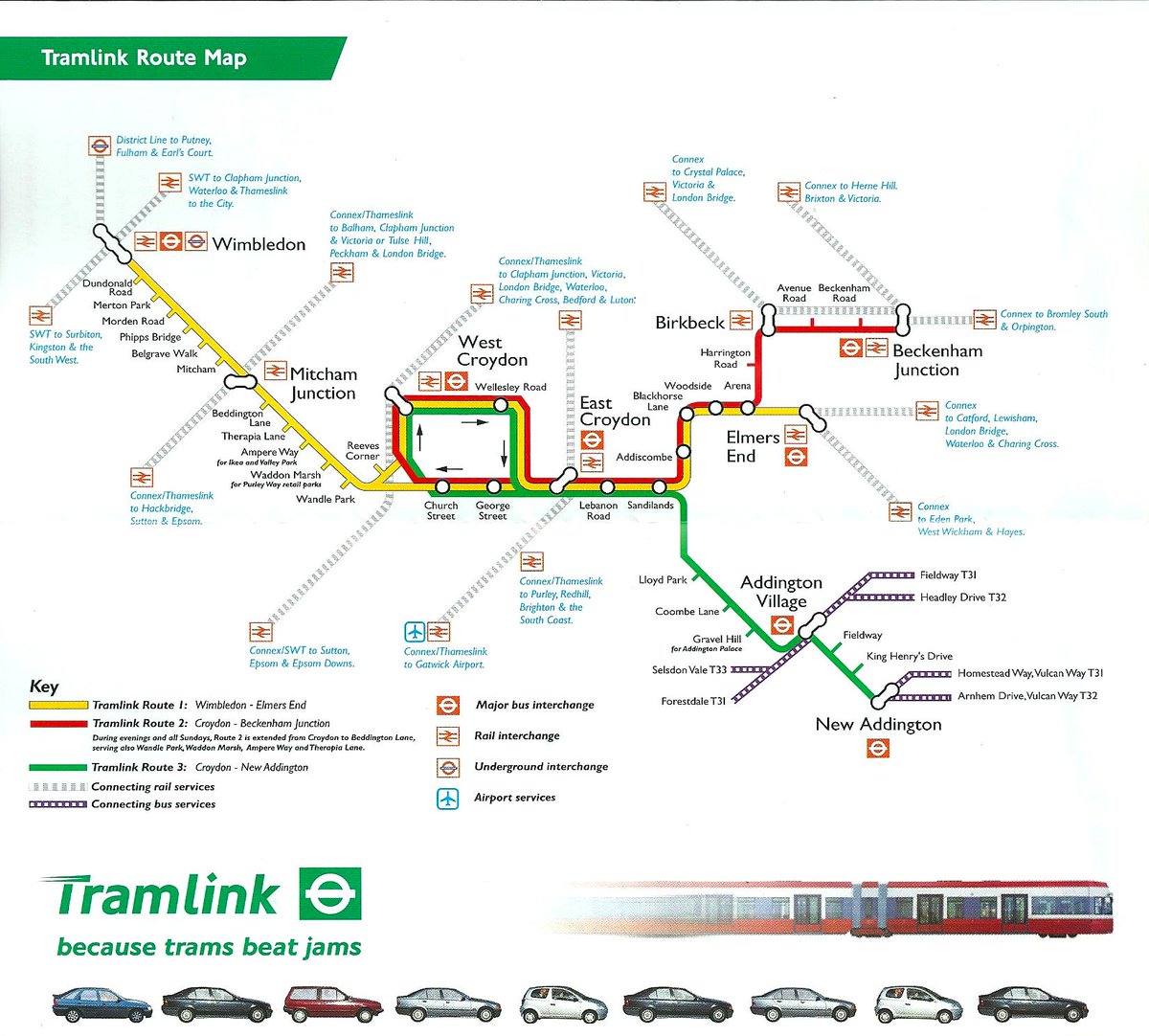 The Tramlink route map in 2000. Source: Twitter
The history of Croydon Tramlink goes back ten years or more. A need for a new tramway system in the borough was identified as early as 1986. In 1987 a study conducted with the council concluded a system of three different routes would be finacially viable and bring great benefit to the are. These routes were basically what they are today (eg Beckenham, New Addington and Wimbledon.) In late 1990 the Tramlink symbol had already been decided and this was used on publicity almost immediately. An example is shown below.
The header from Tramlink News #2. From author's collection.
1991 blurb on the potentials of the new tramway. From author's collection.
The bill to construct the new tram system was passed on 21st July 1994. The planning of the new system had thus begun but it would not be for another three years before any actual construction work was undertaken. That began in the spring of 1997 as this item from RAIL tells us. It was said the system would open in late 1999 but as history shows, construction was somewhat slower and the opening itself was in 2000, some six months late.
Large A2 map and detailed description of the route (folded out from A4 size.) From author's collection.
One of the best sites to document the Croydon Tramlink's history, construction and operation was that of Stephen Parascandolo's. It even had the domain www.croydon-tramlink.co.uk – the operating authorities thought this a bit of a nuisance especially as he was always about the system photographing the trams. It was however a site I admired as it kept me fully informed of Tramlink.
Tramlink's manager at the time explained 'In the early days we didn't really understand what he was trying to do, but we have come to know and love his contribution and warmed to his role.' (Source: Trams Down Under.)
Stephen's unofficial Croydon tramlink site logo.
He was a rail engineer and worked on projects such as the West Coast main line upgrade and the Channel Tunnel rail link.
Unfortunately his life was cut quite short. This news item from the Sutton and Croydon Guardian explains the circumstances. A tram was in due course named after Stephen. The ceremony took place at Beckenham Junction on 20th October 2007 and some pictures from this can be seen here.
In the weeks and months approaching the official opening of the system, I took a number of photographs of the construction work. These are shown below.
Tramlink under construction at East Croydon in late 1999. From author's collection.
Looking towards Lebanon Road from East Croydon. Just the outward track has been partially laid. From author's collection.
Buses using the completed tram track route near East Croydon. This would soon be segregated. From author's collection.
The new track at the junction of George Street and Park Lane. From author's collection.
Looking down George Street with one rail so far installed. From author's collection.
The bottom end of Tamworth Road where the Wimbledon and Croydon loop routes converge towards Centrale stop. From author's collection.
Centrale station was a later addition and opened in December 2005. Prior to this being built there was merely a traffic island. Centrale was built to serve the new shopping centre of that same name further up Tamworth Road.
Tramlink under construction at Reeves Corner. From author's collection.
The above location was in the old days a part of Croydon known as Pitlake. Almost two hundred years earlier a tramway too had run along here! This was the connecting link between the Croydon Canal and the Surrey Iron Railway, whose terminus once stood here at Pitlake. The tracks ran up Tamworth Road towards the Croydon Canal's basin sited where West Croydon station now stands. A road on the far side of Reeves Corner is still called Pitlake and a pub nearby also is known by that name.
Some photographs from the opening week….
2549 at Morden Road heading for Wimbledon. From author's collection.
2537 in Church Street, Croydon. From author's collection.
2546 at Beckenham Junction. The front half (seen here) was light blue and the rear half a darker blue. From author's collection.