No not a punch up or anything but rather information. We want information! information! Information. By hook or by crook you wont get it – except in maybe black with white lettering these days! Or yellow/orangey font against a back background as has been the norm for decades. Okay let's Start Me Up!
The Elizabeth line is purple that's one colour that's been decided upon, no ifs no doubts about that! But the train display boards? Well along the Elizabeth line one can find every type of conceivable display, the usual suspects, the usual types, and they vary quite a bit. On the central core of the line one would think train displays would at least be standard but are they?
The Custom House train destination indicators.
The train destination indicators on the Elizabeth line are not standard throughout. The line has two open air stations, Custom House, Abbey Wood, and these have different displays. The former has the sparkling new white on black displays and the latter a modified (better in fact) version of the time honoured yellow on black display.
Abbey Wood's new great looking classic style LED indicators.
And there's also the blue displays!
'Blue??? But they don't have blue train destination displays on the Elizabeth line!'
Oh yes they do! Or at least they did!
On the left is a blue background train indicator, on the right is the Elizabeth line's usual black background display type. Which's more visible?
Elizabeth line standard display/train information screen.
Elizabeth line display/train information screen in blue.
Elizabeth line standard display/train information screen text area.
Elizabeth line blue display/train information screen text area.
In a number of respects the blue background displays shows better than the black background types. One immediate factor is the bright white station acoustic panels which line the platform walls can clearly be seen reflected in the black background example but are less visible in the blue background example.
The differences would apply only to those core stations that have white station panels eg Bond Street, Tottenham Court Road, Farringdon, Liverpool Street and Whitechapel. The other stations on the core section (Paddington, Canary Wharf, Woolwich) have different station designs thus this problem of glare or reflection doesn't exist although a blue background would still be clearer.
The new, scrolling, white on black displays (simple, pure, ying yang, rendering) are great but there's always some caveat. Both black and white are at opposite ends of the spectrum, black is neutral essentially and white is all the colours combined, and what it means is black can allow the white font to spread beyond its defined parameters – eg there's a glare, its a bit like bleed in graphics where one colour bleeds into another. White on black displays are brilliant but there is this and it can be noticeable when compared to other types of display.
Short video of the blue display at Farringdon Elizabeth line.
The station concerned is Farringdon, where during the first week and half of the Elizabeth line's existence, there appeared to be some quirks on the westbound platform. The first of these was the blue scrolling display which in fact was due to a glitch in the software or the display itself.
The second was the platform lighting seemed all wrong. I took photographs of this however it was very difficult to get my camera (even with multi exposure settings) to show the weird lighting effect that could be seen.
One would think TfL were conducting a series of experiments at the station's platforms to gauge public reaction, but it seems all these, including the blue display, were in fact due to some wonky electrics and software. By the end of the second full week of Elizabeth line services, these problems had been resolved and the display was back to white on black background and the station lighting was back to normal.
But what made all of this interesting is the blue display actually demonstrated its prowess far better than the standard (normal working) black background displays on the rest of the platform and the line's other stations.
Thus inadvertently TfL was showing a possible alternative to those standardised displays. A shame this didn't last! Anyway in terms of the blue/black visual background interface, a colour which isn't at the end of the visible spectrum allows other colours to show better. That is because having a different background colour which is lighter in fact causes the glare (or colour bleed) to be less obvious. Thus the fonts look even sharper and more defined on a blue background.
Here's an example of TfL's regular use of white lettering against a blue background. Yes blue is part of TfL's house colours but nevertheless it still works better!
There was one caveat. The yellow (as in 'Not stopping at Bond Street') is barely visible when viewed with a blue background. It because the blue makes the yellow seem more white. Its exactly the same as when one works in a photo editor and the image is just too yellow (for example its those sodium street lights) what one does is tweak the white balance/tone towards a more cooler setting (eg bluer setting.) This has the advantage of making things look more naturally coloured but it can also diminish any strong colours that had previously been apparent.
It could perhaps be said the way a blue background works is it makes the font look even more white, and this is where the sheer sharpness between white lettering and blue background arises.
In a way it all depends somewhat on the user too. As I've related elsewhere, in the late 1980s it was deemed a yellow font on a black background was deemed better than the white on black types that were common up to the time. The reasoning behind having differently coloured displays was because for the first time blind and visually impaired peoples' needs were being taken into consideration. An example is shown below…
The resultant classic yellow font on black background displays came about after much testing and research including consultation with organisations for the blind. It did seem that many were happy with the new look. However it transpired after a time the yellow wasn't that great on buses because often these were also seen in bright sunlight situations and buses soon reverted to the much more preferred white against a black background.
Yellow on black background (and sometimes back on yellow background) were popular in the 1980s and 1990s but eventually fell out of favour because the yellow sometimes made it difficult to see the displays especially in very bright light or at night.
It does of course rely on where the light source is being pushed from (which is was the case with the yellow against black background.) That's whether its externally (the albedo factor) or internally – as well as the intensity that results – including refractive (how much the light bends in glass displays) and reflective properties (how much intensity or glare is produced.)
Factors such as these alone can make a huge difference to how blind or partially sighted people are able to use these displays. The different types of visual clarity that individuals experience can also determine whether there is more or less glare and colour bleed and so on, so its a difficult science really to get a display that suits all needs.
Nevertheless in general terms, the two main types of display to date, yellow or orange LEDs against black or white against black, have done well because these have consistently rendered the best results across the board. But its been known for a long time that white lettering on a blue background is also a serious contender. London Underground itself uses white on blue backgrounds to a large extent as seen for example on its electronic display boards:
Tube status information board which displays a largely blue background. As can be seen the lettering on the blue background stands out better than that on the white background. As has just been said, most of London Underground's (and TfL's) information and signage is based upon blue backgrounds.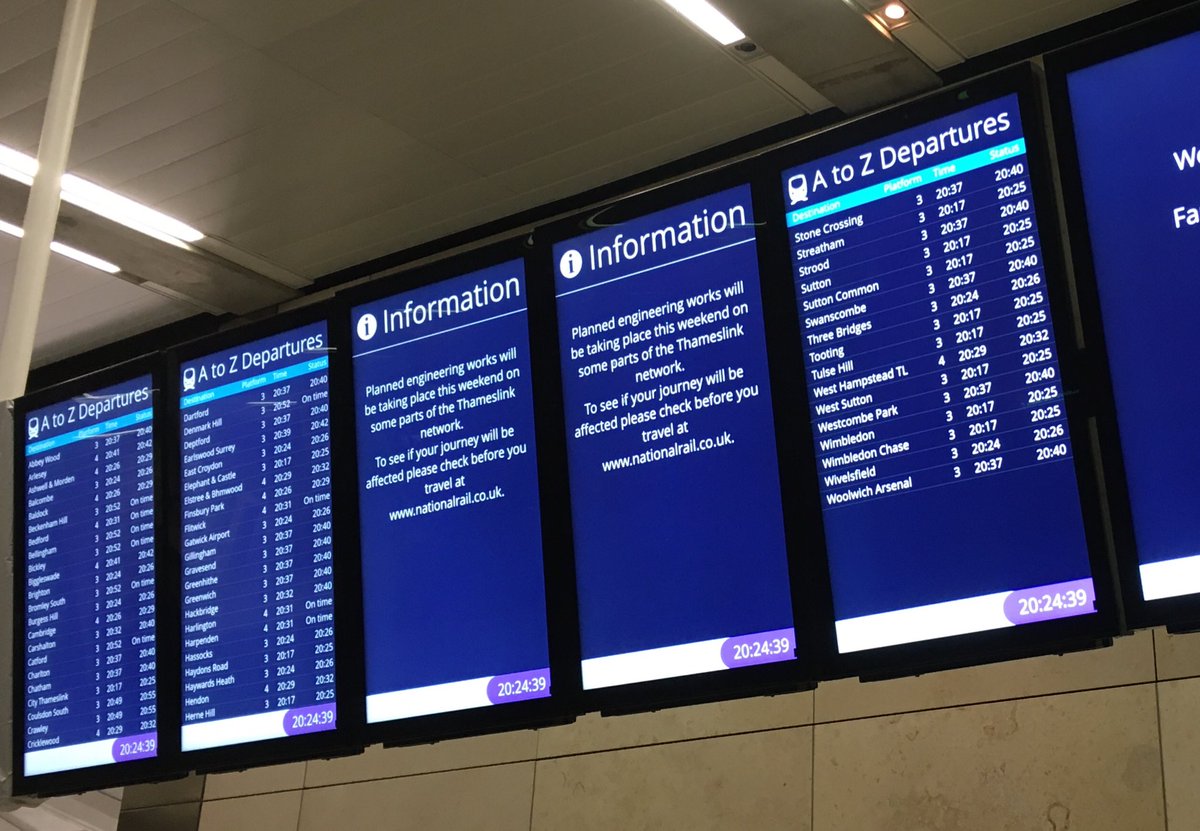 Thameslink at Farringdon with its bank of indicators – white against a blue background of course! Source: Twitter.
Even main line railway companies such as Chiltern use blue backgrounds…
Ticket machines at Marylebone which use blue backgrounds. Interestingly Chiltern use all sorts of colours and combinations on these boards and each element has a different function or emphasis. Note also how they employ black lettering on a blue background too! There isn't anything wrong with any of these, its more a question of how these boards (whether display or interactive) perform and the environments they are best suited to. The background glare on these boards isn't something I like very much though and it seems its the glass that's in question here.
The white against a black or blue background isn't something new in any way or form. London Transport tried it almost a hundred years ago! In the 1930's the stations on the new Piccadilly line extension to Cockfosters (plus some stations on the Northern line extensions) came with not white on blue background station names but on black backgrounds instead. Examples of those can still be seen and these don't show up quite so well as other sites where the background has that classic blue.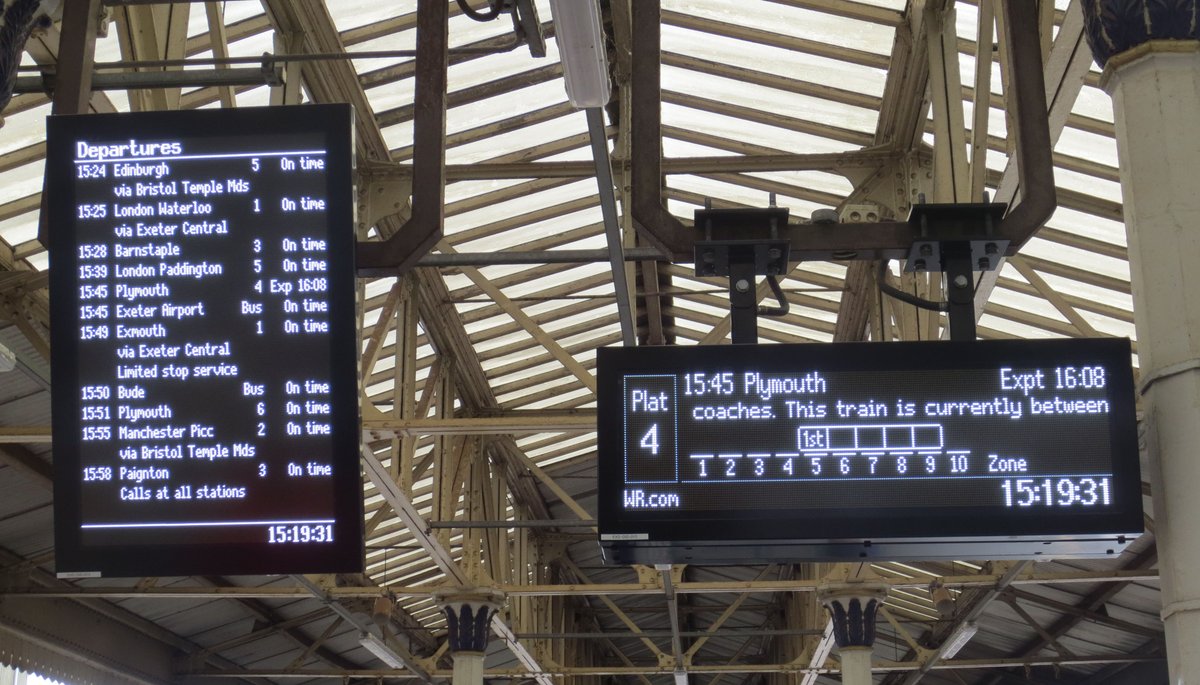 Display at Exeter Central. These white on black types are now common place. The bleed from the white fonts onto the black background can be somewhat seen. Source: Twitter.
Displays with blue backgrounds are far more common in other countries…. here's a few examples. As these show, quite strong colours do need to be used to achieve the visual clarity or impact required. Such as strong red or orange.
Older type of flip board showing the clear white against blue background rendering seen at Brig, Switzerland. Source: Wikipedia.
Even in Switzerland new and more advanced white on blue background displays are being procured. This one I think is at Zurich Hauptbanhof. Source: SBB/CFF/FFS.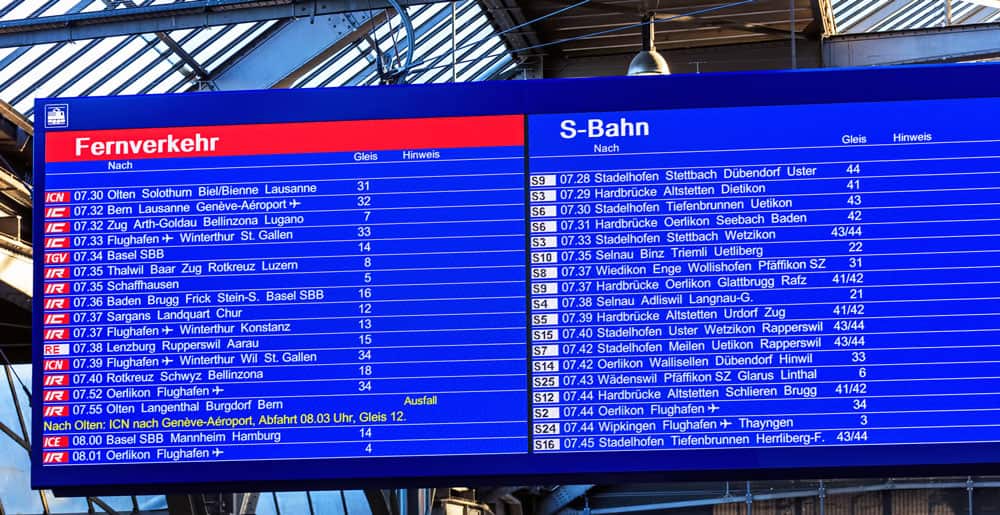 The main board at Zurich. Its a very clear and concise display, however I think the colour tone is a little wrong, slightly discomforting for its far too much of a deep coloured blue. (It might be the camera or the post processing however.) Source: Savvy Backpacker.
Germany has many white against blue background displays too. This is an older type, its not looking too good because of the type of glass causing reflections and the lack of other colours to form an impact. This even though the font rendering looks somewhat good. This example is at Hamburg Hauptbahnhof and the train in question is (or was at the time) one of the world's few remaining train ferries which operated between Puttgarden and Rødby Færge. The service ceased in December 2019. Source: RobertHampton.