A considerable number of London bus routes were revised on the 29th of April. It was said this was due to the need to comply with Government demands in terms of continued emergency funding for TfL. The changes didn't sit too well with many for the routes in question were classic ones – that being these had held their route in basically the same form ever since they had been first created and that is because they were easily recognisable and attracted a good bit of custom. Routes affected included the 3, 11, 16 along with further revisions for the 6. One other route that received a major change was the 26 whilst the 332 was curtailed altogether. The classic 'Red Arrow' bus routes were also ended. 507 and 521 were replaced by various diversions of current bus routes, including the 3, C10, 133 etc.
Some of the plans were first mooted in a 2018 consultation, so they are not entirely new. These in fact followed on from an earlier one that saw changes in order to accommodate the then anticipated opening of Crossrail (Elizabeth line.) The 2018 plans were responsible for the controversial termination of the RV1 route.
In this post a look is taken at the changes involving a number of central London bus routes with some detail on those affecting the 3, 6, 11, 16 and 507/521. The changes were not as significant as TfL had originally mooted, for those plans involved the axing of a good number of classic bus routes. Nevertheless the April 2023 changes were still quite substantial with several routes abolished.
Map by TfL to show how bus usage had declined from 2014 – 2018 with the inner London boroughs taking quite a hit – and that was before COVID. Source: Internet Archive.
What TfL did in essence post 2018 – AFTER it turned out Crossrail wasn't going to be open in December 2018 – was to continue their oversight on major London bus changes especially in view of 1) a substantial decline in bus patronage numbers 2) COVID and 3) its dire financial situation since the pandemic. The outlook for TfL was quite grim especially as it had by now been devolved of all public funding from the Government. With COVID rampant and its finances taking a massive hit, TfL had to go to the Government cap in hand and ask for support. After much disagreement between the two parties, this funding finally was produced but each iteration of the funding scheme came with concerns related to how TfL should manage its fiances and the ways and means by which it should seek to reduce its costs further.
Thus one could say there has been several seismic factors since that have caused TfL to take a much harder look at bus provision and the results this time around which – compared to the 2018 ad 2019 consultations, were particularly severe – although not as brutal as had originally been planned. Quite a few routes had been slated for complete elimination and these included the 11, 12, 14, 16, 24, 31, 45, 72, 74, 78, 242, 349 and the 521.
Although bus ridership had improved significantly since the end of the COVID lockdowns, bus forecasts showed a still lower ridership than had been the case previous to the pandemic. Hence in light of the funding crisis and the conditions set out by the Government TfL were expected to continue to make efficiencies. Buses were one of the prime targets because of continued falling patronage and although TfL in fact received extra funding after publishing its 2022 drastic bus cuts plans, modifications or cuts to several routes would still be pursued.
TfL will still go ahead with 22 per cent of the service changes consulted on, which are all in areas with numerous alternative public transport options and in areas where following the changes there will be enough capacity on buses to meet demand. Passengers will still be able to make the same journeys, with additional interchanges in some instances, in which case they will benefit from the Mayor's Hopper Fare. By going ahead with the remaining proposals, TfL is able to improve the reliability of buses in central London, while allowing for investment in bus provision in outer London. (Source: TfL.)
Route 3
Bus 3 at its Whitehall stop – just three days left before it takes up its new Victoria route. Picture by author.
Route 3 was once a considerably lengthy route – at one point from Parliament Hill Fields to Crystal Palace. It too has what can be considered a classic, heritage, London bus route status. Despite its southern terminus remaining relatively the same, it's northern section has been progressively retracted, first it was Camden Town, then Oxford Circus, and then Whitehall – and now it has been diverted to Victoria to replace the 507 bus route.
One of the reasons for diverting the 3 to Victoria, was according to TfL because even though 'there are direct rail links between Brixton and some areas south of there to Victoria. However, parts of Kennington do not have direct links to Victoria despite being relatively close to it. TfL expect that people will make use of this new direct journey opportunity.' Thus TfL sees the 3 as a new transport opportunity and not just a replacement for the 507.
Changes to Bus 3 (also 11 and 26) information seen in Whitehall. Pic by author.
Whether the route continues to serve points north of the river is another moot point. Will it invigorate new links to Victoria especially when the Brixton to Victoria alignment is already served by other routes as well as the Victoria Line? It may well work because at least in a sense a link to the Parliament and Millbank areas has been retained as well as now serving the remaining Government departments previously facilitated by the now defunct 507.
Perversely the fact the 507 once did very well was because the biggest fish of all, the erstwhile Department of Transport and Department of the Environment, stood on the route and in fact it had bus 507 bus stops right outside the premises! Other civil service bases in the locality have also been reduced or moved elsewhere. Thus the 3 wont have those once substantial passenger loadings, so where new patronage will come from is yet to be seen. Yes the new DfT exists but is in a much smaller building opposite the former Marsham Street mega site and has far fewer civil servants. There's other organisations like Channel Four, yet that (and Horseferry Road) is quite near St James Park tube thus not terribly isolated in terms of public transport. Will new patronage come from the residents of Kennington whom TfL deem have no direct bus service to Victoria?
Evidently the 3 could provide useful links in terms of Victoria's theatre provision, new shopping centres and the many restaurants and pubs which stay open quite late, as well as Westminster Cathedral and easy access to the Palace and St. James Park. No doubt a niche will be found somehow and there will be those who view the 3's re-routing as being of benefit.
Route 6
Number 6 from Aldwych at Hyde Park Corner just over a week before it took up a route to Victoria like the adjacent 390 bus. Pic by author.
Route 6 is also discussed later in regards to the 16. However sufficient to say its a surprise TfL advocated such a change (eg Victoria instead of Aldwych) especially when during their 2017 bus consultation period, TfL had said:
We propose to reroute buses to serve Park Lane and Piccadilly instead of Oxford Street and Regent Street. Buses would continue to run between Aldwych and Willesden. Our proposals would provide new passenger links between Willesden, Edgware Road, Park Lane, Piccadilly, Trafalgar Square and Aldwych. In particular passengers would be able to travel between Park Lane and Piccadilly directly for the first time by bus. (Source: Internet Archive.)
Evidently TfL were proud of that fact having established the first direct bus service between Park Lane and Piccadilly in June 2017. Rather more than five years later they're getting rid of that link! Was it that useful? Its hard to say but during rush hours and other busy periods it was evident the 6 had heavy loading from Green Park station onward although the intermediate stops between there and Marble Arch were quite light whilst those towards Aldwych were rather low.
It could be said that Green Park was seen as a useful destination for various reasons, the park itself, New Bond Street, even the Royal Academy as well as those who worked in the area, but in the eyes of TfL it probably wasn't substantial enough to justify running a bus rather empty as far as Aldwych – although again, when the 6 used to run through to East London the loadings were far better. In fact after it was cut back (and replaced by the 26 and later the 23) in 1992 – and before its diversion via Piccadilly in 2017 the loadings to the Strand and Aldwych were far more optimal.
Route 6 changes from Aldwych to Victoria also the 23 is switched to Aldwych. Pic by author.
Ultimately it all depends what a bus service should provide. TfL is the provider and if numbers show a bus service isn't particularly useful or is lightly loaded then TfL will invariably try to readjust provision. The problem however is statistics and consultations do not ever truly reflect the substance of any service. Whatever is done a fuller picture would be garnered by riding or driving a bus route on a regular basis – because other than that its hard to find the fullest value of any given service.
Since the 6 has now been switched to serve Victoria in lieu of the 16, in a way it makes sense because the move compliments the 52 – another Willesden garage operation. No doubt both services will have some form of extra flexibility in being able to match demand. Such flexibility has been a far lesser feature of London' buses in recent years, so maybe this is one instance this could be re-deployed. Clearly there must have been some aspiration towards this because TfL's bus plans originally involved another Willesden route – the 98 to serve Victoria instead.
Route 11
Classic bus route 11 with just three days left in Whitehall. Originally this and the 24 behind were to be abolished completely. Pic by author.
Route 11 has retained its core classic route for nearly 120 years with some changes to its western and eastern extremities over the years, as well as substantial changes in the City of London recently when the road junctions at Bank were semi pedestrianised (and cyclists and certain bus routes retaining a right of way through the area.)
In the earlier 2018 consultation the 11 would have been curtailed west of Victoria. That idea has been turned about on its head and the 11 is instead curtailed east of Victoria by way of its re-routing towards Waterloo – a move that has marred the tourist/heritage value the route had offered.
The 2022 consultation however proposed the 11 be completely withdrawn. In terms of declining bus patronage surely the best thing would have been to keep the 11 much as it was (Liverpool Street to Chelsea for example) and enable greater publicity on the tourist side. Surely this would offer a better benefit rather than chopping the route in a rather ill conceived manner?
If bus numbers do fall along the Liverpool Street to Victoria alignment it will be quite likely tourists have sought other ways of enjoying the major sights of London because the 11 no longer serves that purpose. The act of diverting the 26 bus to Victoria does address this in part however it still leaves a missing link between Victoria, Victoria Coach Station, Chelsea Hospital, Sloane Square, King's Road – and not forgetting the Chelsea Flower Show and other events.
Where is the benefit exactly if another bus route has to be brought in to replace one that has been cut? What are the savings? I say that because for one thing the 11 was a specific central London bus route, but has now been replaced by one that isn't. The 26 goes from Hackney Wick to Victoria and that is a considerably long bus route – against a trend where TfL have tried to reduce central area traffic impacts on the outer sections of such routes – for example, the 3, the 25 and the 53.
Bus 11 has perhaps received the most publicity with two MPs campaigning for retention for its historic format and inclusion as part of world heritage status and that possibly because it ran past their place of work – Parliament! Yet it was their own Government that forced the funding constraints upon TfL! Here's a couple of examples of the publicity generated through controversy over the 11 route…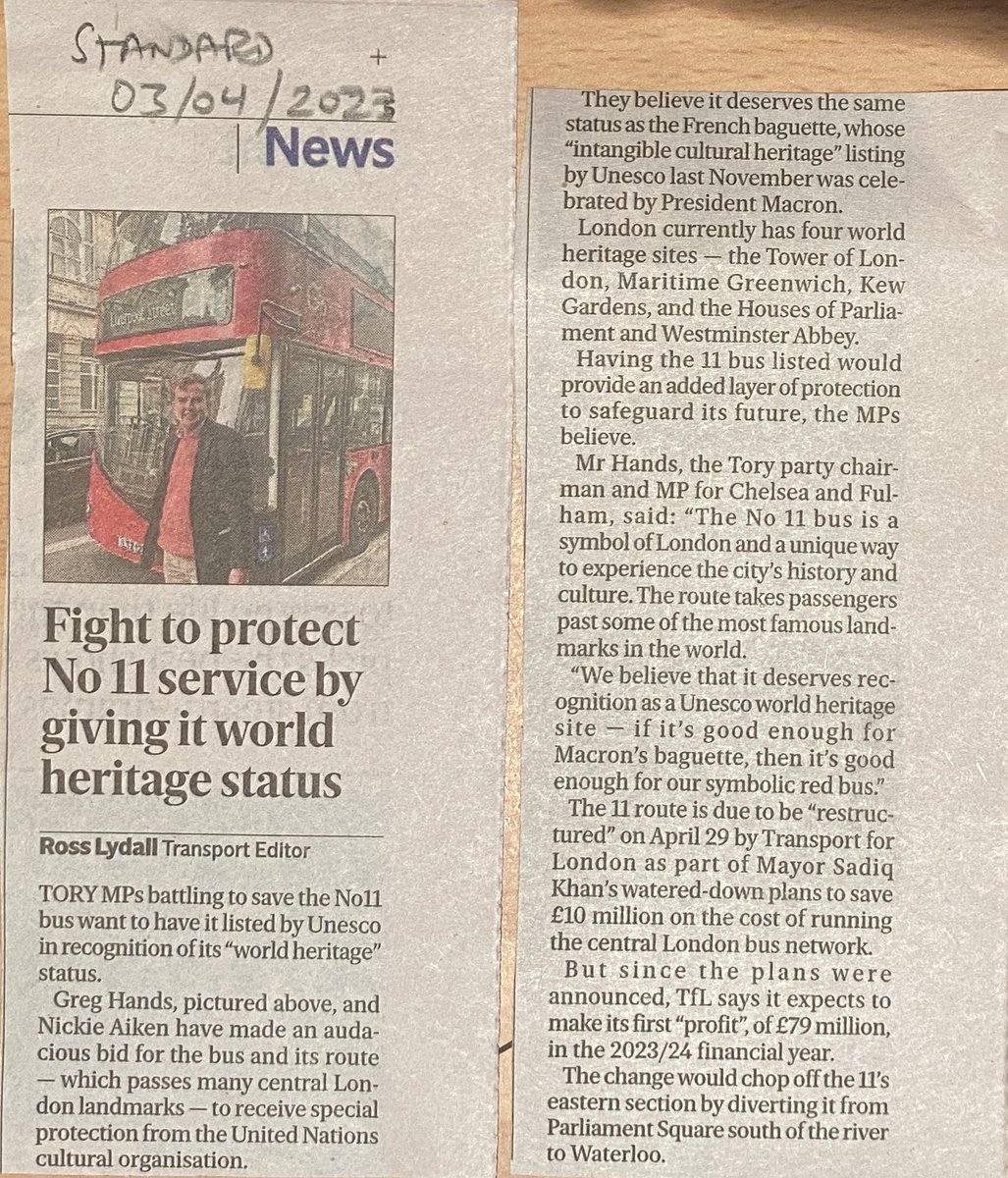 Number 11 in the Standard 4th April 2023. Source: Twitter.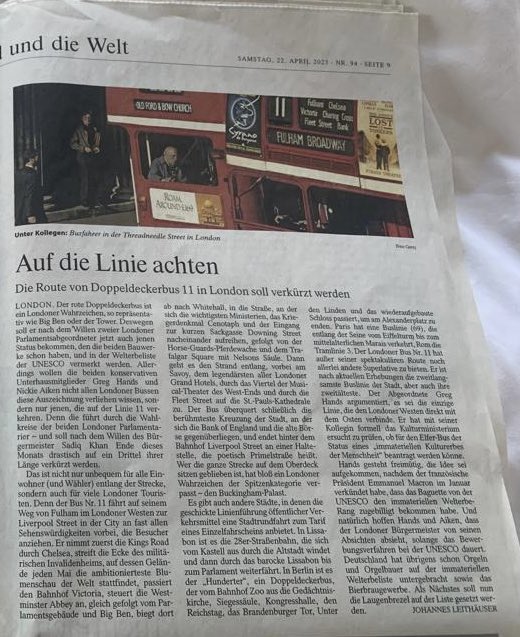 Route 11 even received mention in Germany's newspapers! Source: Twitter.
Route 16
Bus 16 at Hyde Park Corner three weeks before this section of route was curtailed. Pic by author.
Another controversial re-routing which on the face of it appeared to be an elimination of a classic London bus route. Its rather similar to the 13/82 revision some years back. The 16 was originally marked for withdrawal however that wasn't carried out. TfL claim they were simply renumbering the routes but many saw it an attempt to eradicate a classic bus route. Hence the 16 acquired a route which was actually that of the 332 thus it would no longer operate south of Praed Street to Victoria.
At least the 16's route was commemorated with an appearance by RML903 doing three turns of duty on the route's final day. It was quite short notice with the first two services somewhat lightly loaded whist the final one was practically full up!
April 27, 2023
Big ups to Brian, Phil and the rest of the Metroline team at Cricklewood Garage for taking time to run a Routemaster on the 16 today and raise funds for @CR_UK 🙏🏿🙌🏿👊🏿 pic.twitter.com/MluWsgQDzt

— Edward Adoo (@EdwardAdoo) April 28, 2023
Curiously the 332 (and the 316 before it) were introduced to replace the former 16 route to Brent Park, thus by reverting the 16 as the 332 it too extended the 16 north on a route it once served. On the whole, a strange way of doing it. In lieu of the 16's route to Victoria, both the 6 and the 23 were altered. The 6 was switched from its mk2 Aldwych route (eg that via Piccadilly) to operate from Hyde Park Corner to Victoria whilst the 23 was altered from its somewhat illogical route back to a new Aldwych route – given that this is formerly the 6's mk2 route.
It wasn't the 6 that was originally planned to be switched to Victoria. The plan was in fact for the 98 to do that and for the 6 to adopt the 98's route to Holborn. On reading the original proposals a fair number of things don't even seem to make sense and this was one of these! Where were the planners getting their ideas from? One could equally ask why TfL didn't keep the 6 as it was and switch the 23 to Victoria instead. That remains a mystery. A possible explanation for this could be that the 6 would have remained a lengthy route of sorts while the 23 would have been almost perhaps too short a typical central area London bus route!
Evidently in a way it seems the switch was made to give both routes some substantial in terms of operational length and the formulation of bus allocations, bus times and driver rosters etc. Curiously Victoria now happens to be Willesden's bus garage's second such route as that destination is also served by its 52 route. Perhaps the exercise was a means of keeping bus provision to acceptable levels with what appear to be fewer resources!
Anyway the 16 lost its southern end but gained a not so new northern extension which could continue to be operated by Cricklewood bus garage. Although the 16 has remained steadfastly a route operated since its 1906 introduction – 117 years – the 16 has followed the example of bus 11 – which is roughly half the classic route has been lost.
'Red Arrows' 507 and 521
Red Arrow 521 at Cannon Street during a nasty bout of wet weather! The route had just four days left. Pic by author.
The Red Arrow bus routes were a means of providing high frequency short haul single deck bus routes within the central London area and there were more than twelve of these at one time. Over the years reductions ensured just two Red Arrow routes remained until April 2023. The Red Arrows once had the following routes: 500, 501, 502, 503, 504, 505, 506, 507, 508, 509, 510, 511, 513, 521 – and there isn't a single 5XX bus route in Central London now!
TfL's plans initially were for the 521 to be axed completely and the 507 to adopt a modified route which would take in the 11's route to Fulham Broadway – in line with TfL's 2022 proposal to eliminate the 11 altogether. What has happened is the 11 remains in truncated form whilst the 507 as well as the 521 which got the chop.
Waterloo RA and its popular cafe will continue in business by being the base for a different London bus route. Pic by author.
The move generates likely substantial savings for TfL because bus staffing provision and vehicle allocation for the Red Arrows has been removed. Waterloo's Red Arrow base however will not be closed and some staff were to be retained for the 214 bus route which took up residency at the electric only RA site. The transfer of route 214 to Waterloo RA also helps to cut costs because it eliminates quite lengthy bus transfers from Northumberland Park depot, as well as easing crew transfers to the bus route. That's quite a turn-around for the 214 which was originally marked for total elimination! The move too secures the RA base and its the same operator in both cases of the RA and 214 – Go Ahead London.
So @TfL one of your bus operating companies clearly thinks a bus stop outside RNIBs London officr is a good place for a driver changeover point

Joe are blind people meant to catch buses at the Penton Rise stop when route 214

— Adrian (@dog_gem) April 25, 2023
Perhaps the fact the 214 is now based at RA Waterloo will mean such awkwardly positioned crew change-overs are better placed elsewhere?
The whole exercise of truncating these central London bus routes has mainly been about enabling similar provision with somewhat fewer resources. Routes 3, 59 and 133 have been switched around so their routes now cover certain sections of the 507 and 521 routes and the same goes for the other routes. The success of these moves has yet to be seen and it will probably be a few months before anyone knows the true effect of these changes.