Forty years ago one of London's short lived bus routes was seen on the capital's streets for just a few short months. This was Shop Linker with its red and yellow buses. The idea of the service was to provide an easy and convenient link between the West End and Kensington High Street.
Shop Linker was a circular service that ran along Oxford Street, Regent Street, Piccadilly, Hyde Park Corner, Knightsbridge, South Kensington, Stanhope Gardens, Gloucester Road, Palace Gate, Kensington Gore, (this 'u' shaped route through the nether regions of Kensington was mighty unusual for a major London bus service) High Street, Church Street, Notting Hill Gate, Bayswater, Marble Arch and then back to Oxford Street.
London Transport's announcement on Shop Linker – except at the time the proposed service hadn't been given a name. Source: Twitter.
A new London bus service with a continuous radio programme of music and commercials? Pie in the sky? Not at all. Come and see us at the exhibition and we'll tell you all about Shop Linker.
Shop Linker pie in the sky? Not at all. Source: Marketing 1979.
As will be seen from its route it was an attempt to link up busy Oxford Street with busy Knightsbridge and High Street Kensington. What seemed a good idea in theory didn't turn out so well in practice. That's because there were already bus services that served those locations.
Although Shop Linker was at times fairly well patronised it wasn't very successful in terms of earnings. Despite offering a flat fare Shop Linker was definitely on the expensive side. No doubt this was because the 12, 14, 30, 73 and 88 routes were a much cheaper alternative. Not only that these other bus routes were time honoured, and people knew where those went.
Shop Linker – from the Financial Times 7th April 1979
Shop Linker began operation on 7th April 1979, which was the same day as the last RTs in London ended service. The 'new' yellow and red buses ran from 9am to 5pm, except Thursdays until 8.30pm which was at the time London's traditional late opening evening.
Buses were provided by Stockwell Garage and the service frequency was touted as being every ten minutes.
It's been claimed the yellow Shop Linker livery was derived from that used for the local Harefield bus services. Its possible although there's no way to verify this. This Flickr page shows that livery. It seems the Shop Linker had a deeper red.
RM2139 in Bayswater Road on the first day of the Shop Linker service. 7th April 1979. Source: Flickr (AECSouthall)
Although sixteen Routemasters were more than adequate for the service the offering turned out to be unreliable. That too was exacerbated by a crew shortage which meant the full services could not always be provided thus severe gaps in the frequency arose as a result. It was usually quicker – and cheaper – to catch an ordinary bus service (for example the 12 on the Notting Hill route and the 14 or the 73 on the Knightsbridge route.)
Shop Linker services terminated at Hyde Park Corner or at Marble Arch, where the route was generally based in terms of crew rests and switch-overs. Park Lane itself was of course the only part of the lengthy route where buses could be juggled around to try and regulate the service.
The fact quite a few Shop Linkers terminated at Marble Arch because of delays or crew shortages meant it wasn't really that useful in terms of the service it had claimed to offer.
Undated view of a Shop Linker in Oxford Street. Source: Flickr
Its been queried on forums whether the Shop Linkers actually provided a service along Park Lane. Well it does seem there was one in fact but it wasn't by any means official. There are two reasons for Shop Linker buses (complete with passengers) using Park Lane. The first reason would be due to the fact buses heading from either Bayswater or Oxford Street had to venture further south along Park Lane before turning north to reach the main stop and crew rest-over point a short distance south of Marble Arch.
What this means is the buses ran south as far as Upper Grosvenor Street then turned back along the northbound Park Lane to the dedicated Shop Linker bus stops/stands. Other bus routes such as the 12 and 88 did not have this quirk they simply went straight through the Marble Arch gyratory system and so did not incur a significant time penalty as the Shop Linkers did.
The final Shop Linker service ever in Park Lane approaching its crew change/terminus bus stop. This was RM2188. Source: London Rail Blog.
There are also pictures showing Shop Linker buses serving the Achilles Way stops at the bottom end of Park Lane, setting down passengers who had perhaps expected their bus to go down Piccadilly instead. It does seem from these that buses sometimes were short-routed via Park Lane in an attempt to keep the service frequency up or alternatively in order to ensure a crew arrived at Marble Arch in good time for the next crew change over.
It was probably also a means to allow passengers wanting Oxford Street to get the next Shop Linker (or a normal bus service) from Marble Arch direct rather than wait for the next through service and then be taken the long way round via Piccadilly and Regent Street.
This demonstrates the whole opus that constituted Shop Linker was quite badly planned. It was more of a convenience for the bus crew rather than the shoppers or passengers it was meant to carry. It certainly proved problematic for passengers as no-one clearly wished to be turfed out on the wrong side of Marble Arch – then have to traipse through those long dank pedestrian tunnels (now closed) or get a different bus in order to reach Oxford Street.
RM2207 and 2187 at Stockwell the day before the service began, 6th April 1979. Source: Flickr
The route's red and yellow RM buses had speakers installed and music would be played, no doubt to soothe the sensibilities of passengers after having paid the service's exorbitant 30p fare! Every half hour adverts were broadcast instead. Private Eye's satirical review of the new services warned would be passengers 'PLEASE have your ear muffs ready as you board the new shop-linker buses.'
If passengers had even the slightest temerity to complain about the music or the advertising being broadcast there was nothing they could do except make a complaint to the authorities. Even the bus crew could not do anything. The reason for that? The equipment was securely locked away – not even the bus conductor had the keys needed to silence the speakers should the need arise!
A curious picture! Shop Linker (RM2188) at the Selfridges' stop in a strange sort of shop front decor which looked more foreign than British! The 12 bus was of course celebrating the 150th anniversary of London buses with a special Shillibeer livery used on a number of the city's buses. Source: Flickr
Originally the intention was to curtail the Shop Linker service on Sunday 30th September 1979. Instead services ended on Friday 28th September 1979. No doubt London Transport saved a few pennies!
LT bus fares were raised on 9th September 1979, the second such in three months. The Shop Linker service retained its 30p flat fare to the end of that month whereas the Red Arrow buses had theirs increased from 12p to 15p.
Another strange Shop Linker style – advertising Lillywhite's! This time its RM2146 outside Selfridges in the other direction. Source: Flickr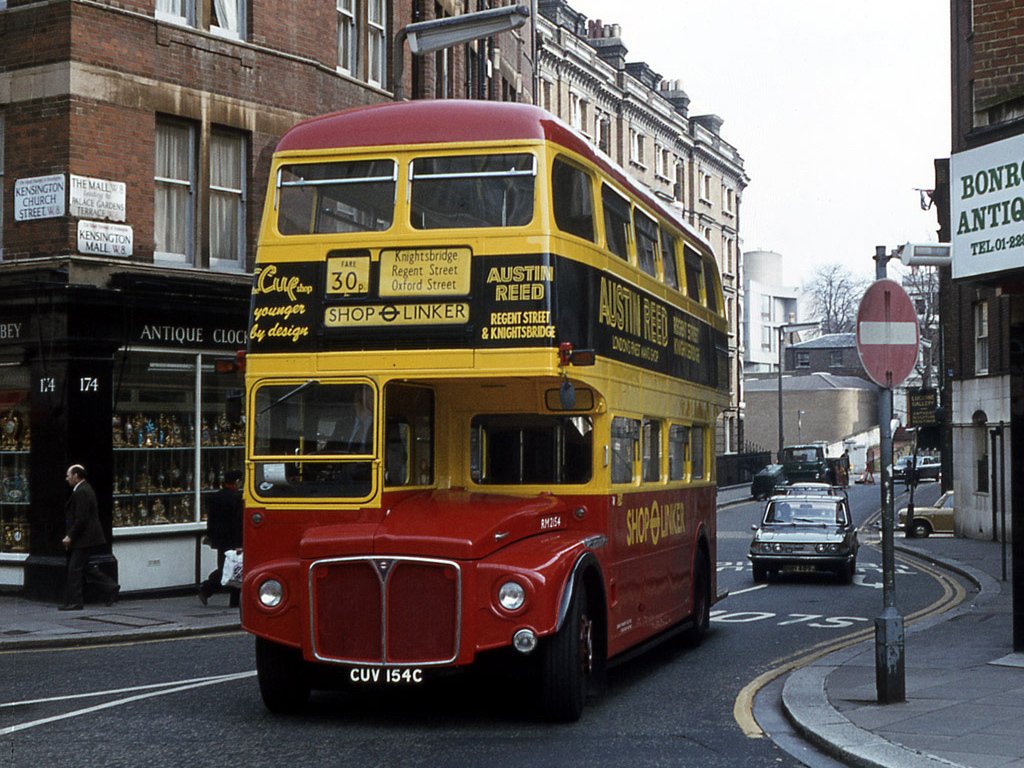 RM2154 on Shop Linker service in Kensington Church Street in the service's early days. This was the furthest most extremity of the service – being Notting Hill Gate where the bus is seen. Note the '30p' in the route number window. Source: Twitter
The service operated on a flat fare basis, eg 30p. The fare was displayed in the bus number panel and a number of complaints ensued because people thought it was the 30 bus – which did incidentally run along a good bit of the Shop Linker route in the days when the 30 reached much further south. The '30p' was soon replaced by a blank window which helped somewhat.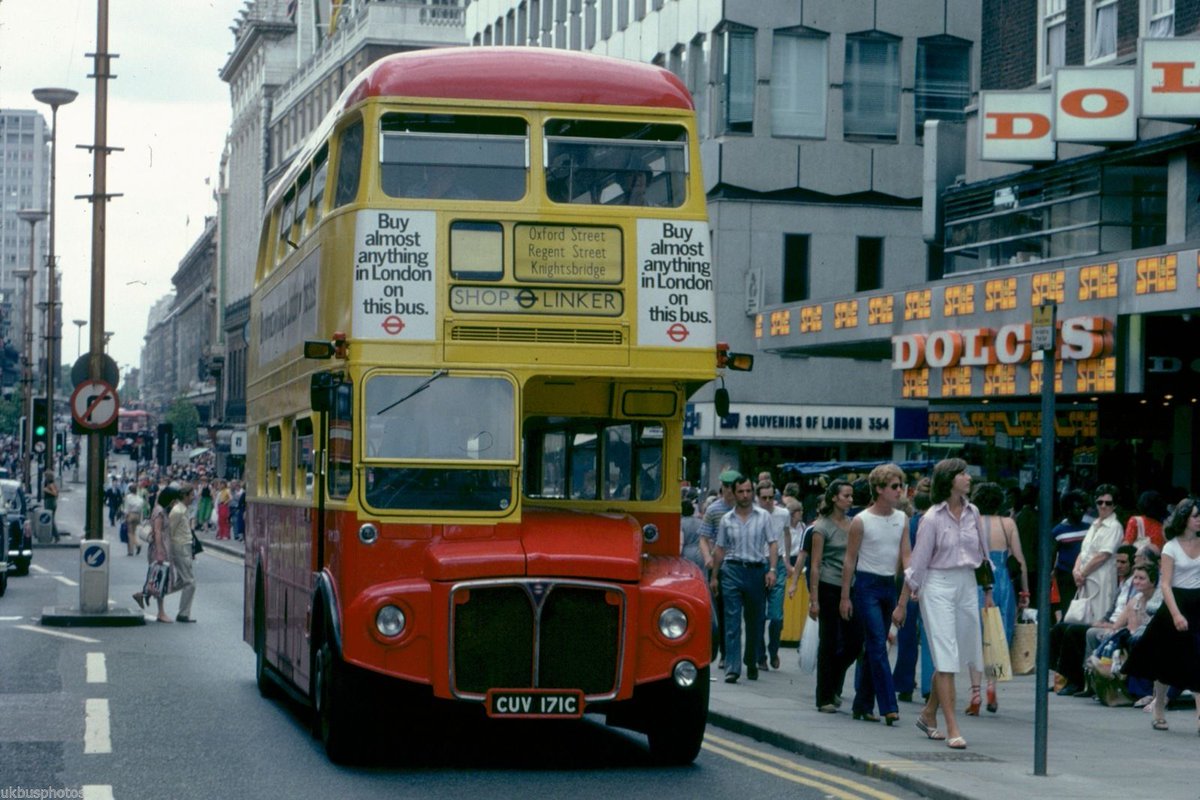 Shop Linker RM2171 in Oxford Street. Notice the store named Dolcis! Twas a famous name, no longer extant. Source: Twitter
For prosperity's sake here's this special image showing a Shop Linker RM, a RML and the one and only FRM by courtesy of Colin Pickett. FRM1 was an experiment at providing a true rear engine/front loading Routemaster bus – however no further such buses were built – although there were the more successful traditionally styled front loading RMs on the BEA services to Heathrow as well as some Green Line services.
RM59 with FRM1 at Hyde Park Corner 31st May 1979. Source: Flickr
A different perspective of the Shop Linker's line-up at Stockwell garage. Source: London Rail Blog.
Shop Linker at the London Bus 150th Anniversary Parade in Battersea Park. (Pic source LRB.) The DMS bus in Shillibeer livery behind is from Cricklewood and depicts the former 16A route from Oxford Circus to Brent Cross.
The end of Shop Linker:
A couple of pictures from the final day of services. One from Flickr and the other from slides in my collection. The image earlier on the page is from one of my slides and depicts the last Shop Linker service at Marble Arch.
The very last Shop Linker! The honour went to RM 2188. Source: Flickr
Another slide from my collection showing RM2188 on the Shop Linker's final day. Source: London Rail Blog.
Unless I am wrong it seems the Shop Linker was not featured on London bus maps. I have the 1979 editions and the service is neither mentioned nor its route shown. A special leaflet advertising the service was produced however and the back of this shows the Shop Linker route. See London Buses website for this.
Despite the very short period the Shop Linker operated its buses are quite well represented in model form. The same cannot be said for another short lived London bus route – the 150 Aldgate to Victoria. Here's an advert of the Bachmann model (00 scale of course) shown below and a link to the review:
The Bachmann 00 scale model of Shop Linker – featured in Collectors Corner magazine.
Just to whet your appetite here's a further selection of Shop Linker bus images from AEC Southall's website, and this page from London Bus Routes which gives the full list of RM's used for Shop Linker.
Updated October 2022.