Quite a few bizarre adverts have been seen on the tube since just before the new year – these are for Blackmirror/Bandersnatch. My favourite is that at Oxford Circus (eastbound Central Line) which says "when you exit the platform the escalator you choose to stand on will affect all subsequent events and experiences." I am sure many people are mystified by it, but hopefully people will take a second thought and perhaps choose their escalators more wisely in the future. (Except when there's just one available in which case it means TfL have done your life's bidding instead!)
The adverts have popped up in different places on the tube and the streets of London. Locations include Old Street (Tuckers Shop) plus Old St tube subways, Clapham South escalator and northbound platform, Shoreditch/Brick Lane, Brixton tube escalators, Camden Town tube, Oxford Circus tube, Whitechapel Vallance Road, Birmingham New Street, and the old Tower Records shop in Glasgow as well as some outlying areas.
My favourite Black Mirror advert! What it says is practically true. The many worlds/the multiverse interpretation in quantum physics or Derek Parfitt's 'Branch Line' in philosophy applies. Few realise how the slightest deviation in life alters one's course to a considerable extent and basically others can mess your life up completely. This has been used as the theme of a number of screwball comedy films.
Before we move on let me tell you I have no prior knowledge of Black Mirror or Bandersnatch. The only thing that brought my attention to it was the adverts have lots of things tied to existentialism, philosophy, quantum physics, time and so on, things I have a strong interest in.
It was exciting to find the M.O. behind the Bandersnatch adverts – because they are sending a message few actually bother with or even understand – its a subject I have written tomes on in the past although I've almost never posted any of it on this blog. Essentially whatever route one takes it most definitely alters one's life path. Its absolutely right that taking one escalator instead of another means you've just altered your entire life's course completely.
In fact I wrote a whole post based on this stuff on New Year's Day just gone showing how we take paths that are not what we expect (New Year's a path too that is not what we think it is.) I didn't bother to publish it because I thought most would not understand it. Anyway let's get to the crux of this post – which is the Bandersnatch ads themselves….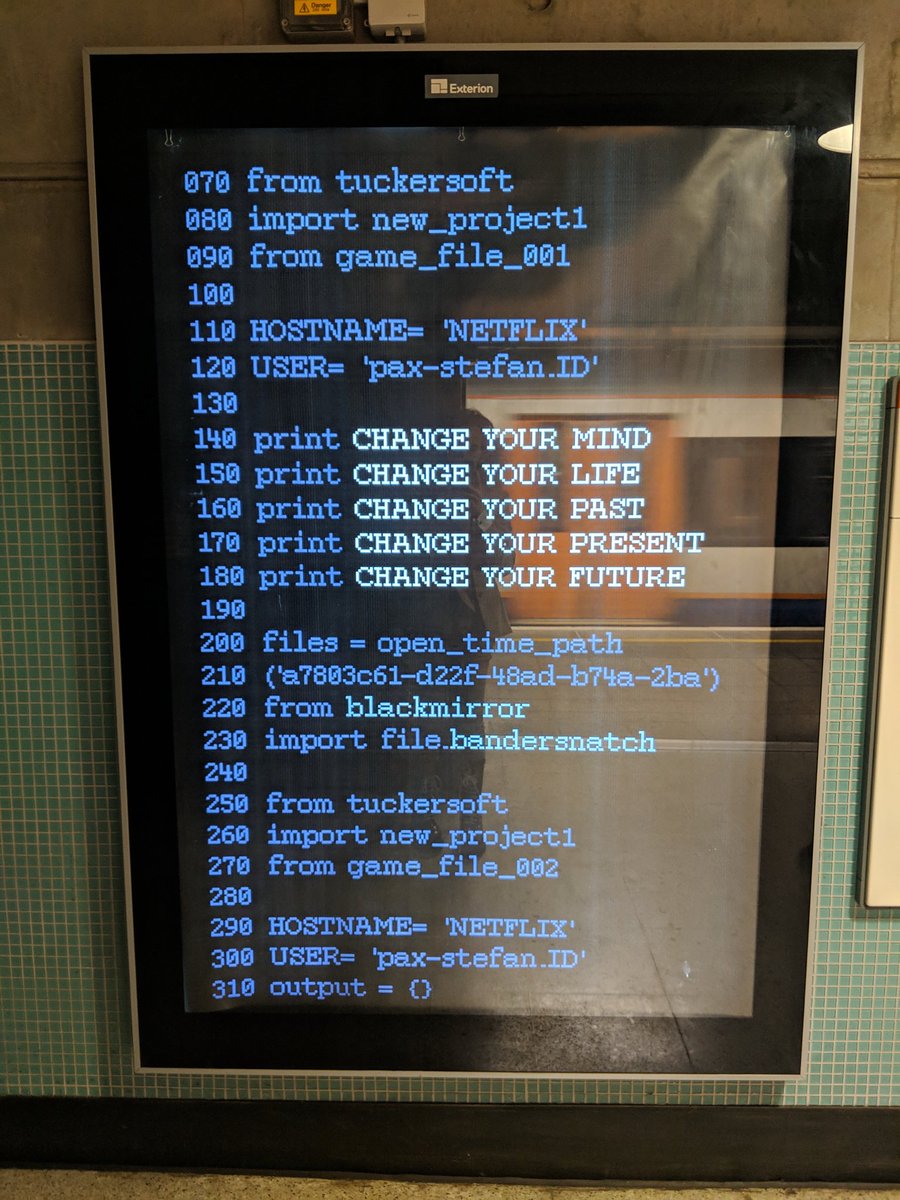 London Overground also had Bandersnatch ads which were digitally rendered on screens. Source: Twitter
Both escalator walls at Brixton and Clapham South were entirely covered in Bandersnatch adverts and both were quite similar, but also with slight differences. I took photographs of every single poster at these places and they were all much alike. However Brixton had "Hello Stefan" whilst Clapham didn't but instead it had "Change your mind, change your life, change your present, change your future" which Brixton of course didn't have.
I'll just show the basic differences here. Let's take a look at Brixton first.
Looking down the escalators at Brixton with its Bandersnatch ads.
Hello commuters…
Hello Stefan (Clapham didn't have this.) Stefan is the hero of the new Netflix production.
Loading… New time path <Brixton>
Loading… New time path <Victoria Line>
The Bandersnatch advert on the northbound platform at Clapham South.
Bandersnatch on Clapham South's escalators.
Clapham South's escalators – "Change your mind, change your life, change your present, change your future." (which Brixton didn't have.)
Loading… New time path <Clapham South>
Loading… New time path <Northern Line>
Some of the Northern Line trains also had Black Mirror/Bandersnatch adverts though I didn't see one.
Black Mirror/Bandersnatch ads on the Northern Line. Source: Twitter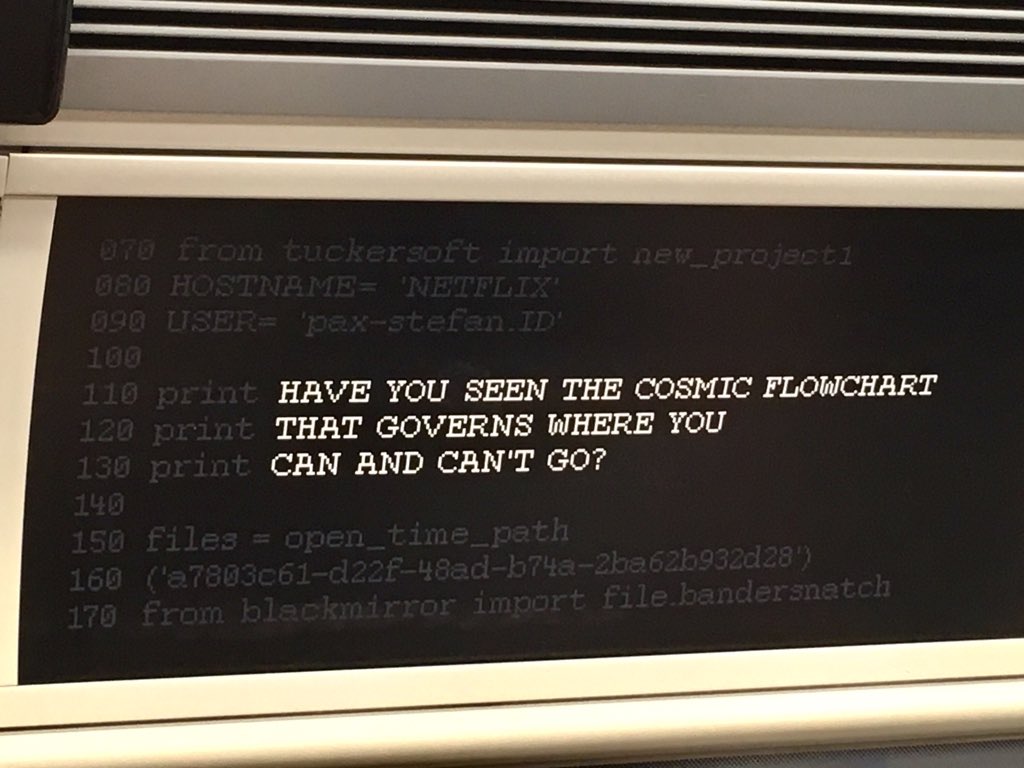 Another advert on the Northern Line. Source: Twitter
Old Street tube station had some of the largest advertising, no surprise since it was to all purposes and intents the core of Bandersnatch! It has also been used previously for past Black Mirror seasons publicity. Old Street is the UK's silicon valley and that explains its attraction with regards to the Bandersnatch genre.
Such things as creating a digital Tuckersoft store based in Ealing – or alluding to a doctors practice in Harrow – were either a means of throwing people off the scent but also down to clues that were hidden and in the case of Tucker's Ealing it provided a number of easter eggs as well as hidden coding.
The Tuckersoft website. Link.
Anyway here's some of Old Street's adverts….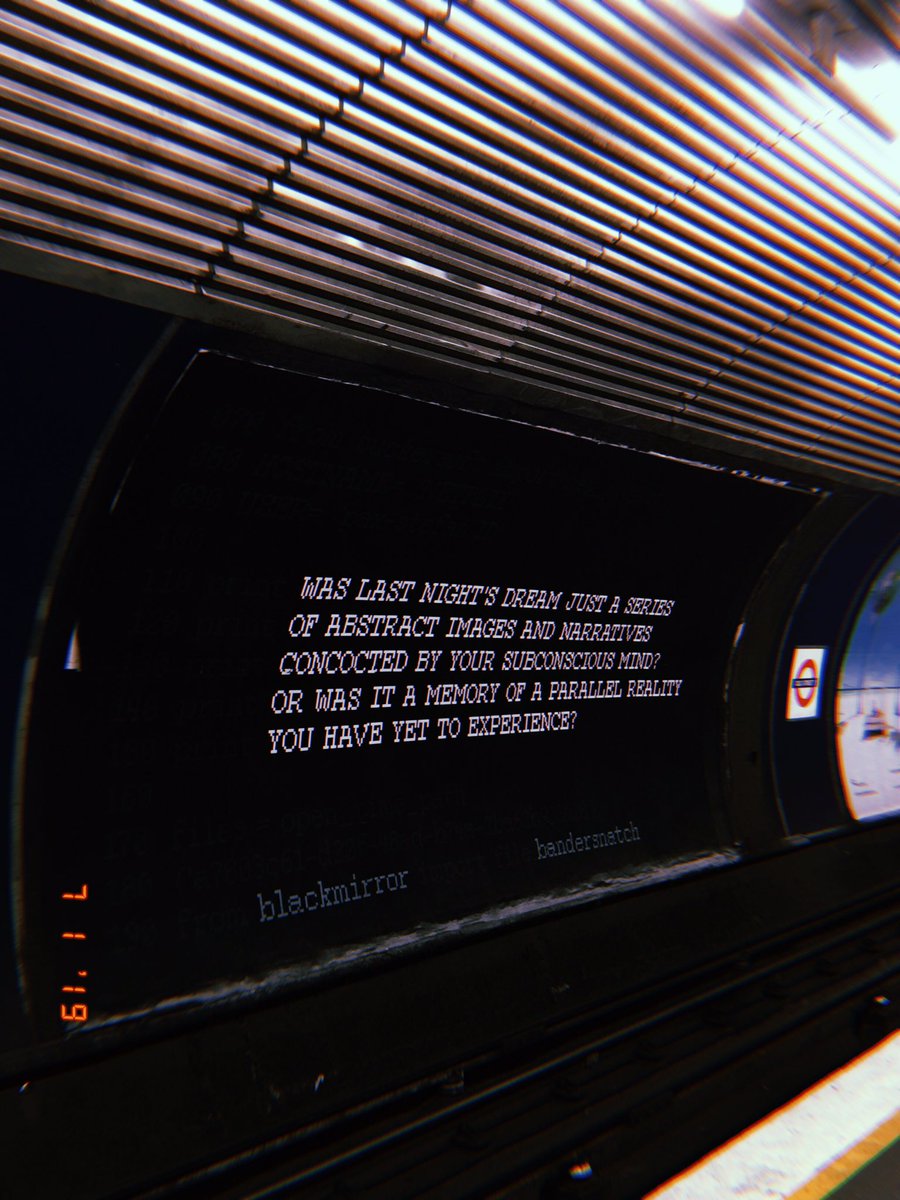 The one on Old Street's platform which apparently vanished quite early. Source: Twitter.
Another Bandersnatch advert at Old Street, this time on Instagram.
Subway two at Old Street.
Subway three at Old Street.
Subway two with subway three in the background. Both were basically the similar in content.
Subway two again…..
Bandersnatch was an eighties ZX computer game. At the time Sinclair had created the world's most accessible and cheapest computers to date although it wasn't really that cheap. In those days the software was more about games rather than practical applications and Bandersnatch was meant to be one of these.
Under the Bandersnatch genre Tucker's were the innovators of the game and went bust. However its a mystery of sorts as Bandersnatch was in fact created by a short lived company called Imagine Software (but then again 'imagine' probably has something to do with the whole conundrum!) Imagine Software became debt ridden and went to the wall quite quickly. There are those that insist Tuckersoft really existed and in fact created the Bandersnatch game. I'm not so sure!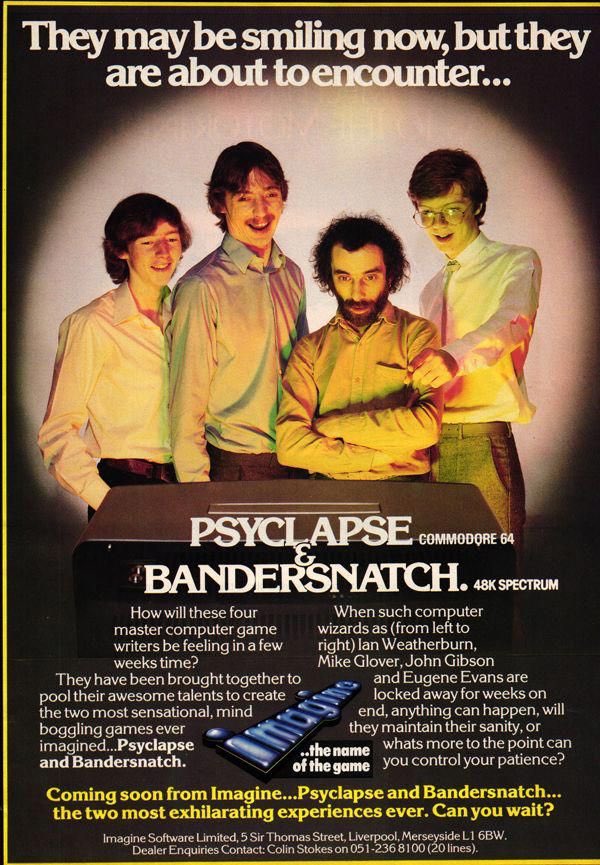 1980s ad for Psychlapse/Bandersnatch Commodore 64/Zinclair Spectrum. Source: Twitter
A pop-up shop was established in the shopping mall at Old Street tube station. It was open just on one day (7th January from 3pm to 5pm) and this when Charlie Brooker and the others associated with the series were on had to sign autographs. Good pictures here and here.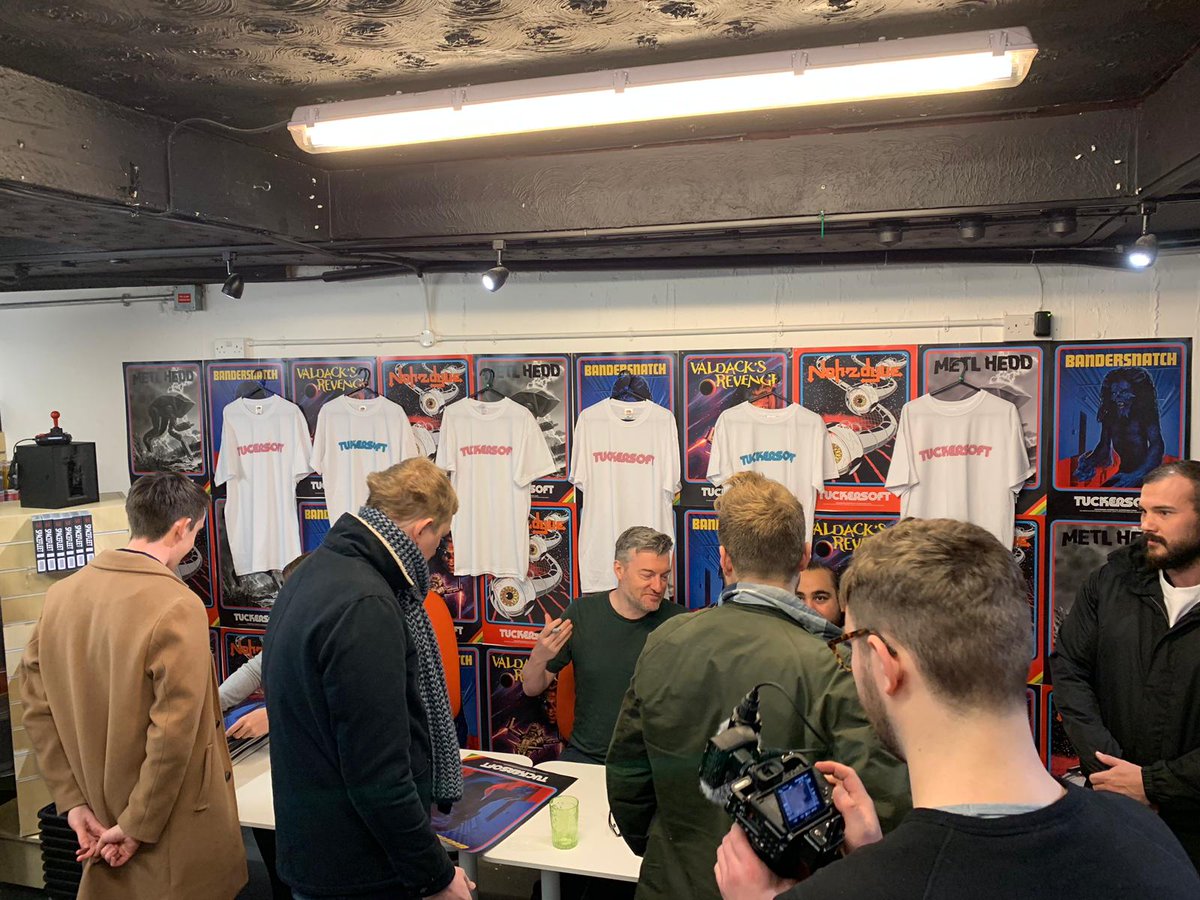 Charlie Brooker (with Will Poulter obscured at left and Asim Choudhry just visible at right) at the Old Street Tucker's shop signing.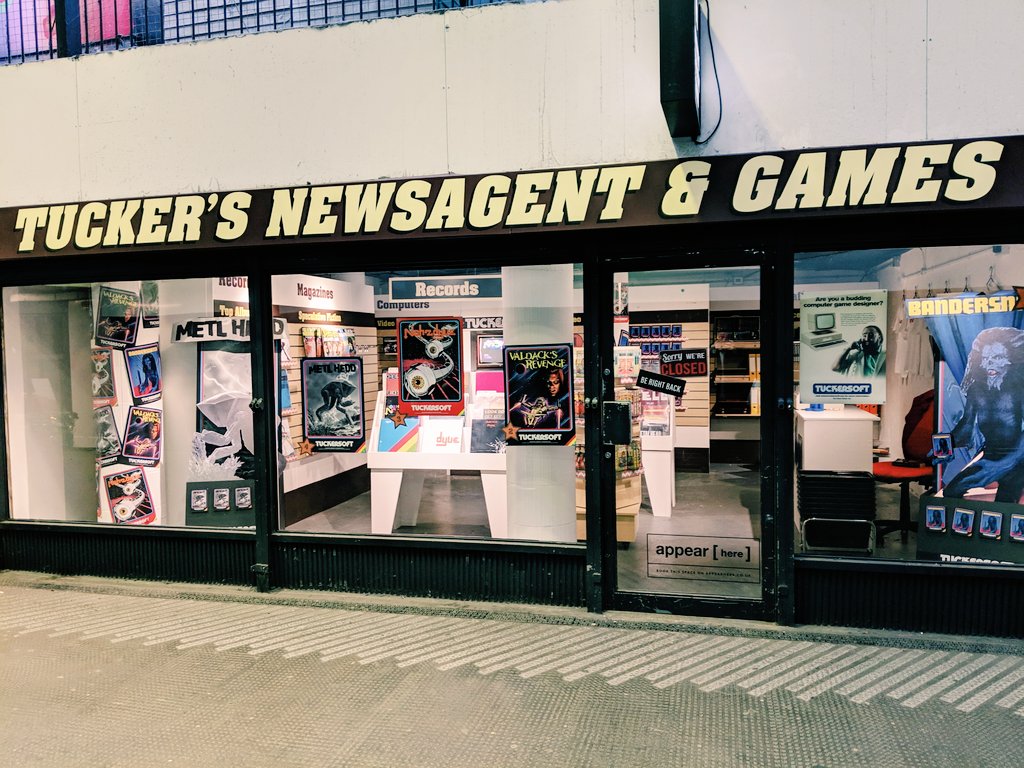 The pop-up Tucker's Newsagent & Games in Old Street. Source: Twitter
It was claimed the pop up shop in Old Street would be on show until 13th Janaury 2019. It wasn't. Those of us who had hoped to see it at the end of the weekend were disappointed and had to make do with the adverts in the subways which were impressive. Not only that the Bandersnatch ad on the platforms itself had gone however here's a tweet showing that one…
The now empty Tucker's at Old Street….
Spotted a lady emerging from the shop with a load of Black Mirror/Bandersoft adverts!
I asked her if I could see the adverts. She said she was in a hurry but showed me the topmost of the pile – this being the Tucker's job advert with Asim Choudhry pictured. Despite the closure of the pop up shop I was able to see one of the posters that had featured in it! Yes!
Black Mirror is a series created by Charlie Brooker showing modern society in quite a dark way and its interactive and people can choose one of a number of storylines available. So far there have been four seasons. Seasons 1/2 were shown on Channel 4 and seasons 3/4 on Netflix. Bandersnatch came out at the end of December 2018. Its a one off movie format however it still gives the option of differing storylines. A Black Mirror series 5 is in the offering however its deferred because of Bandersnatch.